Fuerteventura Outfinishes Celestial City To Win Sunday's $100,000 Jersey Derby By A Head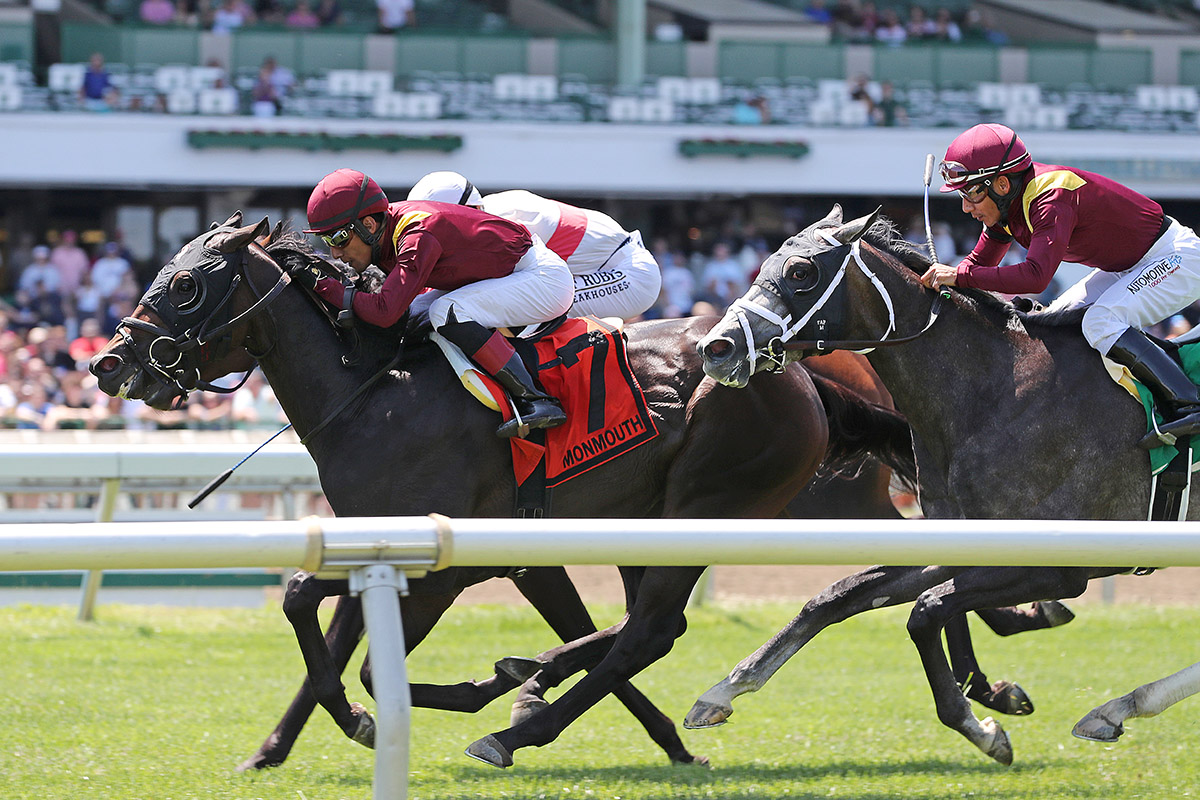 Trainer Jonathan Thomas has always felt that the longer Fuerteventura goes, the better the 3-year-old gelding would be.
But cutting back to a mile in Sunday's $100,000 Jersey Derby at Monmouth Park – a distance Thomas felt was about as short as the son of Summer Front wanted to go – wasn't a problem.
Forced to swing three-wide in a five-horse field coming out of the final turn, Fuerteventura collared race favorite Quality G at the sixteenth pole and then held off a powerful late run from Celestial City and jockey Javier Castellano to prevail by a head in the 79th edition of the Jersey Derby.
"Listen, I could be wrong. Maybe he is better at a mile," Thomas said afterward. "I could be wrong and that's fine when this happens."
Unraced at 2, |Fuerteventura posted his third straight victory, with his only loss coming in his debut on Feb. 19 at Gulfstream Park going five furlongs. The Jersey Derby marked his first career stakes win in his first career stakes try.
The winning time for the mile over a firm turf course was 1:34.93.
"I knew this horse was coming off two straight wins and he was sharp and the trainer is a very good trainer so I knew he would be ready to run," said winning jockey Isaac Castillo. "I was able to get him to relax early. I wasn't worried about them going a little slow early on because I knew my horse would finish. He loves to run late. I just had to be a little patient and let him finish.
"I tried to stay just outside of (Celestial City) early so I knew where he was the whole time. I know he is a big closer too. We were able to get the jump on him coming out of the turn. I knew he was coming but my horse was good enough."
Castillo, who will spend Monday at Lone Star Park riding for Hall of Famer Steve Asmussen, including a mount aboard Presidential in the Texas Derby, won a career-high five races on the 12-race card.
Sent off at 5-1 by the crowd of 12,366, Fuerteventura sat fourth, just outside of Celestial City, through moderate early fractions of :24.11 for the opening quarter and :48.66 to the half set by There Are No Words. Quality G, the 3-5 favorite trained by Todd Pletcher, took over midway through the final turn before Fuerteventura and Celestial City launched their bids.
"I was a little surprised by this because I thought (a mile) would be a bit short for him," said Thomas. "But it looked like the top flight of horses were doing a little too much. They didn't do it particularly fast but they did do it a little keen. I thought our horse was able to sit a really nice trip and relax. I felt good about our horse being able to relax and then using his turn of foot.
"Isaac Castillo did a great job of keeping (Celestial City) hemmed in and he kind of got out late and was making a furious rally. I thought Isaac rode a really nice race."
Celestial City, trained by Shug McGaughey, was a half-length better than Quality G, who slipped back to third.
The Kentucky-bred Fuerteventura, owned by Robert V. LaPenta (he also owns Quality G) and Brereton C. Jones, could have been had for $30,000 when he broke his maiden on March 19 at Gulfstream Park. He has continued to improve with each start.
"Every start this horse is getting better," said Thomas. "He's very genuine about what we've asked of him. I like these horses that make these incremental strides forward the way he has."
Racing resumes at Monmouth Park on Monday with an 11-race card headlined by the $100,000 Miss Liberty Stakes as well as the final fay of the Jersey Shore Food Truck Festival. First race post time is 12:15.