Foolish Humor Wins Colleen Stakes On DQ as Trainer Wesley Ward Sweeps Weekend's 2-Year-Old Stakes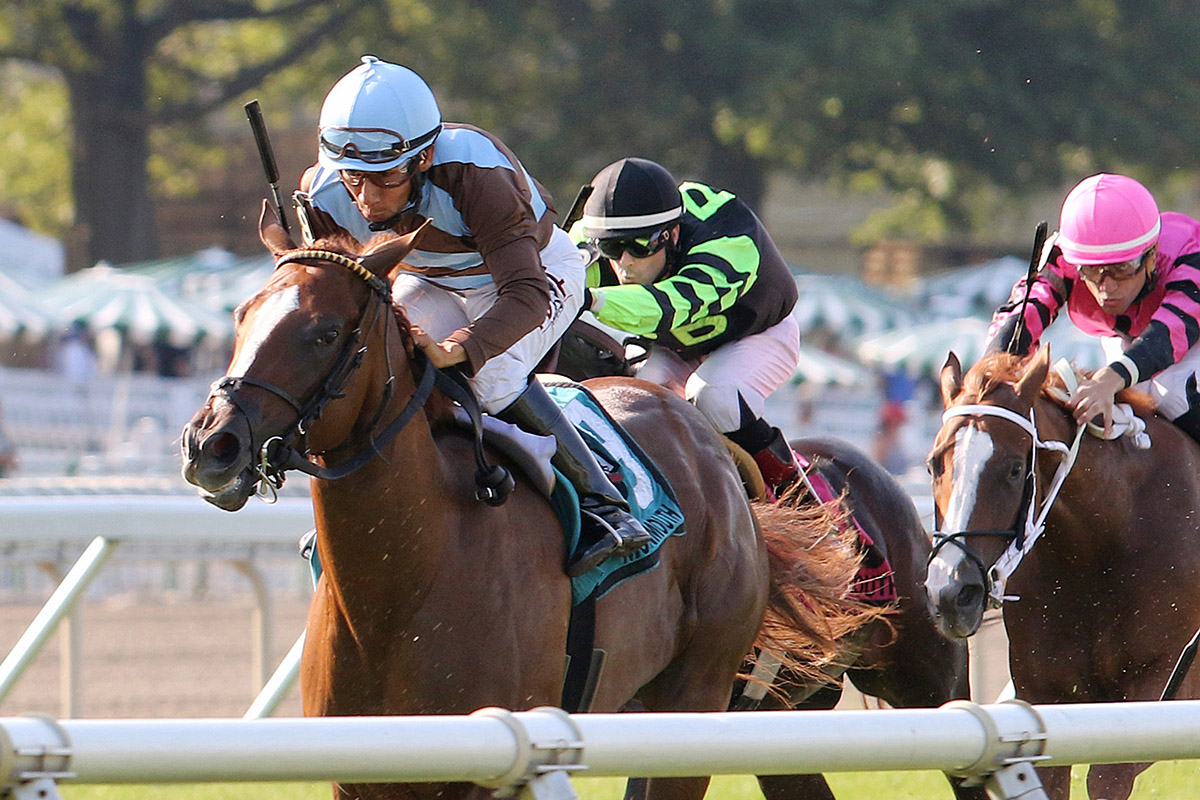 Foolish Humor gave trainer Wesley Ward a sweep of Monmouth Park's 2-year-old stakes races this weekend when the heavy favorite was placed first following a disqualification in Sunday's $76,500 Colleen Stakes.
Miss J McKay crossed the finish line first, three lengths ahead of Foolish Pleasure, but was disqualified and placed third for coming in at the eighth pole and affecting the two horses inside of her in the stretch of the five-furlong turf race for fillies.
Miss McKay appeared to have all of the momentum in the stretch before veering in. She hit Foolish Humor, who was then forced into Strongerthanuknow on the rail. Miss J McKay was placed third behind those two.
Paco Lopez rode the eventual winner as part of a six-winner day.
"I feel bad for the connections of the horse that finished first," said Ward. "I've been in that position and it's never a good feeling. But one man's loss is another man's gain."
Final time for the race over a firm turf course was :56.38.
Ward captured the Tyro Stakes for 2-year-olds on the grass on Saturday with Karak, a filly who beat the boys. Both Foolish Humor and Karak were coming off disappointing efforts at Ascot, with neither filly taking to the soft turf course there, according to Ward.
Foolish Humor, a daughter of Distorted Humor-Foolish Cause by Giant's Causeway, returned $3.60 to win.
"I think I would have won the race if (Miss J McKay) didn't interfere with us like that even though that horse seemed to have a lot of momentum," said Lopez. "You can't tell for sure. But she hit me and then I bumped the horse inside me (Strongerthanuknow) pretty hard. She really lugged in bad. I was actually lucky. I didn't get the worst of it. The three horse did.
"I can't say for sure I would have beaten (Miss J McKay) to the wire but she clearly hit us and cost us momentum. This is a fast filly. Even though she broke fast I wanted to sit off a horse and I was able to do that. She ran a strong race chasing quick fractions."
Foolish Humor exploded from the gate and was quickly joined by Strongerthanuknow, with Miss J McKay off their flanks. The trio arrived at the top of the stretch that way, with Miss J McKay appearing to take advantage of quick early fractions set by the other two. The opening quarter mile went in :21.18, with the half reached in :43.96.
"From the first few breezes I knew she was going to be a nice one," said Ward. "She did everything right. She's very quick. She is going to have a big future. This was a little quicker than the filly (Karak) we won with Saturday and she didn't finish as strongly as that one. But I take nothing away from her performance."