Food Trucks Roll In This Weekend for 3-Day Festival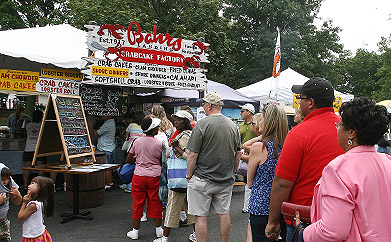 Monmouth Park's popular Food Truck Festival returns Saturday, May 27 and will again span all three days of the Memorial Day Holiday weekend             New this year will be expanded bandstands, with two separate stages of live music on Saturday and Sunday.  On both those days, gates will open early at 11 a.m., and both days will feature the full-slate of Family Fun Day activities, including a bounce house, clowns, pony rides, face painters and more.  On Monday, gates open at 11:30 a.m.              The food trucks first rolled into Monmouth in 2012 for a one-day event, which has expanded in size and scope to what it is today.  Among those who will be concocting their culinary delights are:  Empanada Guy, Wild Bill's Soda, Red Hook Lobster and Enzo's Deli, to name a few.             Over the three-day holiday weekend first post will be 12:50 p.m.  Admission to the Grandstand, where the food trucks will assemble, is $5 – seniors pay $3 and children 12 and under are free.
          For more information, visit www.monmouthpark.com.