Fazio Brothers' Personal Ties To Joevia Add Meaning To Saturday's TVG.Com Haskell Invitational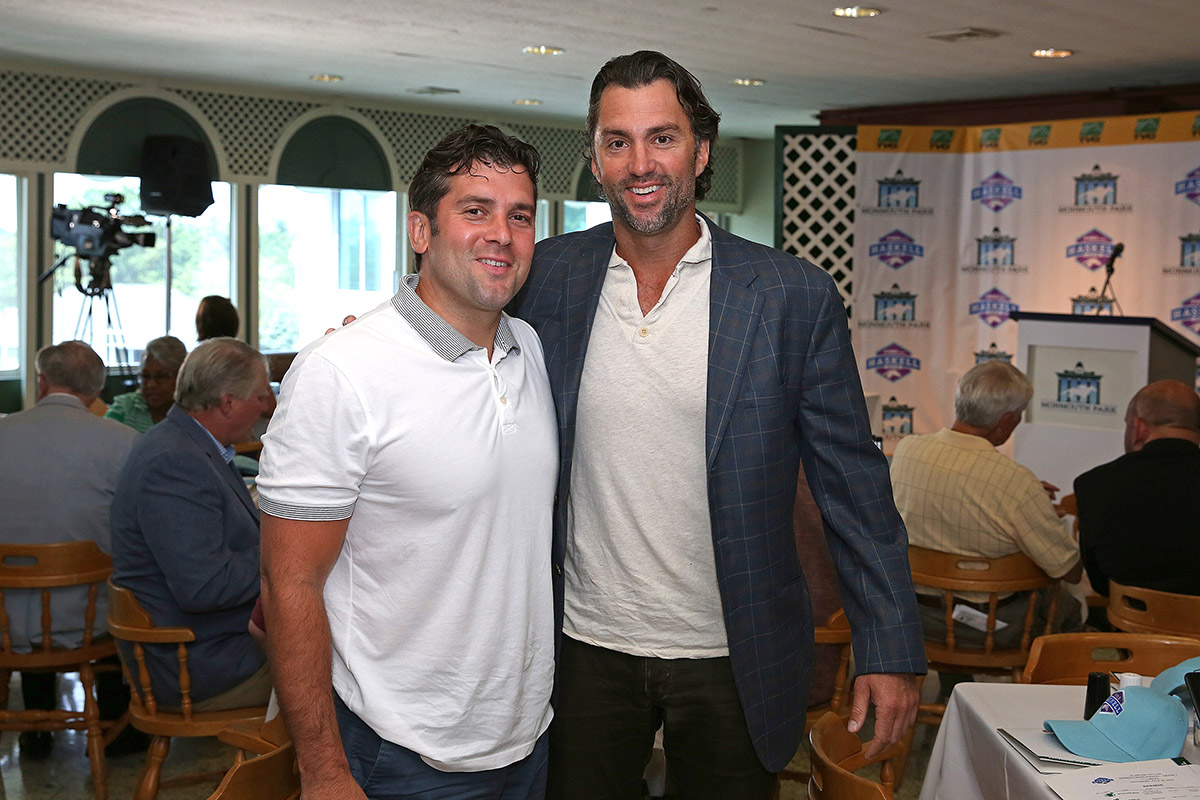 As Joevia carries the colors of brothers Michael Fazio and Jeff Fazio around the Monmouth Park oval in Saturday's Grade 1, $1 million TVG.com Haskell Invitational he'll have Jose Lezcano in the irons and a pair of angels riding on his withers.
"If we're fortunate enough to win, I'll dedicate the race to our brother and to our dad," said Michael Fazio, who is fond of saying the only horse they own together is named for Jeff's son, Joe, and his daughter, Olivia.
But the family ties to the beautiful dark bay son of champion Shanghai Bobby are even stronger.
"My dad, who was the greatest guy on earth, was a union insulator in New York City, and he breathed in asbestos and got mesothelioma. He died at 50 years old. His name was Joe," said Michael Fazio. "My brother, Joey, was named for him and Jeff's son was named after my father and our brother.
"My brother, Joey, unfortunately, passed away at a very early age. He overdosed on heroin three years ago."
Michael Fazio is the CEO of Prime Staffing, a New York-based firm that specializes in matching employers and employees in health care and medicine, as well as other industries. Jeff Fazio works for Citibank in the area of small business banking and is responsible for 120-plus branches.
While Michael has owned horses for about a dozen years in partnership with others, Jeff is a first-time owner.
"He loved racing but wasn't in the financial position to go buy racehorses. This is an expensive business," Michael Fazio said. "When I bought Joevia at auction (for $32,000) and named him, he asked if he could get in on this horse. I gave him the family discount. He bought into 25 percent of the horse and I own 75 percent."
The brothers, who grew up in Park Ridge, N.J., got their affinity for Thoroughbred racing from their father.
"My dad used to enjoy the horses back in the day. He was a blue-collar guy who would go with his buddies. That's where I first started," said Michael Fazio. "He would get a tip that this horse is live, or something like that, and we'd go to the track and that horse he bet would come in like sixth. Then he'd get another tip and the horse would come in in like fourth place. I'd say, 'Hey Dad. You might want to lose that guy's number.'
"He enjoyed all the people at the track and having the family come together and enjoy the races."
Long-time buddy Michael Basso was Michael Fazio's original partner in racehorses. After Fazio bought a condominium near Monmouth Park 12 years ago the friends ran into trainer Gregg Sacco, another Jersey guy, at a local restaurant one evening and struck up a conversation.
Sacco, Joevia's trainer, invited them to visit his barn for close-up-and-personal with his horses the next morning. Right then and there, Basso and Fazio decided to buy into a horse and Sacco has trained for them since.
Basso was seated with the Fazio Brothers and another close friend at a table for four at Wednesday's post position draw when Joevia was assigned to break from post 2.
"It's only us four. That's it," said Basso. "A lot of people wanted to come but it was us four together for the draw for the Belmont (in which Joevia finished third after setting the pace into the lane) and we got the rail. The guys wanted an inside post and it was good luck we got the rail that time. We wanted to be inside for this race, so we weren't changing anything."
On Haskell Day Joevia's entourage will include a minimum of 75 friends and family and Michael Fazio said there could have been hundreds more as his phone has been blowing up with requests to jump on the bandwagon. No matter how many surrounds him on Saturday, he'll be thinking about and missing the immediate family members named Joe.
"Yeah, I do believe that Joevia will have two angels riding on his shoulders," he said. "My father and my brother used to get excited watching a $10,000 claiming race. We were in the richest race in the Belmont Stakes with this horse and now we're in the Haskell. This is beyond exciting. We take nothing for granted because tomorrow is guaranteed to nobody, as we know first-hand in our lives."
On Thursday morning Joevia was the star on the backside as TV crews taped him as he just floated over the track in a routine one-mile gallop and then went to the gate for a schooling session.