Trainer Robert Falcone Hoping Late-Running Spirit And Glory Gets Pace To Run At In Sunday's Miss Liberty Stakes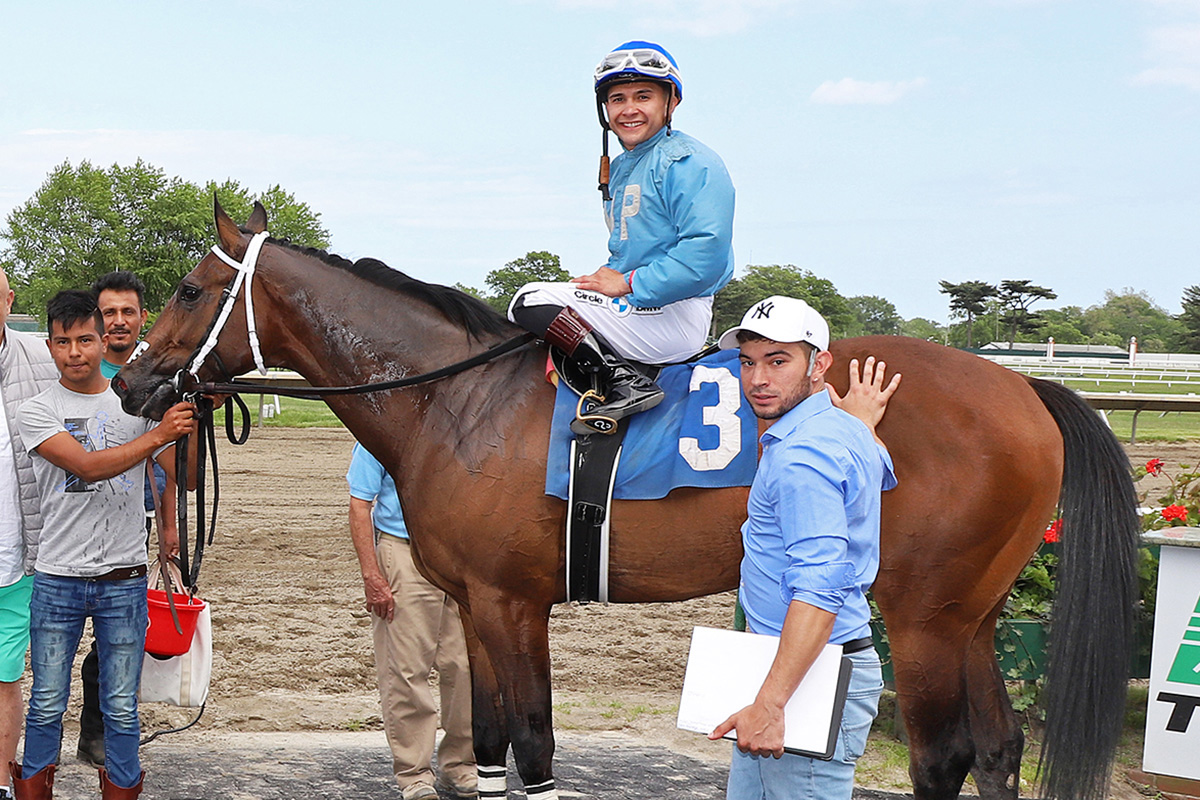 Trainer Robert Falcone Jr. said he was looking for a little break from the rigors of the NYRA year-round circuit when he decided to keep a string at Monmouth Park this summer for the first time.
So guess who happens to be waiting for him as he prepares to send out Spirit and Glory in Sunday's $100,000 Miss Liberty Stakes, a mile and a sixteenth turf race for fillies and mares, 3 and up, that headlines the 11-race card?
Hall of Famer Todd Pletcher and four-time Eclipse Award winner Chad Brown, NYRA training superstars, have horses entered in the race as well.
"They're everywhere. You can't escape them," the 29-year-old Falcone joked. "But it's good. I like the competition. I'm looking forward to this race."
Spirit and Glory, a 4-year-old filly bred in Ireland, will make her second start back since Falcone gave her a 2½-month break. She was fourth, beaten just three lengths, in her last start on April 16 in the Plenty of Grace Stakes at Aqueduct.
"She ran well that race," said Falcone, a Brooklyn, N.Y. native. "Unfortunately, sometimes horses are very pace dependent, and she's one of them. They walked around the track that day. She kicked into gear late but they kept going. When you go that slow you're supposed to keep on. So she didn't have a shot but she did close the gap."
Though Spirit and Glory has won once at the Miss Liberty Stakes distance, Falcone says the longer the better for the daughter of Cotai Glory, who is owned by Michael Nentwiq, Michael Dubb, Beast Mode Racing, John Rochfort and Falcone.
"I have a lot of confidence in her. She's a nice horse," said Falcone. "I think she can be a graded stakes winner at some point. But I also think she needs more ground. The further they go the better she will be."
Spirit and Glory won three of her eight starts a year ago, earning $205,010 – numbers that contributed to the best year Falcone has had since he took out his trainer's license in 2014. He won 31 races and banked $1,810,749 – both personal bests — in 2022.
This year, he already has 20 wins from 90 starts, including a 2-1-0 line from his first four starters at Monmouth Park, where he has 18 horses. Falcone said he has an additional 50 horses stabled at Belmont Park.
"I'm very happy with the start to this year," said Falcone. "Hopefully on Sunday there's some speed in the race. I'm thinking that some of the horses going from dirt to turf may show some speed. We just don't want one horse to walk around the track."
Falcone's career highlight to this point was winning the Grade 1 Malibu Stakes in 2016 with Mind Your Biscuits before the horse was transferred to another trainer.
It remains his only graded stakes victory, though not for lack of trying. Spirit and Glory, who won the Virginia Oaks at a mile and an eighth at Colonial Downs last year, has tried three graded stakes.
"That came early in my career but I definitely appreciated the accomplishment," Falcone said. "Graded stakes win are hard to come by, especially when you're competing year-round on the NYRA circuit. You're going against the best of the best.
"It's tough because I'm claiming horses and maybe we get a baby that we paid $75,000 or $100,000 for and you're competing against people spending millions. But I definitely want to get another graded stakes win. I've been waiting a while for that second one."
A field of seven is entered for the Miss Liberty, with Pletcher sending out Scotish Star – second in two straight graded stakes races – and Brown saddling Kalifornia Queen, who has raced just three times the past two years. But her past six starts have been against graded stakes company.