Exaggerator Triumps In The Grade 1, $1 Million Betfair.com Haskell Invitational at Monmouth Park Sunday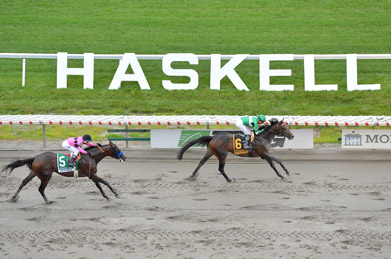 Oceanport, N.J. — Exaggerator, the winner of the Preakness Stakes earlier this year, stamped himself as the mid-season leader of his division with a decisive victory over Kentucky Derby winner Nyquist and four other top notch 3-year-olds in the Grade 1, $1 million betfair.com Haskell Invitational at Monmouth Park on Sunday. 
"Today was a great day for New Jersey and an even greater day for New Jersey horse racing," said Dennis Drazin, advisor to Darby Development LLC, operators of Monmouth Park Racetrack."While the rains may have dampened the racetrack, they sure didn't dampen the enthusiastic crowd who were treated to a great race and Exaggerator's victory." 
Owned by Big Chief Racing LLC, Head of Plains Partners LLC and Rocker O Ranch LLC and trained by Keith Desormeaux, Exaggerator rebounded from a disappointing 11th place finish last out in the Belmont Stakes, and in the process beat Kentucky Derby winner Nyquist again. The Haskell was the first rematch for the colts since Exaggerator defeated Nyquist in the Preakness in May following a runner-up finish to the Reddam Racing LLC's color-bearer two weeks earlier in the Kentucky Derby. 
With his Haskell victory, Exaggerator earned a berth in the $6 million Breeders' Cup Classic at Santa Anita in November as Monmouth Park's most important race, which is also the biggest event in New Jersey racing, is a "Win and You're In" Breeders' Cup qualifier. 
Exaggerator, who relishes the off-going as evidenced by his wins in the Preakness at Pimlico, Santa Anita Derby in California, and Delta Downs Jackpot in Louisiana over a muddy or sloppy track, found the racing strip and rainy conditions at the Jersey Shore very much to his liking. 
"He broke right on the money," said jockey Desormeaux. "They were going at it pretty well up front and I said to myself 'could this be happening.'Up the entire backstretch he was just galloping and gaining on them.I had to snatch him up a little bit into the far turn.I didn't want him to go too soon.
"The two path seemed to be the best part of the track, but that spot was already taken, so I had to go outside and around horses.Once I called on him he exploded.When we got clear I just kept him to his task.He's a really amazing horse with a devastating turn of foot. 
The late-closing dark bay son of Curlin out of the Vindication mare Dawn Raid came from the back of the six-horse pack, as is his custom, to cover the 1 1/8 miles in 1:48.70 on a sealed track rated as sloppy. He finished 1 ½ lengths in front of the Bob Baffert-trained American Freedom, the Grade 3 Iowa Derby winner, with the New Jersey-bred Sunny Ridge, who is Monmouth-based and was bred and owned by Dennis Drazin, another two lengths behind.  
Nyquist, the even-money favorite and leader out of the gate, faded in the stretch to finish fourth. 
Content to trail early under Hall of Fame rider Kent Desormeaux, the brother of the trainer, Exaggerator moved up on the backside as the front runners set fractions of 22.78, 46.62 and 1:11 and then rallied around the far turn and into the stretch to chase the leader, American Freedom. After getting past American Freedom, he drifted in front of that colt and jockey Rafael Bejarano inside the eighth pole but then drew clear under urging from Desormeaux. 
Bejarano claimed foul, but the objection was disallowed by the stewards. 
Keith Desormeaux, who was running a horse at Monmouth for the first time in a quarter-century and notched his first Haskell win, disagreed as he watched the race from Del Mar and said, "as the race was unfolding, I thought, 'Perfect.' It was not as much Exaggerator laying off the pace, but the way the race was setting up in front of him. There was a lot of speed and he was settling right off of them. It was a repeat of his other wins in the mud." 
Baffert, the Haskell record holding trainer with eight wins, was also at Del Mar and was delighted with American Freedom despite his runner-up status. 
"Too bad it rained. It changed the whole race and the complexity of it. We got stuck outside. I just told Raffy (Bejarano) to ride his race. They were going pretty fast. But Exaggerator is a really good horse. We got beat by a really good horse. I'm really proud of the fact that American Freedom can run with those big horses and he's moving forward. I was hoping for a dry track because I really thought he could win and I was going to be disappointed if he didn't win. But the way he got beat, it was by a really good horse. He just couldn't hold him off," said Baffert, who won the 2015 Haskell with Triple Crown champion American Pharoah. 
Nyquist, the reigning 2-year-old champion, was making his first start since the Preakness after skipping the Belmont due to an illness. His trainer, Doug O'Neill, was also proud of the Derby winner and found no fault with the ride he got from Mario Gutierrez. 
"His hands were kind of tied from the rail so we were forced to ride a little harder than we wanted to. I'm still proud of this guy (Nyquist) and we will regroup, see how he comes out of it and go from there. I thought Mario (Gutierrez) rode him perfectly. That's how he had to ride, with confidence, and he did. No excuses. We will go over the champ later and go from there. He will go back to California in the next day or two." 
Gutierrez said that Nyquist wasn't able to bring his 'A Game' to the Haskell. 
"The trip was great. The horse (Nyquist) was just a little off today. Any other day, he should be able to attack the pace, Rafael's (Bejarano) horse (American Freedom) kept going and I didn't. The race was great, perfect, but we were a little off today." 
Following Exaggerator, American Freedom, Sunny Ridge and Nyquist to the wire were the Steve Asmussen trained Gun Runner, who was third in the Kentucky Derby, and Awesome Slew, who is based in the Monmouth barn of Eddie Plesa, Jr. 
Said Florent Geroux, who was aboard Gun Runner, "It might be that he doesn't like an off track. If you look at his races, the only two he didn't run his best races was over the slop. It took me a little longer to get the position I wanted, but up the backside everything was perfect. He just didn't run his race today." 
Exaggerator, who was bred in Kentucky by Joseph Murphy and was purchased for $110,000 as a 2-year-old, boosted his bankroll to $3,571,120 and rewarded his backers with $7.20, $4.00 and $3.00. He has now won six of 12 lifetime starts, with four Grade 1 wins on his resume. 
Keith Desormeaux said that the Travers Stakes at Saratoga may be in his future, despite the fact the colt did not train well there and was sent to Monmouth to race in the Haskell. 
"I will absolutely consider the Travers at Saratoga for him next. That's where my east coast stable is based. The Travers is a famous race. I hope to see a better style of breeze from him. That's the reason we went to the Haskell, because of his breeze. He was struggling with the track and hopefully that changes in the upcoming weeks," the trainer said. 
It appears that a rematch with American Freedom may be on Exaggerator's dance card. 
"Right now, I'm leaning to the Travers," said Baffert. "I really like what I saw from him today." 
Handle on the rain soaked Haskell card came in at $11,973,464, as attendance was 30,587.Handle on the betfair.com Haskell was $3,378,790, nearly as much as 2015 ($3,570,746) when Triple Crown winner American Pharoah took the Jersey Shore's top event, and 12.1% better than in 2014. 
Live racing continues at Monmouth Park on Friday, Aug. 5 – gates open 11:30 a.m., first post 12:50 p.m.As always, the racetrack is open seven days a week for simulcasting from across the country and around the globe.