Edie Meeny Miny Mo Holds On To Win Saturday's Regret Stakes By A Head For Hemingway's First Career Stakes Victory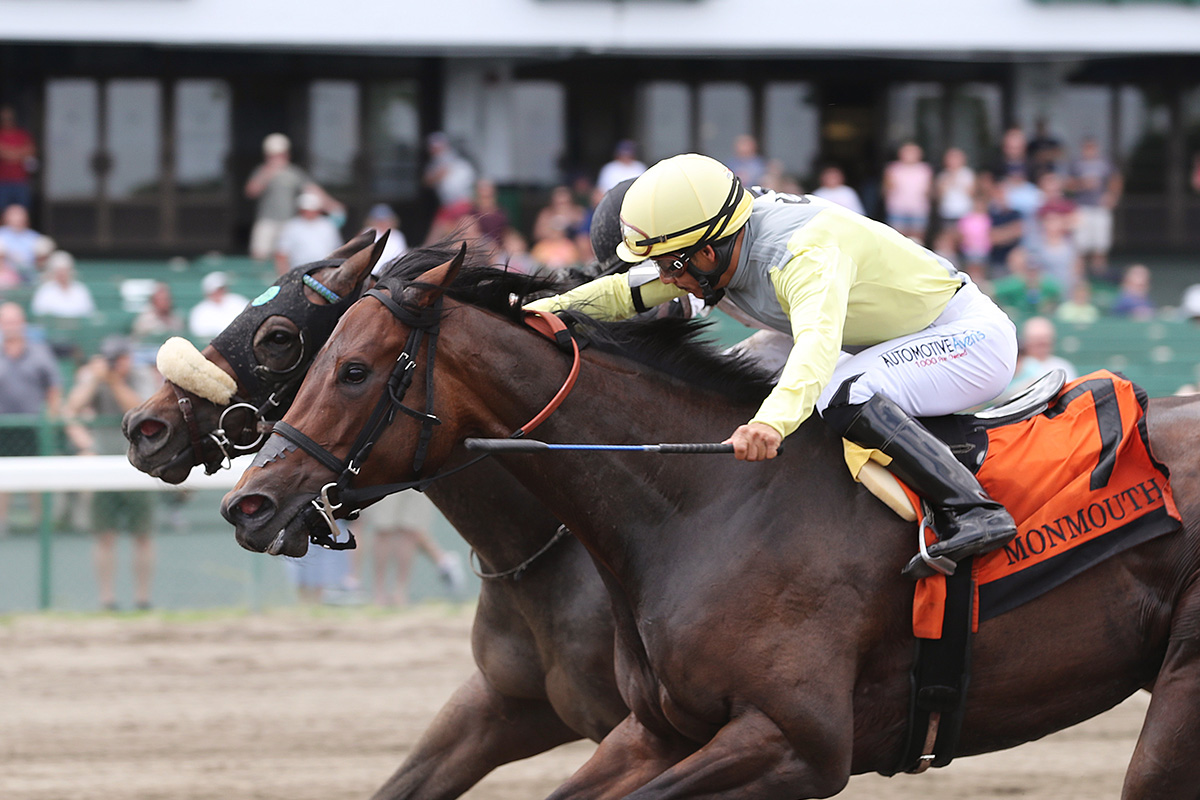 For someone with such a notable literary surname it was more than a little ironic that trainer Michelle Hemingway was at a loss for words following her first career stakes win on Saturday.
Edie Meeny Miny Mo, second in last year's Grade 3 Monmouth Oaks, broke sharply, set blazing fractions and then had just enough left to hold off Club Car by a head to win the $100,000 Regret Stakes at Monmouth Park.
The winning time for the six furlongs was a sharp 1:08.43 – the fastest of the meet so far for the distance.
"There just are no words," said the 38-year-old Hemingway, in her first full year as a trainer. "I'm blessed to be given this opportunity by Nick Sallusto, Thorostock and Holly Hill Stables and Newton Anner and Charles Engle. There are no words to express the gratitude I feel right now.
"The main thing now is getting her confidence back and she did that today. She's a class filly. She has shown she can do this in the mornings. I'm glad it translated into the afternoon."
Ridden by Paco Lopez, Edie Meeny Miny Mo easily cleared the field at the break from the outside post in the six-horse field, cruising to an opening quarter in :22.29 and to the half in :44.4 with only mild pressure from Dr B. Wheeling out of the final turn Lopez tried to open up, but Club Car had full momentum on the outside, with two then going neck and neck for the final eighth of a mile.
It was another 1½ lengths back to Oxana in third.
"Sometimes there's a lot of speed in the race but no one shows up," said Lopez, the meet's leading rider. "I liked my post position. I was looking to be second and stalking today. I really didn't want the lead. But no one went for it so I took it. She broke so sharply and she wanted to go.
"This is a nice filly and she beat a nice filly (in Club Car). I was a little worried after we went 44 and change for the half. I knew (Club Car) was going to come for us. But when they let me take the lead I didn't feel like I had a lot of pressure in the second quarter and that helped."
A 4-year-old daughter of Upstart owned by Holly Hill Stable LLC, Edie Meeny Miny Mo recorded her fourth victory in seven career starts. Since switching from Miguel Vera's barn to Hemingway this year, Edie Meeny Mino Mo has two wins in three starts.
"Club Car is a classy mare," said Hemingway. "Obviously, I was a little nervous watching this race and the way it developed. The emotions were there. But I knew if Edie looked her in the eye she was going to try just a little bit harder."
Edie Meeny Miny Mo returned $5.20 to win as the 8-5 second choice. Club Car was the 3-2 favorite.