Dylan Donnelly Takes '23 Pick Your Prize; 299 Entries Establishes New Contest Record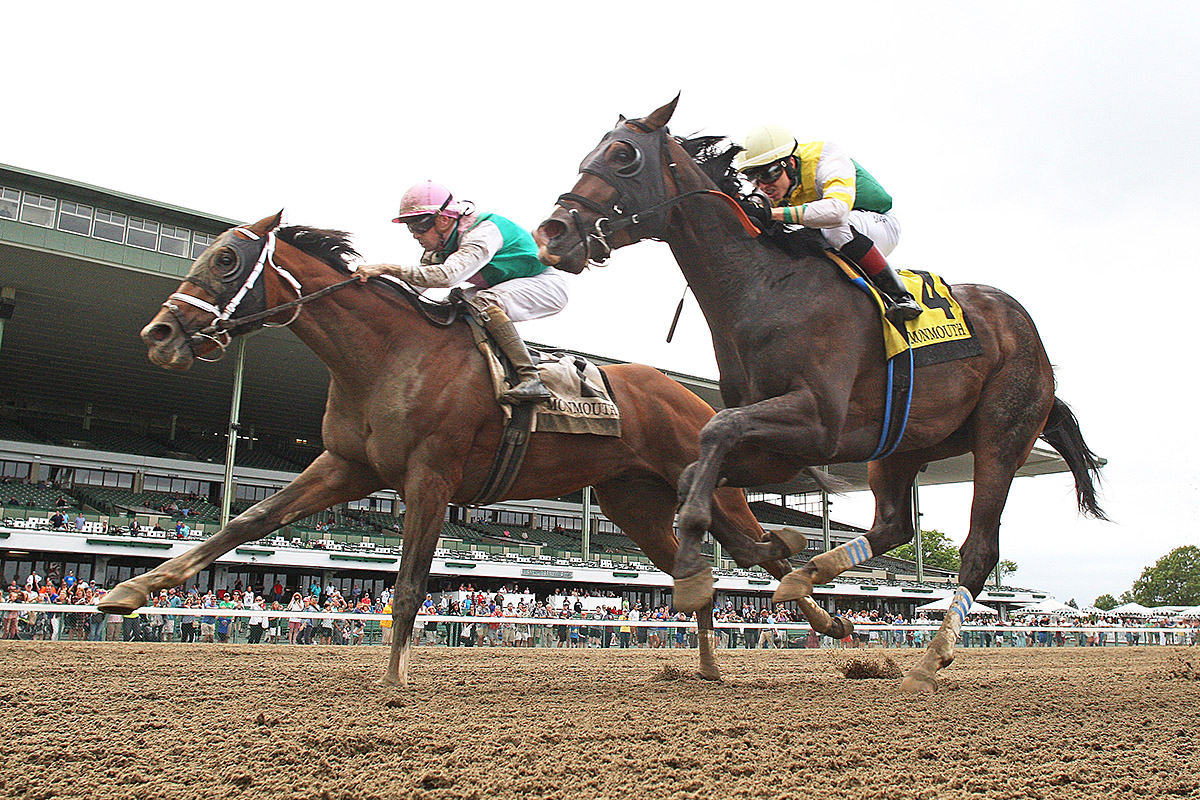 Monmouth Park's $2,000 Pick Your Prize Handicapping Challenge on Saturday, June 3 played host to a record 299 entries with Dylan Donnelly finishing ahead of all others.
Playing on Xpressbet, Donnelly turned his starting $1,000 bankroll into $8,960 with the help of two large daily doubles – a winning $400 bet starting in Race 8 and a winning $800 play starting in Race 11.
By finishing first, Donnelly automatically received a $15,390 cash prize. As part of Pick Your Prize's unique and unparalleled prize structure, Donnelly also received two prize selections from a prize board that included 25 seats to the National Horseplayers Championship, eight seats to the Breeders' Cup Betting Challenge and seven cash prizes ranging from $9,800 to $4,500.
With his two selections, Donnelly picked a BCBC seat and $9,800. All told, Donnelly walked away with his $8,960 bankroll, $25,190 in cash prizes, and a spot in the BCBC.
George Bosch, playing on-site at Monmouth, finished Saturday's contest with a bankroll of $8,310. The second-place finish earned him an automatic $8,550 plus two prize selections – used on a BCBC seat and "NHC+$6,000."
In total, the Top 7 finishers received two prize board selections.  Finishers 8-33 received one pick.
All Pick Your Prize players had to bet a minimum of five Monmouth Park races.   The minimum bet for those races was $200.  Pools available for contest play were win, place, show, exacta and daily double. Contest players participated on-site or online through Xpressbet, TVG and HPI.
Monmouth Park's next live money handicapping contest is the $1,000 Haskell Challenge on Saturday, July 22.  Entries can only be played online through Xpressbet, TVG/4NJBETS or HPI.
For those looking for more immediate contest action, Monmouth Park has partnered with Horsetourneys.com for a $1 (yes, $1) online handicapping for the Saturday, June 17 Haskell Preview Day card. The Top 5 finishers in that Horsetourneys contest will receive a seat in the $1,000 Haskell Challenge.
For information on future Monmouth Park contests, please contact Brian Skirka at bskirka@monmouthpark.com.
$2,000 Pick Your Prize Official Contest Results & Prizes
| | | |
| --- | --- | --- |
| Name | Bankroll | Prize(s) |
| Dylan Donnelly | $8,960 | $15,390, BCBC, $9,800 |
| George Bosch | $8,310 | $8,550, BCBC, NHC+$6,000 |
| Dennis Hubbard | $7,464.50 | $5,130, BCBC, NHC+$4,000 |
| Steven Wells | $6,600 | $3,420, BCBC, NHC+$3,000 |
| William Meisel | $6,270 | $1,710, $8,500, NHC+$2,000 |
| Rick Broth | $6,002.50 | BCBC, NHC |
| Chris Larmey | $5,480 | BCBC, NHC |
| Chris Littlemore | $5,240.76 | BCBC |
| Dan Edwards | $5,130 | NHC |
| Frank Mustari | $4,580 | BCBC |
| Richard Nilsen | $4,386.40 | $8,000 |
| Seth Morris | $4,280 | $7,000 |
| Ken Jordan | $4,136 | NHC |
| Kyle Roscoe | $4,080 | $6,500 |
| Terrence Severson | $4,030 | NHC |
| Bill Rendino | $4,000 | $5,500 |
| Dennis Tiernan | $3,944 | $4,500 |
| Zachary Agamenoni | $3,700.50 | NHC |
| James Giamundo | $3,478 | NHC |
| Bradley Anderson | $3,400 | NHC |
| Mark Streiff | $3,298 | NHC |
| Joe Scanio | $3,173 | NHC |
| John Kostin | $3,140 | NHC |
| Chris Ahl | $3,007.80 | NHC |
| Mike Steindler | $2,940.50 | NHC |
| Jerry McClenin | $2,854 | NHC |
| Paul Shurman | $2,820 | NHC |
| Francis Drew | $2,813 | NHC |
| Gary Johnson | $2,770 | NHC |
| Braden Selvig | $2,755 | NHC |
| Lorne Weiss | $2,741.82 | NHC |
| Robert Losier | $2,530 | NHC |
| Ken Seeman | $2,500 | NHC |