Duarte Hoping 2-Year-Old Hooky Player Excels On Turf In Career Debut On Friday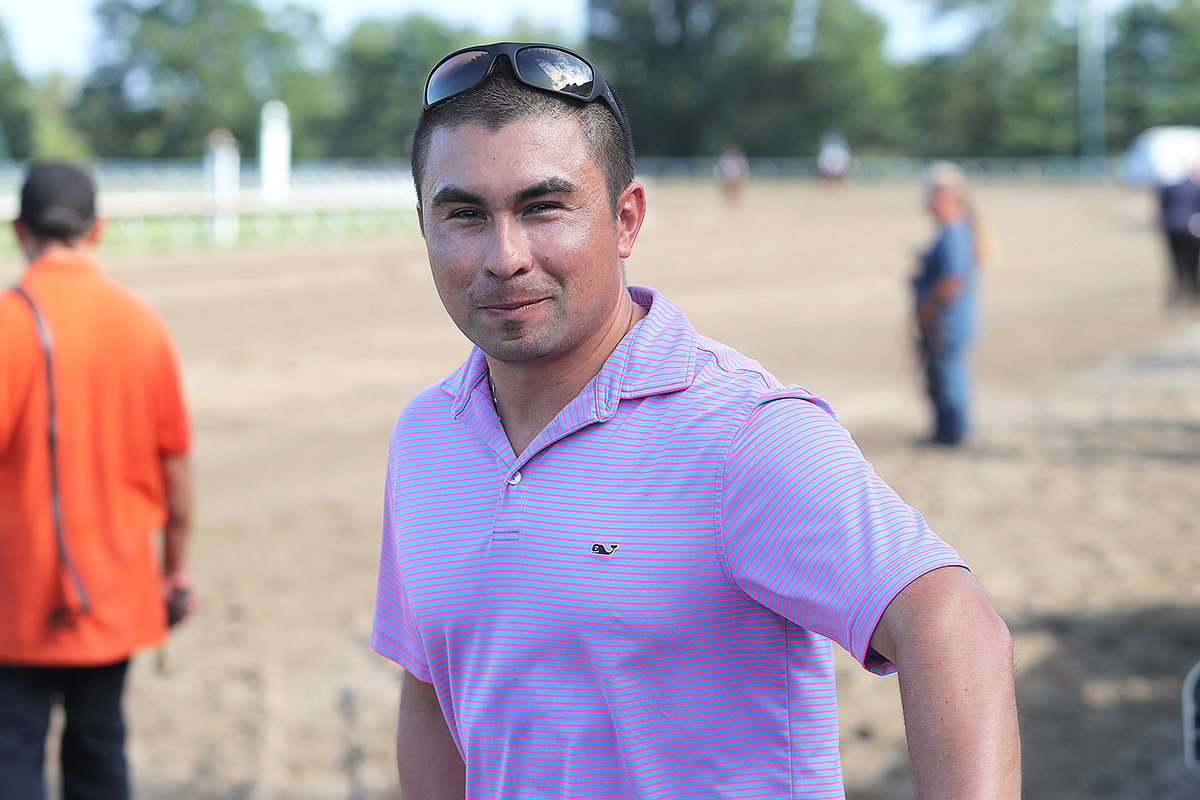 With the days dwindling to allow enough time to get a 2-year-old turf runner ready for the $500,000 Nownownow Stakes on Sept. 26 at Monmouth Park, trainer Jorge Duarte, Jr., hopes a contender or two from his barn surfaces in the next week or so.
One of those will make his career debut on Monmouth's 10-race Friday card (first post 3 p.m.) when Hooky Player, a son of Kitten's Joy, goes in a Maiden Special Weight race at a mile on the grass.
"He has turf ability," said Duarte. "I can't say he's the quickest learner we have but he is ready to run and he has done everything right. I would not be surprised if he runs well.
"Beyond Friday it's hard to say. We just want to get him started. Hopefully he gets some good experience. We've got a couple (of 2-year-olds) that hopefully will come through in the next week or so. We'll start by seeing what he brings on Friday."
Owned and bred by Colts Neck Stables LLC, Hooky Player will face nine freshman runners, with some no doubt casting an eye toward the Nownownow Stakes at a mile on the grass that will serve as the closing day feature. The purse for that race was bumped to $500,000 from $150,000 in an effort to lure some top 2-year-old turf prospects who might use the race as a prep for the Breeders' Cup Juvenile Turf exactly six weeks later.
"We would definitely like to run in a race like the Nownownow in our backyard," said Duarte. "But we also want to be competitive if we go. We'll see how Hooky Player runs and whatever else may come along."
If recent results are any indication, Duarte will likely unveil a future star shortly. After starting the year 0-for-24, he has won with 13 of his last 38 starters and is 10-for-21 at the Monmouth Park meet, including a victory in the Incredible Revenge Stakes with Introduced.
He has won with his last four Monmouth Park starters as well.
"We didn't go to Florida this year. Sometimes we're able to jack them up there to come back and we're able to fire right away because of it," he said. "We didn't go to Florida and the weather here in New Jersey, training at the farm, didn't help us starting out.
"I would say some of the horses weren't ready to run mentally or physically right away. By the time Monmouth Park started they seemed to click. But we didn't do anything different. They're running good right now but you know how that goes as they go through conditions. If the horses are doing well and you're in the right spot you can fire. That's how the game goes.
"Look at the beginning of the year. We didn't plan to start that way but it happened."
Duarte, who launched his training career in 2015, says the best may be to come. He has 16 unraced 2-year-olds of varying ability.
"They're not all ready to run and I don't know if all of them will be ready this year," he said. "Some are coming along. We think we have a few good ones in there."
Duarte has already won with a pair of first-time Maiden Special Weight starters at the meet, with 2-year-old Grooms All Bizness winning a 2-year-old turf sprint on Aug. 7 and Spun and Won, a 3-year-old, winning at first asking on July 17 before finishing second in allowance company his next time out.