DRF's Jim Dunleavy Wins Handleman Award For Outstanding Haskell Coverage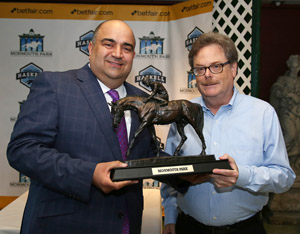 Jim Dunleavy of Daily Racing Form was named the winner of the 2018 Bill Handleman Memorial Award for outstanding coverage of last year's $1 million betfair.com Haskell Invitational. Inaugurated in 2012, the Handleman Memorial Award honors outstanding media coverage of the Haskell Invitational, Monmouth Park's signature race. 
          "Jim is the consummate professional and his coverage of the 2017 Haskell Invitational certainly reflected that professionalism," said John Heims, Monmouth Park's Director of Racing/Racing Secretary. "He was able to capture all of the elements of last year's exciting three-horse finish in one of the most memorable Haskell's ever run." 
          The award honors the late Bill Handleman, who was the lead sportswriter for the Asbury ParkPress for nearly three decades and made Monmouth Park his home away from home. Mr. Handleman died in June of 2010 at age 62. 
          The first recipient of the Handleman Award was Tom Luicci of The Star-Ledger, followed by Steve Edelson of the Asbury Park Press in 2013, Dave Johnson of Sirius XM in 2014, Ed McNamara of Newsday in 2015, Bob Ehalt of ESPN.com in 2016 and Tom Cassidy of TVG last year. 
Dunleavy, Daily Racing Form Senior Editor and Mid-Atlantic correspondent, received the award for his outstanding coverage of the 2017 Haskell Invitational, when Girvin surged late to beat McCracken by a nose. 
Dunleavy has been with Daily Racing Form since joining the publication's chart-calling team at Santa Anita in 1982. He is a 1979 graduate of the Race Track Industry Program at the University of Arizona.