Drafted Flashes Dazzling Closing Kick To Win Saturday's Mr. Prospector Stakes By Three-Quarters Of A Length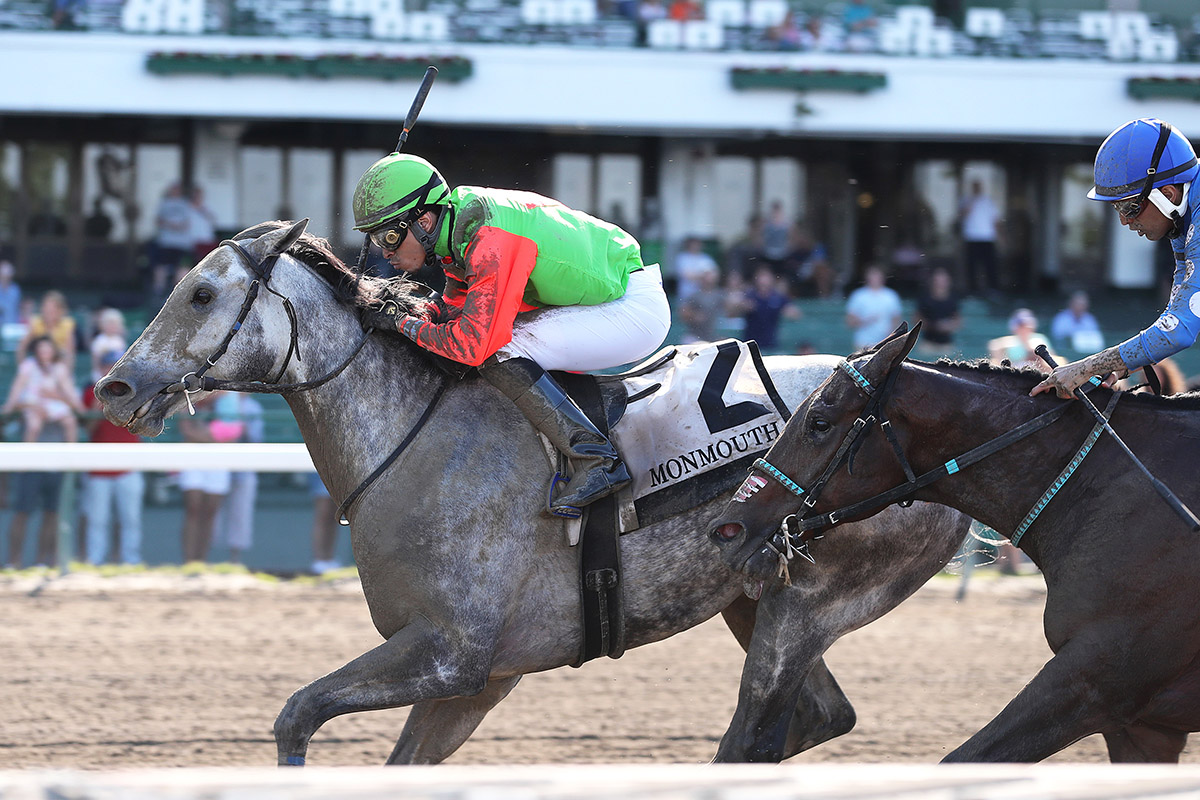 In a Mr. Prospector Stakes brimming with speed, trainer David Duggan knew that Drafted would be eventually be able to use his strong late kick to be a factor in the six-furlong feature race at Monmouth Park on Saturday.
What he didn't expect was for his sturdy 8-year-old gelding to be last in the field of nine after the opening quarter, 12½ lengths behind the leaders.
That abruptly changed, with Drafted storming five-wide around the final turning, collaring Greeley and Ben in deep stretch, before going on to a victory by three-quarters of a length.
The winning time for the six furlongs was 1:10.52.
"I was kicking myself after the opening quarter.  I said `we have no chance,' " said Duggan. "It looked like he was taking the dirt and climbing a little bit. But I knew we said before the race that we had a plan and when I saw the :21.57 (for the opening quarter) I said `at least we've got some shot. Maybe he will pick up a piece.'
"Because the track here can be a little speed favoring and that was always a concern. But he has his running style and you can't change it."
After going winless in seven starts last year, the son of Field Commission has won three of four starts this year, including a pair of Grade 3 stakes races. With the $60,000 winner's share, Drafted is just $807 shy of becoming a millionaire for his career.
"I think we're going to do a Go Fund Me campaign for him now," Duggan joked.
With River Dog and Hollywood Jet going at it early in a snappy speed duel, reaching the opening half mile in :44.42, jockey Luis Rodriguez had no choice but to wait with Drafted. But he did not wait too long, nudging Drafted to the outside entering the turn. At the second call he was still eighth, seven lengths behind the leaders.
Drafted was wheeled five wide coming out of the turn and stormed home with full momentum. Greeley and Ben held for second, 2½ lengths ahead of Milton the Monster and Hollywood Jet, who finished in a dead heat for third.
"On the turn heading for home I said to myself `I got it.' He was just rolling," said Rodriguez. "He's a really strong horse. I was a little further back than I expected to be early. I knew I was going to close but I thought I would be a little closer. We had a lot of work to do but he got it done."
Let go at 5-1, Drafted paid $12.60 to win.
Owned by Dublin Fjord Stables LLC, Racepoint Stables, Kevin D. Hilbert and Thomas E. O'Keefe, Drafted won for the ninth time in 28 career starts.
"He's just a cool old horse. It's nice to win races with cool old horses," said Duggan.
JOCKEY CARLOS ROJAS NOTCHES FIRST VICTORY IN U.S.
 Jockey Carlos Rojas recorded his first victory in the United States in his third mount, winning Saturday's fifth race at Monmouth Park with an off-the-pace ride aboard Steadytillready.
The 27-year-old from Ciudad Bolivar, Venezuela, said he came to the United States and to Monmouth Park in particular after several Venezuelan-born trainers offered him mounts. Among those are Jose Camejo, who trains Steadytillready, and Juan Carlos Avila.
"I'm grateful for the opportunities," Rojas said through a translator. "This feels great. I am very happy right now."
Steadytillready paid $8.40 to win.