Diamond Play Seeking Third Straight Victory In Friday's Feature Race At The Meadowlands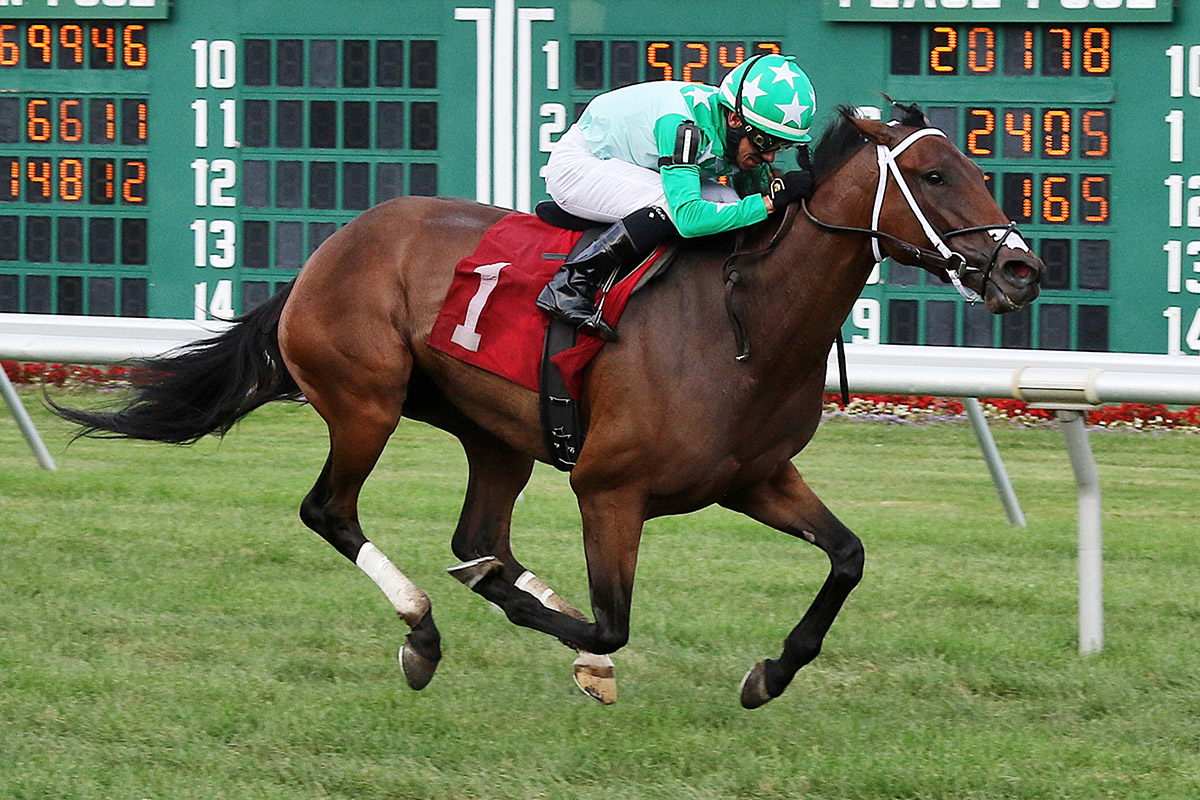 It's a rare occurrence when trainer Anthony Margotta, Jr., claims a horse but he did so with Diamond Play earlier this year for a couple of reasons.
One is that he originally bought the 6-year-old mare as a yearling before losing her to a claim last year. The other is that she wins – and has a knack for earning money.
A Jersey-bred, Diamond Play will go after her third straight victory in open company in Friday's $37,500 featured allowance optional claimer when all-turf racing resumes at the Meadowlands Racetrack.
The mile and a sixteenth feature will go as the first race on the six-race card and has attracted a field of nine fillies and mares.
The card will offer three carryovers as well: $5,135 in the Pick 6 that starts in the first race, $18,327 in the Pick 5 that starts in the second race and $9,623 in the Pick 4 that starts in the third race.
"Team Margotta's game is not claiming. It's developing horses of all ages and taking horses that have issues and rehabilitating them," said Margotta. "I very seldom claim. I usually only claim as a courtesy to a client. But it was easy to make an exception for Diamond Play."
The daughter of E Dubai-Forbidden Isle by Belong To Me, owned by Carol Luchento and Kyle Wells, shows a 9-8-4 line from 30 career starts, with earnings of $412,169. On turf she has five wins, four seconds and a third from 13 starts.
In 2016 she was named the New Jersey 3-year-old filly champion.
"We're very happy to have her back in our barn," said Margotta.
Diamond Play left Margotta's barn on July 29, 2018, when she was claimed by Kelly Breen for Kenwood Racing Inc. for $12,500. Margotta got her back at the start of the current Monmouth Park meet, claiming her for $30,000 on May 18. In five starts since she returned to Margotta's care she has two wins and two seconds.
"We knew we were taking a chance when we put her in an optional claimer last year but we wanted to win a race and it was getting toward the end of the meet," he said. "So we took a shot and we ended up losing her.
"We saw her re-surface at the beginning of this meet. We knew she had some conditions left and that she could go in the Jersey Girl Handicap (a second-place finish in a race that was taken off the turf). For us to do something like that and claim a horse for $30,00 we had to have good reasons to do it. We felt the risk/reward was a good opportunity."
Coming off a 4½-length score on Sept. 8 at Monmouth Park, Diamond Play will have her modest winning streak tested in Friday's opener, Margotta acknowledged.
"This is no gimme. This is not an easy spot," he said. "There are horses in there racing good numbers and winning races. But she is razor sharp right now so we'll see. We know what she is capable of when she is on her game."
New Jersey's two-venue racing format in October will continue with an all-turf card on Saturday at the Meadowlands before shifting to Monmouth Park on Sunday.
All-turf racing takes place at the Meadowlands on Fridays and Saturdays throughout October, with the exception of Oct. 19, when the 99th Far Hills steeplechase meet is held. Monmouth Park holds live racing on Sundays only in October.
First race post time at the Meadowlands is 12:30 p.m. At Monmouth Park first race post time is 1:15 p.m.