Despite Physical Setbacks, Trainer Doug Nunn Is On Track For The Best Year Of His Career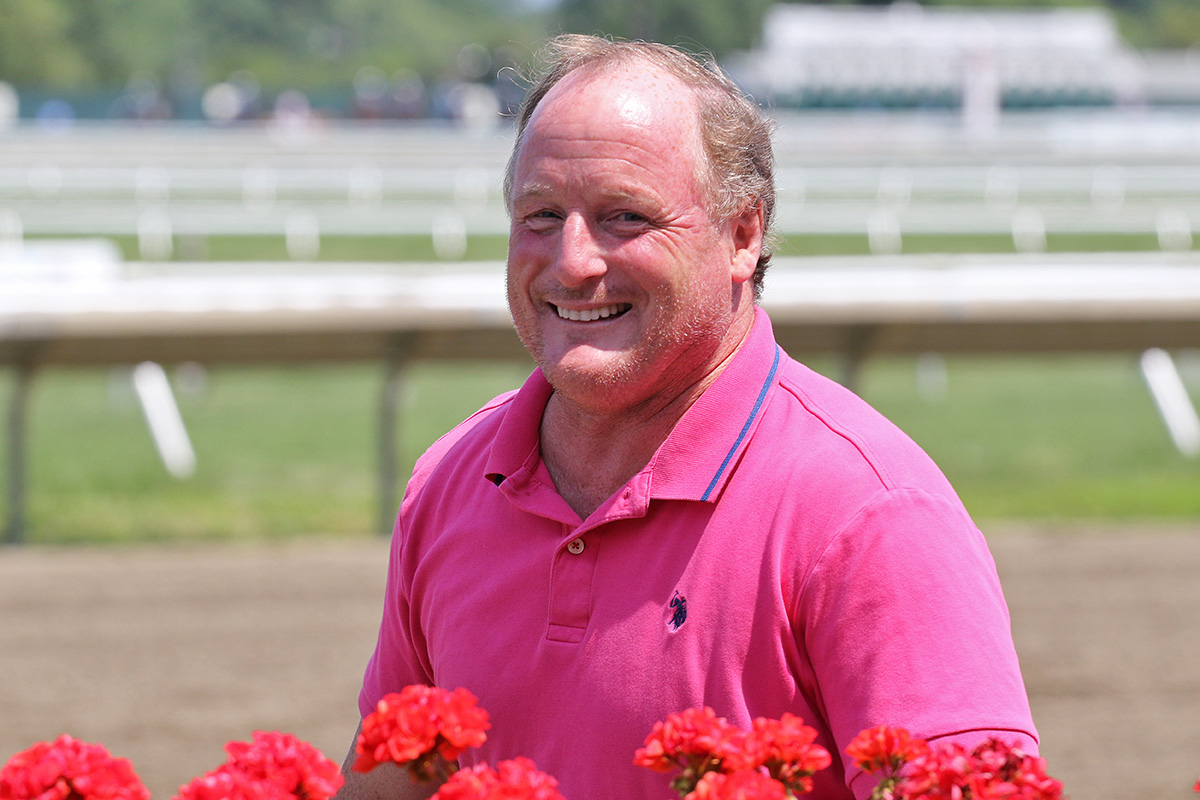 The worst year physically of trainer Doug Nunn's life is heading toward being his best one professionally. Whether that's coincidence or just a matter of everything coming together after 29 years as a trainer he can't say for sure.
But he does have a theory.
"I think it's because I'm off the horses right now," he joked.
Nunn, a former jockey who has been Monmouth Park-based since 2000, has always exercised the horses he trains, doing so from the time he launched his second career in 1992. That changed on May 3.
Nunn was getting on a horse when he slipped on a bag of shavings. From the fall he snapped his right quadriceps muscle and had to undergo a complicated re-attachment surgery. That left him in a cast and a boot for two months.
"I've ridden horses my whole life. I've always exercised my own horses," said Nunn. "This is the first time I haven't been able to do that. After you've done it for 30 years that way, just from being on them I can tell you anything about a horse after getting on one. So it's a whole new perspective to see them from the ground and train them from the ground.
"It's hard for me. It's a big adjustment. I learn something new every day."
The new perspective hasn't had an impact on his results – unless a year that could wind up as the best of his career counts. Nunn is currently 8-for-32 at the Monmouth Park meet and has 11 winners overall from 61 starters. His winning percentage is the highest it has ever been, as is the average earnings per start.
He can now take dead aim at a career-best 17 wins that he recorded in 2011 – again in large part because of his injury.
Nunn, 52, has annually headed to nearby Overbrook Farm to break horses in the winter after the Monmouth Park meet ends. This year, because of his physical limitations, he can no longer do that. So he will ship to Tampa Downs with a division for the first time when Monmouth Park closes.
"Usually at this time of year I'd have 17 or 18 of my own horses and I would start to think about the 20 or so yearlings I would be breaking in another few months on the farm," he said. "I can't break the horses anymore because of my leg so we'll try to keep things going and try to keep the momentum going by going to Tampa for the first time."
Nunn, whose twin brother David retired as a trainer this year, comes from a racing family. Both of his parents were trainers at Finger Lakes, where he grew up, and his sister, Michelle Harris, was an accomplished jockey.
So he understands that running a 27-horse stable requires a lot of help.
"My help has been the difference, since I couldn't do anything for quite a while," said Nunn, citing assistants Kendall Wyszynski, Rafael Aguilar, Fernando Arellano and Melissa Iorio as professional lifesavers when he was incapacitated. "I had to depend on them and they have done a great job. My wife (Maria van Sant) keeps me grounded. So it's a good mix."
Nunn's stable, which consists mostly of claimers, Jersey-breds and some allowance-quality horses, will look to add to its success during Friday's twilight card at Monmouth Park. He has entered Postino's Idol, an 8-year-old mare recently claimed off a win by Winner Circle Stable, and Ask Around, a 3-year-old coming off a maiden special weight win, in the $71,875 allowance optional claimer that will serve as the feature.
Nunn expects to be able to saddle both, but isn't sure yet since he is scheduled to undergo a procedure on Thursday to remove kidney stones that have plagued him for more than a month.
"It's just one of those years. You learn to take the bad with the good," he said.