Despite Meet-Long Rain, Monmouth Park Closes With Only Slight Dips In Attendance And Handle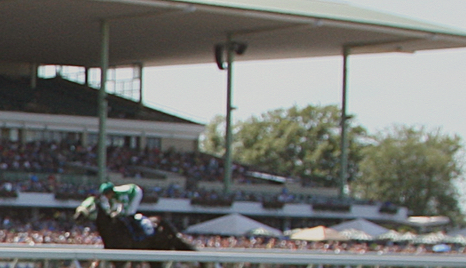 After a summer of battling rainy conditions, Monmouth Park held its own during the 52-day meet that came to a close on Sunday, with slight dips in handle and attendance.
During the 52 live race days, which saw Monmouth lose more than one-third (80 of 231) of its scheduled turf races due to rain, average attendance came in at 8,986, slightly less than last year's average of 9,234. Overall, 17 full days of turf racing were lost because of the weather in 2018.
Despite that, simulcast handle saw just a 1.6% decline as wagering off-site averaged $2,985,009, versus an average of $3,032,823 last year when the track conducted 50 live cards. On-track wagering averaged $398,863, a six percent decrease from last year's average of $424,556. Average total handle came in at $3,383,872, 2.1% off of last year's average of $3,457,379.
"We got off to a great start, which was unfortunately dampened by the rainy conditions we had to deal with throughout the summer and right up until our final two days of racing," said Dennis Drazin, Chairman and CEO of Darby Development LLC, operators of Monmouth Park. "We're proud of the quality of the racing we were able to offer once again and we're encouraged moving forward with the advent of sports betting as part of the fabric of what Monmouth Park has to offer to our patrons."
Top training and owner honors went to Jorge Navarro, who captured an unprecedented sixth straight training title while setting a track record for victories for the third straight year. Navarro finished with 85 winners from 190 starters and became the first to double as leading conditioner and owner since J. Willard Thompson and Quiet Winter Farm in 2001. Navarro's JN Racing recorded a meet-leading 22 winners.
Veteran Jose Ferrer, who has been riding in New Jersey since 1982, captured his first Monmouth Park riding title with 94 winners. Earlier this year, the 54-year-old Ferrer, who has ridden more than 4,300 winners, was honored with the George Woolf Memorial Award, one of the nation's top honors for jockeys.
The 2018 season proved to be a historic one with the addition of sports wagering in mid-June, with the Monmouth Park Sports Book by William Hill proving to be one of the most popular destinations in the state for betting on all sports.
The track's signature event, the $1 million betfair.com Haskell Invitational, saw Juvenile Champion Good Magic score an impressive three-length victory before a crowd of 37,186.
Live Thoroughbred racing continues in New Jersey with the Monmouth at the Meadowlands meet on Friday, Sept. 14. That will mark the first of six all-turf cards for the next three Fridays and Saturdays.
As always, Monmouth Park is open seven days a week for simulcasting and sports wagering from across the country and around the globe.