Desperado Seeking Second Straight Win In Featured $35,000 Allowance As Monmouth-At-Meadowlands Meet Kicks Off Saturday Night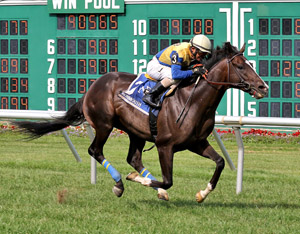 Now that she has had a reminder of what the winner's circle is like after a nearly three-year absence, Joan Milne is eager to get back there again. 
The part-time trainer and full-time horse farm owner will saddle Desperado in the $35,000 featured allowance for Jersey-breds on Saturday night as the abbreviated Monmouth-at-Meadowlands meet kicks off with a six-race all-turf card in East Rutherford. Post time is 7 p.m. 
All-turf racing will continue for the next two Fridays and Saturdays (Sept. 21 and 22 and Sept. 28 and 29). 
Milne, who has had just 14 starters this year, is wheeling Desperado back in just three weeks after the 5-year-old son of Iron Deputy-Miss Rodeo broke his maiden in impressive fashion with a five-length score at a mile and a sixteenth on the grass at Monmouth Park on Aug. 26. 
"He's training very well, so he is giving the signs that he is ready to go again," said Milne. "I haven't looked at the field closely but I am optimistic and Jose Ferrer (Monmouth Park's leading rider this summer) wanted to ride him again so that's encouraging to us." 
Desperado will be part of a field of nine going a mile and a sixteenth. 
He will also having the longest ship to the race. Though most of Milne's seven horses in training are stabled at Monmouth Park, Desperado is at the Milnes' 180-acre Sterling Brook Farm in Pittstown, where she and her husband Dennis – a veterinarian – host a breeding operation and rehabilitate horses. The farm features a full-service veterinary clinic that includes a surgical facility. 
"Desperado just seems to do better at the farm," she said. 
The commute, round trip, is approximately 200 miles. 
"We're hoping it's worth it," said Milne. 
Though she took out her trainer's license in 1985, Milne has only had 32 starters combined the past three years. So being a trainer is both a vocation and avocation for her. 
"I do this because I love it and I love the racetrack," she said. "We have a few of our own horses and a few of our mares and their foals so from a racing standpoint we do it because we love it." 
Though Desperado didn't break his maiden until his 20th career start, he has earned $88,178 for his career, having tested the maiden ranks at Saratoga, Belmont Park and Aqueduct Racetrack during his career. He returned to Maiden Special Weight Jersey-bred company in his last start and won handily. That was Milne's first winner since 2015. 
"It has actually been a pretty good year for us in terms of racing," said Milne, who has a winner, three seconds and three thirds from her 14 starters this year. "The problem is, when you raise your own horses you end up loving them – which is probably a bad idea if you're in this sport. You don't always run them where they belong." 
The late-running Desperado, she said, "runs the same kind of race every time and always gives everything he has." 
"It meant a lot to win a race with him," said Milne, who credits assistant Julie Stettler with the care and development of Desperado from the time he was born. 
Saturday's card will be complemented by the Meadowlands NHC Qualifer, with two seats to the 2019 NHC up for grabs. 
Parking, admission and seating for the five all-turf cards are free, both inside and outside the Meadowlands. Live programs will be $2, with simulcast books $4. Valet parking will be available for $5.