David Conover Surges Late to Win $200 Monmouth/Woodbine NHC Qualifier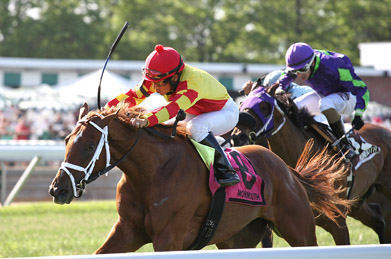 In the final NHC qualifier of the 2016 live season, Monmouth Park contest regular David Conover bested 200 other entries to capture first place in the $200 Monmouth Park/Woodbine contest.
Conover turned his $100 starting bankroll into an end total of $971.25 – in doing so besting 200 other participants and taking home top cash prize of $10,050 to go with his seat in the 2017 NHC and trip to Las Vegas.  Joining Conover in the NHC is Ralph Miller – whose $858 bankroll was good for second place.
Players started with a $100 bankroll and had to bet at least five races from Monmouth Park and five races from Woodbine.  Win, place and/or show were the betting pools and bets needed to be a minimum of $10.  The official Top 10 leaderboard is as follows:
| | | | |
| --- | --- | --- | --- |
| Finish | Name | Bankroll | Prize |
| 1st | David Conover | $971.25 | $10,050, NHC seat |
| 2nd | Ralph Miller | $858 | $4,020, NHC seat |
| 3rd | George Longobardi | $651.10 | $2,412 |
| 4th | John DeLorenzo | $529 | $1,407 |
| 5th | John Vail III | $480 | $703.50 |
| 6th | Fiore Esposito | $470.50 | $301.50 |
| 7th | Eddie Herman | $340.40 | $301.50 |
| 8th | Basil DeVito | $242.35 | $301.50 |
| 9th | Eugene DeMarzo | $234.35 | $301.50 |
| 10th | Joe Ambrosio | $199.50 | $301.50 |