Dark Artist Seeking Second Straight Stakes Win At Monmouth Park In Saturday's Open Mind Handicap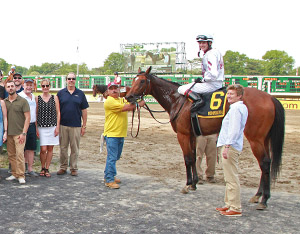 Now that trainer Jane Cibelli has started to solve the mystery of 3-year-old filly Dark Artist, she wants to take full advantage of it. Exactly four weeks after the daughter of Paynter-Ominous Cat notched her first stakes victory in the Boiling Springs at Monmouth Park, Dark Artist will look to repeat that effort in Saturday's $60,000 Open Mind Handicap. 
A field of nine turf runners has entered the Open Mind, which is for 3-year-old fillies at a mile and a sixteenth on the grass. 
"I'm very happy with her for several reasons," said Cibelli. "She's not an easy horse to train and she's not an easy horse to ride. Previous to this on the grass she would just go. You're very limited in what you can do when you run that way. 
"(Jockey) Trevor McCarthy did a fantastic job last race dropping off the pace and relaxing her and everything just went perfect. She learned a lot from that race." 
Though Cibelli did not originally view Dark Artist as a turf specialist, the filly owns two of her three career victories on the grass. After showing all front-end speed in her first two grass tries, Dark Artist rated nicely to win the Boiling Springs by three-quarters of a length with a strong late run. 
Two horses she defeated that day — So Hi Society, who was third, and Lisa Limon, who was fifth – will try Dark Artist again on Saturday. 
"My only concern this race is that there does not appear to be a lot of pace, so I don't know if she is going to the lead or not," said Cibelli. "I'll just tell Trevor to jump out of the gate, see where she ends up, and then make a decision from there." 
Cibelli, the only woman to win a Monmouth Park training title (doing so in 2011 and 2012), has taken particular satisfaction with the development of Dark Artist because of the horse's difficult-to-handle nature. 
After going only on dirt for her first four career starts as a 2-year-old, all three of Dark Artist's 3-year-old races have been on the grass. She has three career victories from seven starts with earnings of $105,136. 
"She's very difficult," sad Cibelli. "If you give her directions to go right she will go left. She's one of those types. If you get into a fight with her you will never win.  
"We've done a lot of work with her, taking her to the paddock, schooling her, and she's really taken some steps forward in that aspect. Now we just have to keep her going forward." 
The Open Mind could be particularly telling for Dark Artist, since a victory would likely have Cibelli considering a graded stakes race next time out. 
"If she wins this we'll visit the idea of a graded stakes and make a decision from there," she said.