Dakota Gold Breeders' Cup-Bound After Impressive Score In Sunday's $500,000 Nownownow Stakes On Closing Day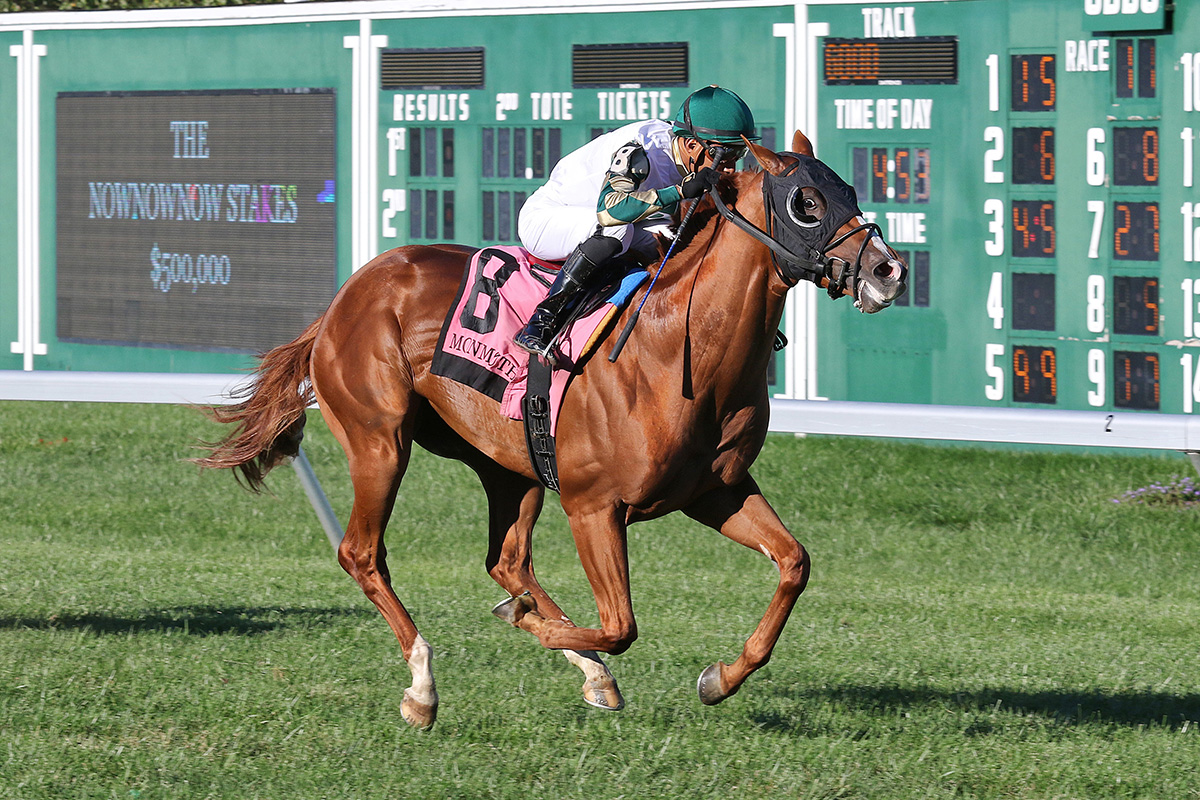 Trainer Danny Gargan probably won't need to do any more convincing with owner Dean Reeves about sending Dakota Gold to the Breeders' Cup Juvenile Turf.
The horse stated his case emphatically on Sunday at Monmouth Park.
Dakota Gold, a New York-bred son of Freud, turned in an eye-catching performance on closing day at Monmouth Park, capturing the $500,000 Nownownow Stakes for 2-year-olds by 2½ lengths.
Ridden by Isaac Castillo, Dakota Gold stormed from off the pace in the one-mile grass feature, flashing under the wire in 1:36.31 over a turf course labelled "good" to improve to 2-for-2 lifetime.
After winning his debut at 5½ furlongs in an off-the-turf Maiden Special Weight race at Saratoga by 4½ lengths on Sept. 2, Dakota Gold showed why Gargan was so eager to get him on the grass.
"I just couldn't wait to get him on the grass," said Gargan. "We knew he had this kind of turn of foot on the grass. There was some pace in the race and he just flew by. When the jockey asked him he just galloped by. It was pretty impressive. You get lucky and get a horse like this once in a while. I think this horse has as much talent as any younger horse I've ever had."
Dakota Gold, owned by Reeves Thoroughbred Racing, will likely get a chance to show off that talent next in the Breeders' Cup Juvenile Turf on Nov. 5 at Del Mar, said Gargan.
"There was a New York-bred race today at Belmont at seventh-eighths on the dirt," said Gargan. "Dean and I discussed it and I really wanted to run here. I'm just glad I got the opportunity to do it and Dean gave me a chance.
"I told him if we win this we can go to the Breeders' Cup, so I think Dean is going to let me going to the Breeders' Cup."
For the 23-year-old Castillo, this was the signature victory of his young career.
"This is the biggest win of my career, the biggest purse I have ever won," he said. "It's incredible. It feels great. This is a fantastic horse, a championship-type horse."
Sent off at 5-1 in the field of nine, Dakota Gold was back in the pack as There Are No Words and Grooms All Bizness set early fractions of :21.41 and :45.56 to the half, at which point Dakota Gold was sixth. Castillo swung Dakota Gold wide coming out of the turn and he simply breezed past the field, with Royal Spirit rallying for second. It was another six lengths back to 4-5 favorite Coinage in third.
In the $100,000 Smoke Glacken Stakes that served as the supporting feature, New Jersey-bred Speaking dazzled a field of open company 2-year-olds with a 3¼-length victory.
Trained by Eddie Owens, Jr. and ridden by Gerardo Corrales, Speaking turned in a sharp winning time of 1:10.12 for the six furlongs. Forty Stripes was second, 2¼ lengths ahead of Practical Coach in third.
"He doesn't know he's a Jersey bred – and we're not going to tell him, either," said Owens. "He showed us a lot of potential in the mornings so we have had high expectations for him. His first race he did everything professionally (winning by 6¼ lengths) so we knew he was going to be a very nice horse.
"Today he was eye-popping. Very nice. I don't know what we have in store for him yet. We made no long-term plans. We'd like to get him to try two turns. But we're taking it race by race right now. We'll see what we find for him next. Wherever we go next I love the way he ran today. He showed us a lot. He did it with ease."
Speaking, a Holly Crest Farm homebred, returned $3.60 to win as the favorite in the field of eight. The recently-gelded son of Mr Speaker is now 2-for-2 lifetime.