Cilla Surges To Impressive 2 1/2-Length Victory In Saturday's Blue Sparkler Stakes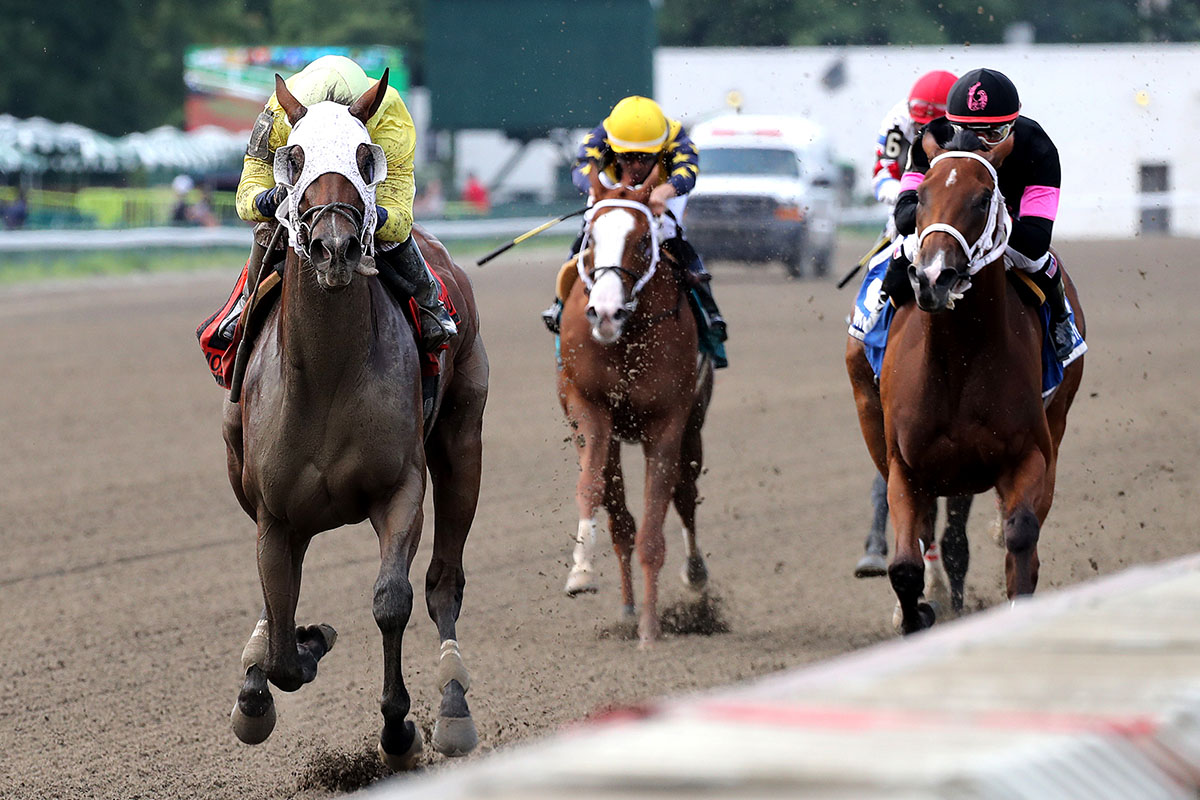 Trainer Brett Brinkman's initial reaction when Saturday's Blue Sparkler Stakes at Monmouth Park came off the grass? "I was happy," he said.
His second reaction?
The realization that he still didn't have an answer about whether or not his talented 3-year-old filly Cilla will take the turf.
For now, Brinkman can live without finding out for sure if Cilla can turf after she impressed with a 2½-length victory in the $75,000 feature on the 11-race card.
Ridden by Roberto Albarado, Jr., Cilla sat behind dueling leaders Dr B and Running Memories and then took command in mid-stretch, covering the 5½ furlongs over a fast main track in 1:03.07.
Dr B held for second, four lengths ahead of a tiring Decade in a field reduced to five due to the surface switch.
"I was happy when it came off the turf but I still don't know if she likes it or not and I'd like to find out," said Brinkman, who is Louisiana based but keeps a string at Delaware Park. "The way the Into Mischiefs perform on the grass I've got to leave that as an option until she tells me not to."
Cilla's only turf try came in the one-mile Sorority Stakes at Monmouth Park a year ago, when she failed to fire in a ninth-place finish.
Owned by P. Dale Ladner, Cilla is a daughter of California Chrome-Sittin At the Bar by Into Mischief. The Blue Sparkler marked her fourth career win in nine starts and second straight stakes victory.
"She's as good as she has ever been right now, training-wise, maturity-wise and speed-wise," said Brinkman. "She has finally gotten up to the speed I always thought she had. The race set up nicely for her. This filly has always liked a target. They gave us one today. But when she decides to go you need to have a spot for her because she is ready to rock."
Let go at 5-1, the Louisiana-bred Cilla returned $12.20 to win.
"When it came off the turf I think everyone associated with this horse was happy because she's better on the dirt than the turf," said Albarado. "This is my first time riding her so I looked at her form and I saw that I was sitting on something good. I rode her the way she is – I rode her like a good horse.
"I told Brett there was a lot of speed in the race and the hope was they would hook up with us sitting off of them. It happened just the way we thought."