Christy Moore Wins Pick Your Prize Hanicapping Challenge In Record-Sized Field Of 290 Entries At Monmouth Park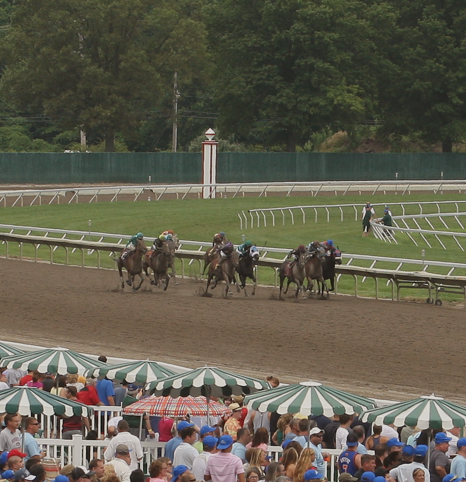 "You're gonna need a bigger boat."
A 57" x 57" prize board wasn't big enough to fit all the prizes at Saturday's $2,000 Pick Your Prize Handicapping Championship at Monmouth Park thanks to a record 290 entries into the June 4 contest.
In total, a record 25 seats to the National Horseplayers Championship, seven seats to the Breeders' Cup Betting Challenge, and $100,000 in cash prizes were awarded to the Top 32 finishers.
And after snagging victory from the jaws of defeat, Christy Moore is headed to the NHC, the BCBC, and the bank.
Moore entered Monmouth Park's Saturday nightcap, the final contest race, with just $950.  That left her approximately $8,000 off the lead.  But after hitting a straight $950 exacta – returning $9,690 – Moore found herself atop the official standings.
For finishing first, Moore automatically received a $17,550 cash prize.  In addition, Moore received the first two selections off the overflow prize board.  She selected "BCBC" and "NHC+$6,000."  All told, the Fishers, IN resident walked away with her $9,690 bankroll, $23,550 in cash prizes, a trip to Las Vegas for the 2023 NHC, and a spot in the BCBC.
Ernest Hey, Jr. finished Saturday's contest with a bankroll of $9,400 earning him an automatic $9,750 plus two prize selections.  The Lancaster, NY resident selected a BCBC seat plus the top available cash prize of $9,800.
In total, the Top 7 finishers received two prize board selections.  Finishers 8-32 received one pick.
All Pick Your Prize players had to bet a minimum of five Monmouth Park races.   The minimum bet for those races was $200.  Pools available for contest play were win, place, show, exacta and daily double.
Monmouth Park's next handicapping contest is the $1,000 Haskell Challenge on Saturday, July 23.  Entries can only be played through TVG/4NJBETS or Xpressbet.
For information on future Monmouth Park contests, please contact Brian Skirka at bskirka@monmouthpark.com.
$2,000 Pick Your Prize Official Contest Results & Prizes
| | | |
| --- | --- | --- |
| Name | Bankroll | Prize(s) |
| Christy Moore | $9,690 | $17,550, BCBC, NHC+$6,000 |
| Ernest Hey, Jr. | $9,400 | $9,750, BCBC, $9,800 |
| John Nichols | $8,000 | $5,850, BCBC, $8,500 |
| Gary Russell | $7,532 | $3,900, BCBC, NHC+$4,000 |
| David Rink | $6,930 | $1,950, BCBC, $7,500 |
| John Vail | $5,755 | NHC+$3,000, $6,500 |
| Jim Tipps | $5,640 | BCBC, NHC+$2,000 |
| Michael Domabyl | $5,192 | BCBC |
| David Nelson | $4,905 | NHC |
| Dennis Galvin | $4,855 | NHC |
| Thomas O'Conner | $4,620 | NHC |
| Michael Caposio | $4,492.50 | NHC |
| Dan Bergen | $4,365.60 | NHC |
| Michael Caposio (2) | $4,240 | $5,500 |
| Mitch Schuman | $4,105 | NHC |
| Jack Wong | $4,168 | NHC |
| Evan Trommer | $4,030 | $4,500 |
| Rich Averill | $3,971.30 | NHC |
| Paul Weizer | $3,840 | NHC |
| Anthony Mattera | $3,550 | NHC |
| Bill Rendino | $3,255 | NHC |
| Scott Cavalieri | $3,128.40 | $3,700 |
| Kevin Engelhard | $3,070.40 | NHC |
| Kevin Matties | $3,027 | NHC |
| Jeannie King | $3,000 | NHC |
| Brian Fairlie | $2,882 | NHC |
| Marshall Gramm | $2,687.50 | NHC |
| Corey Esquerre | $2,680 | NHC |
| Joe Metka | $2,675 | NHC |
| Chris Kinum | $2,603 | NHC |
| Ray Arsenault | $2,600 | NHC |
| John Kostin | $2,550 | NHC |