Chad Brown-Trained Devamani Scores By 1 1/2 Lengths In Saturday's Grade 3 Monmouth Stakes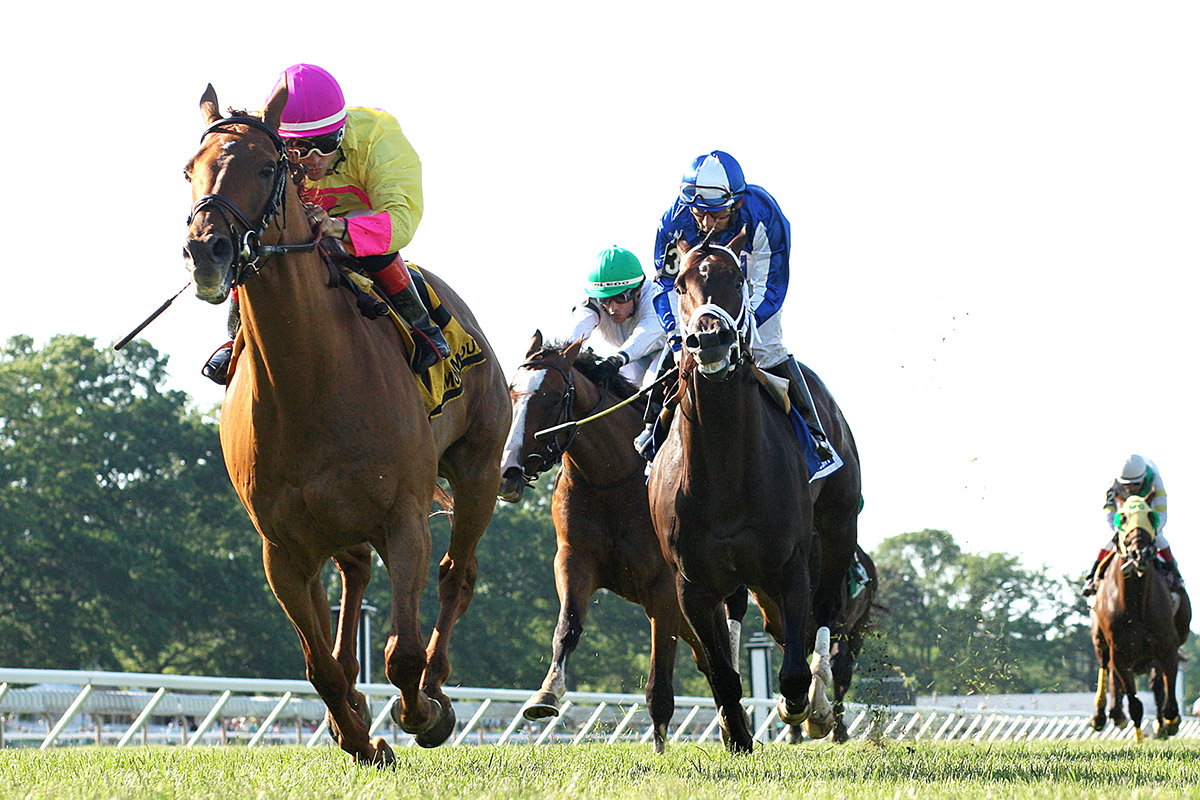 Riding a Chad Brown-trained horse in a graded grass stakes certainly provides an advantage for a jockey but Nik Juarez likes to get any additional edge he can.
So he ran the turf course at Monmouth Park early Saturday morning to get a feel for how it would play for the first grass races of the meet following heavy rains earlier in the week.
The combination of Brown's turf acumen and Juarez' morning run over the surface proved to be a winning one when Devamani skimmed the rail late to surge for 1½-length victory over favored Winters Back in the $156,000 Grade 3 Monmouth Stakes Saturday afternoon.
"You're ultra-confident when you ride Chad Brown's horses," said Juarez. "When I ran the turf course this morning I saw how soft it was. It had some give to it. Then I was able to ride on it two races before this. So I knew what to expect and with this horse's breeding he just excelled over it.
"I had a perfect trip. I could not have gotten to a better set up and the best horse won."
Devamani, a 7-year-old gelding claimed for $62,500 in August of 2019 at Saratoga, seemed to easily cruise the mile and an eighth over a turf course rated "good," with Juarez sitting patiently along the rail behind the speed until he found an opening inside early in the stretch.
The winning time was 1:48.90, with Winters Back setting the early fractions of :23.05 for the opening quarter, :48.00 for the first half mile, 1:12.00 after six furlongs and 1:37.02 for opening mile.
The graded stakes victory was the second of Devamani's career, with the son of Dubawi-Daryakana by Selkirk winning the Grade 2 Knickerbocker Stakes at Belmont Park in his final start of 2020 last Oct. 18.
Devamani returned this year with a fourth-place finish in the Grade 2 Fort Marcy on May 1 at Belmont in his only prior start of 2020.
"He needed his first race back," said Luis Cabrera, who oversees Brown's division at Monmouth Park. "He (Brown) was thinking about this race all along. This horse is very consistent. But he's kind of a heavy horse who sometimes needs a race.
"Nik Juarez rode him perfectly. He sat off the speed the way we wanted and saved ground and he had the horse in the right position to win."
Owned by Michael Dubb, Sanford Goldfarb and Samuel Abraham, Devamani posted his sixth victory in 27 career starts. He has raced in graded stakes company in six of his past eight starts.
Juarez had Devamani just behind the fraction-setting Winters Back and the pressing Oceans Map, staying along the rail and biding his time. Winters Back, trained by Todd Pletcher, left enough of an opening in the stretch for Juarez to guide Devamani through. Corelli was third, another three-quarters of a length back.
Juarez's early run on the turf course actually served a dual purpose. It provides insight to the course for when the races are run and also continues to help him prepare to run in the New Jersey Marathon on Oct. 17. He said he ran 14 miles on Wednesday.
"I love running the turf course in the mornings," he said. "I would hope it gives me a little advantage. You can find out where you best paths are and with the rain how it was I like to see where the hoses are to drain the water. You can tell the depth of the turf course from there. I will take any edge I can get."
Devamani returned $6.60 to win.