Caravel Turns In Dazzling Performance In Winning Friday's $75,000 Goldwood Stakes By 4 1/4 Lengths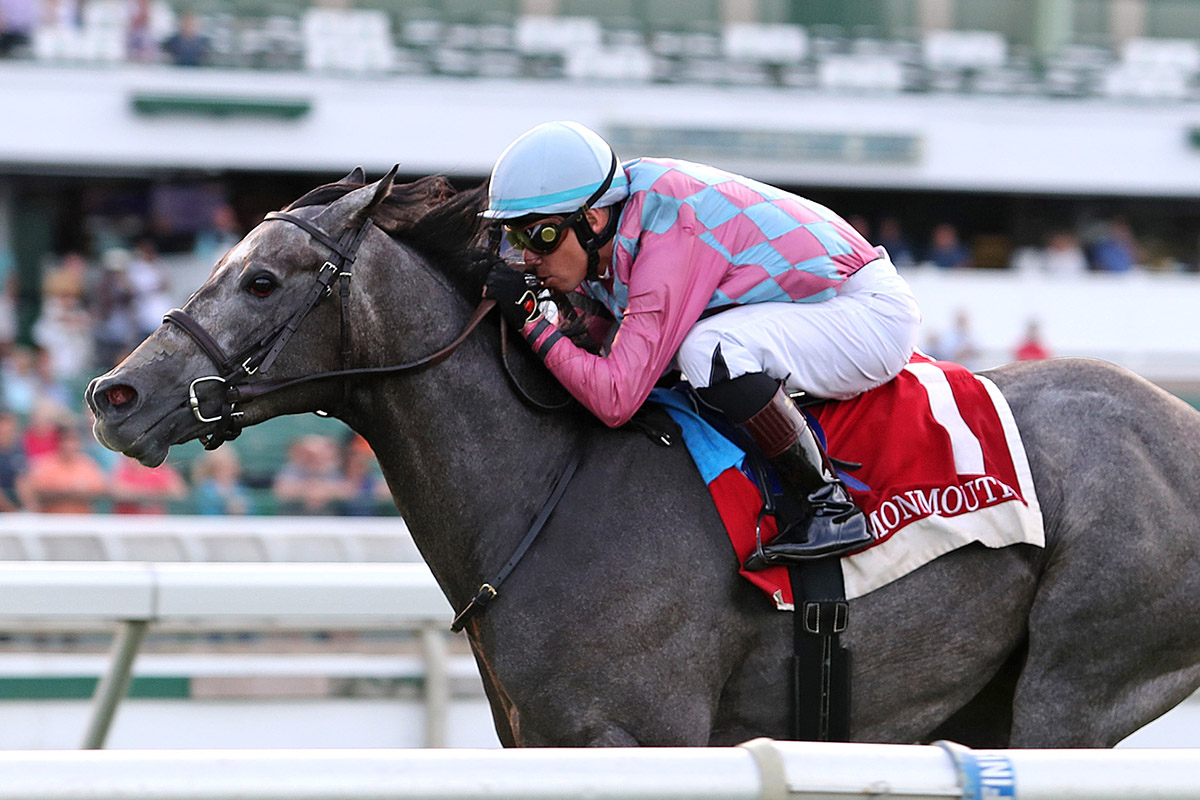 Owner and trainer Elizabeth Merryman now knows that she has to aim even higher when she decides on the next start for her talented turf sprinting filly Caravel.
The 4-year-old daughter of Mizzen turned in another dazzling – and winning – effort, drawing away with ease to score a 4¼-length victory in Friday night's $75,000 Goldwood Stakes at Monmouth Park.
How good was Caravel in winning for the sixth time in eight career starts? When she flashed across the finish line in a slightly eased-up :54.97 for the five furlongs on the grass she missed the 10-year-old track record by just four-tenths of a second.
"I thought it was brilliant," Merryman said of the performance by the filly she also bred. "She pulled away like it was nothing. It would be really nice to try graded stakes company with her next. So maybe the (Grade 3) Caress at Saratoga (on July 24). We'll see. With these turf races the weather is everything. She is just a dream. She continues to amaze me every time she races."
Ridden by Pablo Morales, Caravel broke a tad slow but was able to sit comfortably in fourth early on behind dueling leaders Gotta Go Mo and Victory Kingdom, who ripped off the opening quarter in :20.56. Morales moved Caravel off the rail and outside entering the final turn, with the opening half going in :43.44. He then set her down after Miss Auramet, who was poised to take the lead in mid-stretch over the tiring frontrunners.
But Caravel ran right by Miss Auramet, who was coming off a May 30 victory in the Politely Stakes at Monmouth Park.
"She broke well. I just didn't send her," said Morales. "I was going to be wherever I was going to be with her because I know she is usually forwardly placed on her own.
"After they sent so hard out of there, showing a ton of speed, I just figured I'd wait a little and get around them and get in the clear because I know how well she finishes. She has a great closing kick."
Caravel returned $5.80 to win in the field of eight 3-year-old fillies. Miss Auramet held for second, a half-length ahead No Mercy Percy.
Bred in Pennsylvania, Caravel's only two lifetime defeats were third-place finishes on a good and a yielding turf course. She won the Very One Stakes at Pimlico on May 14 in her last start, overcoming traffic issues to do so.