California Invader Mark Streiff Captures Inaugural $2,000 Pick Your Prize Challenge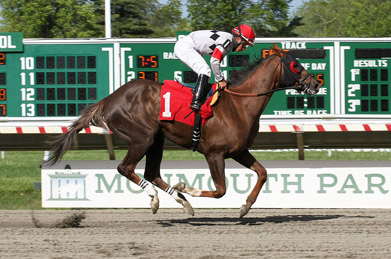 Monmouth Park's biggest handicapping contest ever was held Saturday, June 4 and the winner was Mark Streiff of Mission Viejo, CA. 
Streiff bested a field that included 140 entries from players from 23 states, Canada and Puerto Rico.It was a star-studded field for the inaugural $2,000 Pick Your Prize Challenge – but in the end, it was Streiff on top. 
Streiff turned his starting $1,000 bankroll into $4,740.75 by betting races from Monmouth Park, Belmont and Churchill Downs only.Contest players could only bet win, place, show or exacta and needed to bet a minimum of $100 per race. 
By finishing first, Streiff automatically earned an additional $9,000 and received two picks from the prize board which included 13 NHC seats, 4 BCBC seats and $56,670 cash.With his two picks, Streiff selected a BCBC seat and $14,668. 
In total, the Top 20 finishers received at least one selection from the prize board: 
| | | | |
| --- | --- | --- | --- |
| Finish | Name | Bankroll | Prize |
| 1st | Mark Streiff | $4,740.75 | $23,668, BCBC seat |
| 2nd | Joe Perry | $4,675 | $13,067, BCBC seat |
| 3rd | Brent Sumja | $4,050 | $7,200, BCBC seat |
| 4th | George Chute | $3,553 | $5,467, BCBC seat |
| 5th | Lou Filoso | $3,201 | $4,333 |
| 6th | George Chute | $2,602 | NHC seat |
| 7th | Gary McMaster | $2,600 | NHC seat |
| 8th | Bill Rendino | $2,540 | NHC seat |
| 9th | Mike McIntyre | $2,518 | NHC seat |
| 10th | Brent Sumja | $2,466 | NHC seat |
| 11th | Jose Appelbaum | $2,140 | NHC seat |
| 12th | Brandon MacDonald | $2,088 | NHC seat |
| 13th | Pete Rogers | $2,053 | NHC seat |
| 14th | Matt Mungiole | $2,015 | NHC seat |
| 15th | Don Chung | $2,006 | NHC seat |
| 16th | Scott Carson | $1,945 | NHC seat |
| 17th | Mitchell Schuman | $1,935 | NHC seat |
| 18th | Jeffrey Pesot | $1,853 | NHC seat |
| 19th | Sally Goodall | $1,834 | $1,833 |
| 20th | Steve Orecchio | $1,787 | $1,102 |