Cal Lynch-Trained Defend Looking For Stakes Breakthrough In Saturday's $100,000 Jersey Shore Stakes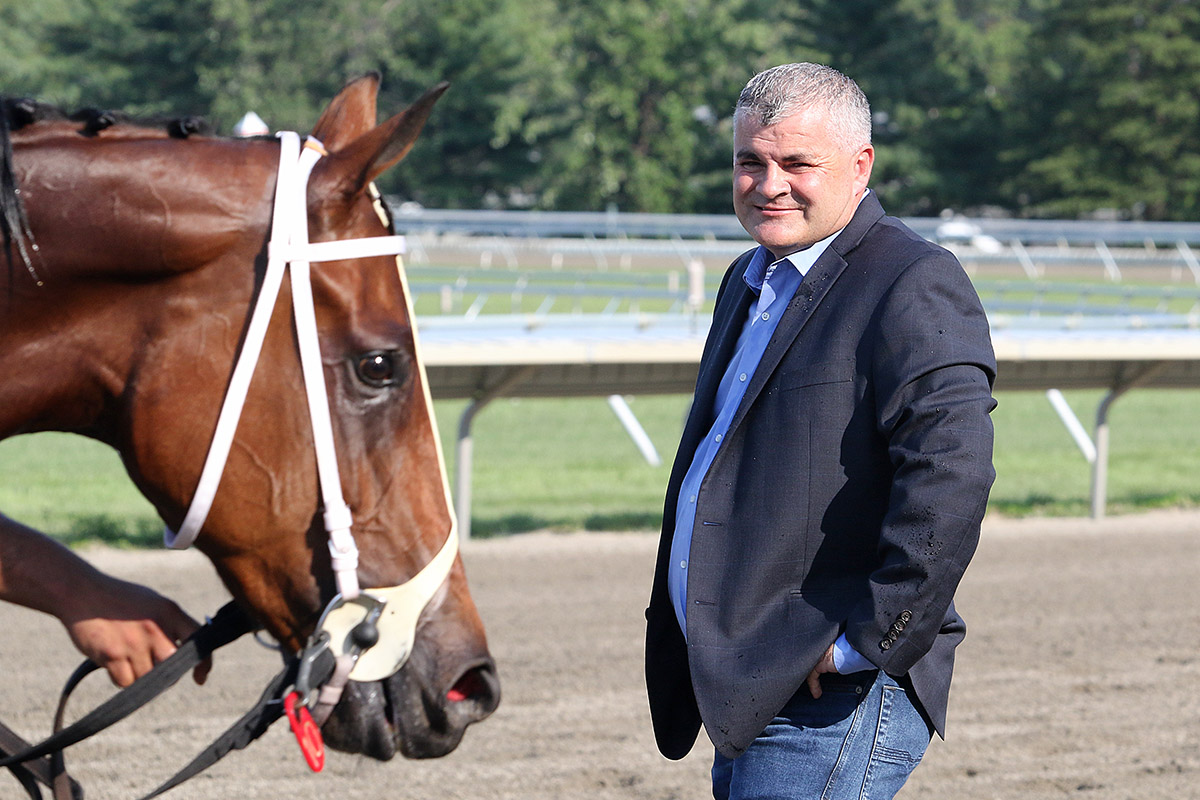 After two failed attempts at trying to make Defend a stakes winner, trainer Cal Lynch is hoping he has found the right spot for his colt in Saturday's $100,000 Jersey Shore Stakes at Monmouth Park.
A disastrous trip in last year's Grade 1 Hopeful Stakes and a change in tactics in the Concern Stakes in his last start that didn't pan out are the only two non-winning efforts in Defend's five-race career.
Lynch is looking at the 29th edition of the Jersey Shore Stakes, a six-furlong dash for 3-year-olds, as the stakes race where the speedy Florida-bred son of American Freedom-Fabiana's Flash by City Zip sees it all come together.
"He ran a very big number in his first career start (an eight-length win at Delaware Pak last Aug. 5). In the Hopeful he had a very bad trip to say the least and backed out," said Lynch. "After that all we wanted to do was get him his confidence back before we put him away for the win and he won his last race at 2 very easily."
According to the chart footnotes of the Hopeful, Defend "lost his footing at the three-eighths pole and was taken up" and then re-rallied to contest the pace before being eased during a 10th-place finish.
He returned to win his 3-year-old debut at Delaware Park June 8 before a fourth-place finish in the Concern Stakes at Laurel on July 2. Defend, a horse accustomed to being on the lead, was taken off the pace intentionally in the Concern Stakes in an experiment to see if he can be successful that way.
He ran fourth.
"We decided to take him out of there (off the speed) in the Concern. Hindsight being 20-20 we should have just gone ahead and let him run the way he wants to run," said Lynch. "We tried to do something different and it didn't work out, so we'll go back to what he does best."
Lynch said Defend "always showed a lot in the morning from the time we got him, so it wasn't a big shock that he turned out to be a decent horse."
"The winter off really helped him. He has grown quite a bit," Lynch added. "He's bigger and stronger. We're happy with the way he has developed and he has been working very well at Fair Hill (in Maryland).
"Owner Nick Sanna has been very patient with him. He deserves a stakes winner out of this horse. Nick is just a great owner. You really want to win stakes races for owners like that."
Maryland circuit regular Charlie Marquez will come in for the ride aboard Defend.