Bronzed Survives Stretch-Long Duel With Sombeyay To Win Lookin At Lucky Stakes By A Nose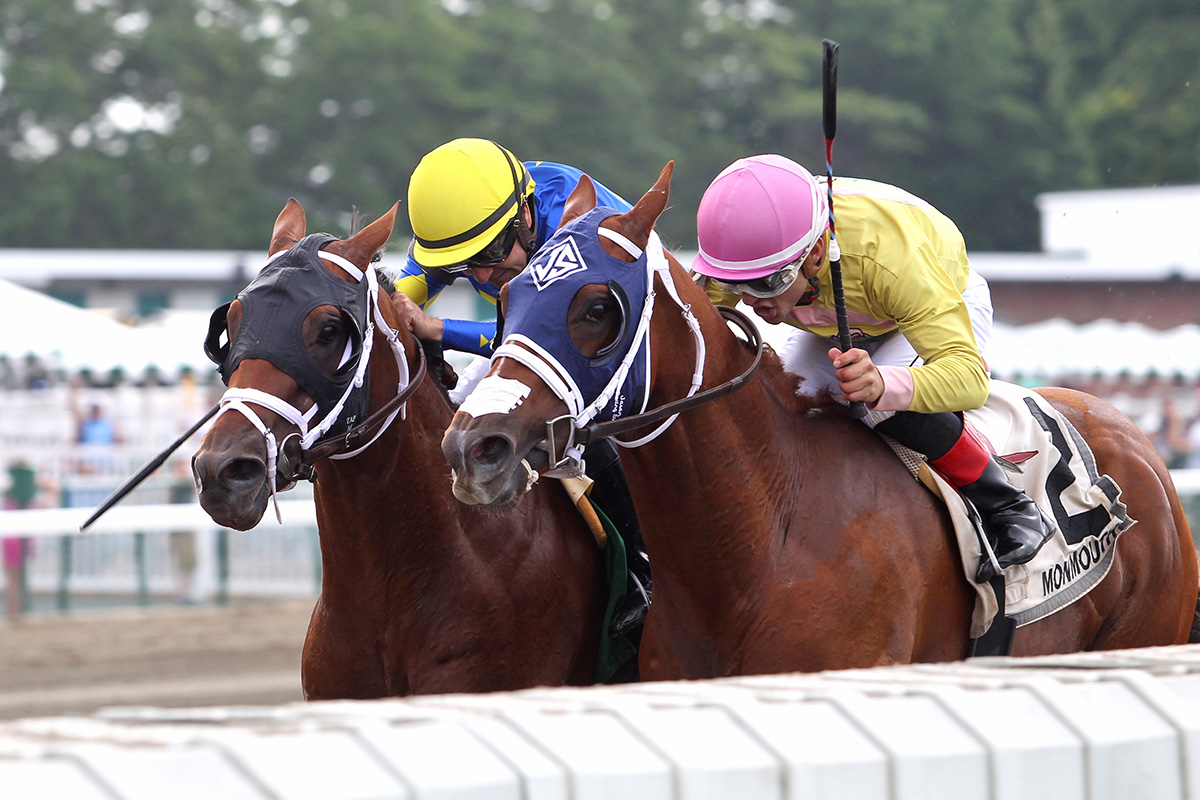 Bronzed survived race-long pressure and then a prolonged stretch duel with Sombeyay before getting his nose down at the wire to capture the inaugural running of the $75,000 Lookin at Lucky Stakes on Sunday at Monmouth Park.
Trained by Jason Servis and ridden by Nik Juarez, Bronzed won for the third time in four starts since being claimed by Michael Dubb and Bethlehem Stables for $50,000 at Gulfstream Park on Dec. 18, 2018, proving victorious this race as a first-time gelding.
The son of Fed Biz-Bronze Route by Mud Route covered the six furlongs in 1:10.07, returning $5.40 to win.
Though winless in five starts at 2 last year Servis said Dubb took note of the competition Bronzed had faced before plunking down the money to claim him.
"This horse, if you look who he was running against last year – Mind Control, Uncle Benny, Joevia – there were a couple of key horses that Mike said we should watch this horse. That's why he claimed him," said Servis.
Now Bronzed is a first-time stakes winner.
"Being first-time gelding, Jason did a terrific job making that call," said Juarez. "I was lucky I out-broke Sir Truebador. That horse goes :21.1 and :45 on the dirt. I told Jason if I can out-break him and squeeze him out early I'll do so. Luckily we were able to have the upper hand and we were able to get the jump on him. But we still had to battle it out the whole way."
Bronzed was in the middle of an early three-horse duel with The Big S, who eventually faded to third, and the Todd Pletcher-trained Sombeyay through opening fractions of :22.20 to the quarter and :44.98 to the half.
Then it became a match race between Bronzed and Sombeyay, ridden by Joe Bravo, with the two going nose-to-nose the final sixteenth of a mile. The Big S was another 5 ½ lengths behind.
"At the wire Joe Bravo turned and said `great ride, Nik,' " said Juarez. "To be head and head for as long as we were down the stretch with Joe Bravo at Monmouth Park it makes you really appreciate it when you win."
Bronzed had produced two seconds and a third in four starts at Monmouth Park a year ago before his breakthrough on Sunday.
"You'd have think gelding him made a difference. He got the job done," said Servis.