Breen-Trained Whimsical Muse Scores By A Neck At 25-1 In Monday's $100,000 Miss Liberty Stakes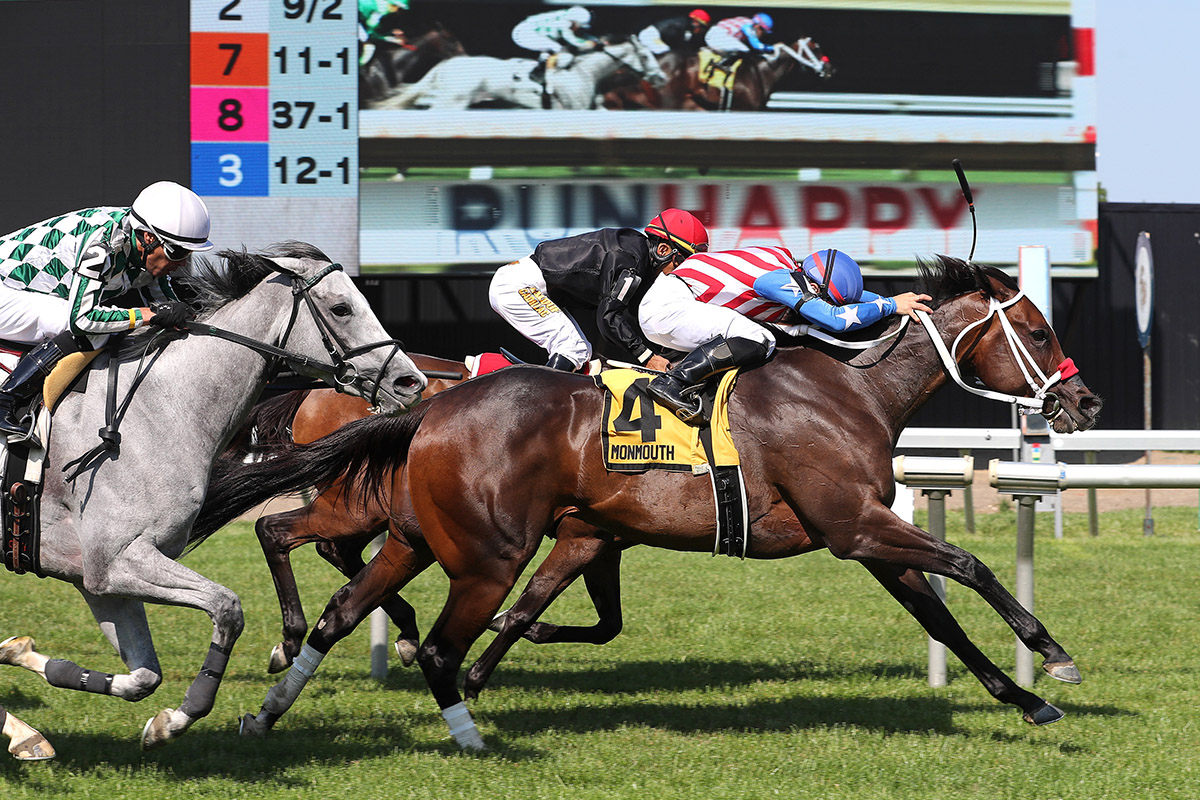 Trainer Kelly Breen was convinced there was more than met the eye when it came to Whimsical Muse, which is why he recommended that the connections of USA Thoroughbreds and Cavallino Racing claim the 6-year-old mare for $35,000 at Gulfstream Park on Dec. 23.
Three races following that claim, Whimsical Muse became a stakes winner.
With jockey Albin Jimenez able to get the jump on his three more accomplished competitors in the field – Shug McGaughey's Vigilante's Way, Vicki Oliver's Flippant and Chad Brown's Rocky Sky – Whimsical Muse held firm for a neck victory in Monday's $100,000 Miss Liberty Stakes at Monmouth Park.
Whimsical Muse returned $52.40 to win in notching the first stakes victory of her 22-race career. It marked the seventh win of the meet for Breen, who tops the Monmouth Park trainer standings in his bid for a fourth title at the Jersey Shore track.
The upset victory also contributed to a four of five payout for the late Pick 5, creating a carryover of $34,350 for the early Pick 5 on Friday's card.
"We liked what we saw of her before we claimed her," said Breen, who watched the race from Belmont Park. "She has a little bit unorthodox breeding that looks like she was running over her head. She was showing class. And today we just happened to be at the right spot at the right time.
"Let's say I was pleasantly pleased by this because she had been training well and she's just a nice horse. She shows class. We gave it a shot because of how she looks and trains."
The winning time for the mile and a sixteenth over a firm turf course was 1:40.59.
With Jimenez keeping Whimsical Muse close early to Por Que No, who set the fractions through six furlongs in 1:10.25, the daughter of Oxbow moved off the rail and went after the leader entering the final turn in the field of seven fillies and mares, three and up. Whimsical Muse quickly took command and then braced for the onslaught, with 6-5 favorite Vigilantes Way – who won this race a year ago – rallying inside to get second and Flippant surging to third on the outside. Two necks separated the top three finishers, with Rocky Sky rallying for fourth.
"It was a great trip on the rail right behind the speed," said Jimenez. "I talked to Kelly Breen this morning and he said everything is good with her and that she's ready to go. He said just keep her right there close to the speed. I still had something left. I knew those horses were coming but my horse was still strong. I was confident.
"When I made my move I was trying to anticipate those other horses coming and I wanted to beat them to the punch. I know there were some good horses in this race and I was just able to get the jump on them. We were able to do that and it worked out."
Racing resumes at Monmouth Park with the first Friday card of the meet, an eight-race program with a 2 p.m. first post time.