Bout Time Proves Ready For Graded Stakes Company With 2 1/4-Length Victory In Saturday's $100,000 Goldwood Stakes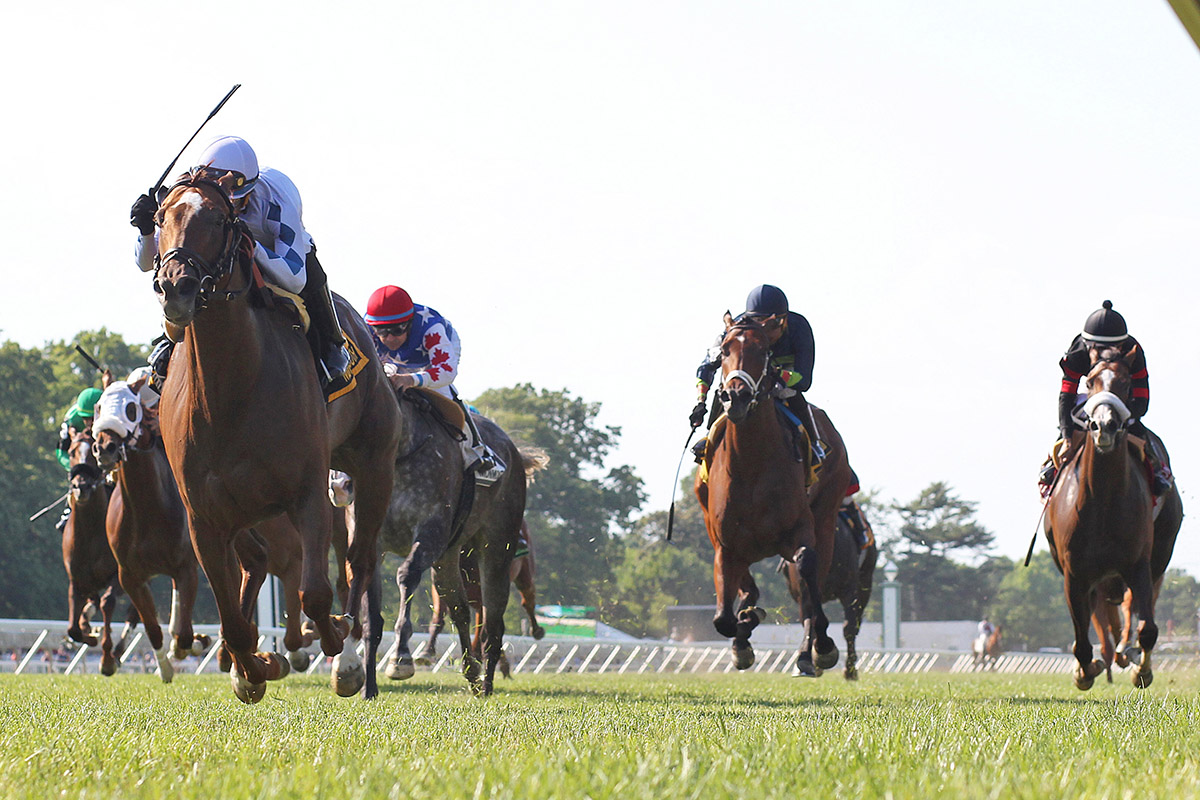 If trainer Cherie DeVaux had any doubts about whether Bout Time was ready for graded stakes company in four weeks, she no longer does.
The 4-year-old filly took advantage of a stalking trip and fast early fractions to record her first career stakes win, rolling to a 2¼-length victory in Saturday's $100,000 Goldwood Stakes at Monmouth Park.
Next stop for the daughter of Not This Time: The Grade 3 Caress Stakes at Saratoga on July 23.
"This was actually Plan B. We were looking at a non-winners of two allowance at Churchill Downs today and if she ran well there we were going to point her toward the Caress Stakes," said Devaux. "The timing of this Monmouth Park race still fit for what we were trying to do and it all worked out for her."
Ridden by Angel A. Rodriguez, Bout Time came firing out of the turn on the rail before being moved outside and running down the pace-setting Robin Sparkles in mid-stretch. The winning time for the 5½ furlongs over a firm turf course was 1:01.01.
Honey Pants rallied for second 1¼ lengths ahead of the tiring Robin Sparkles.
"She is still figuring things out," said DeVaux. "Her last start she hit the lead and won but she was wandering. Today she put it all together. She ran really well today. She put her head down and ran right through when the jockey asked her and then ran through the wire.
"With racing she is getting better, with racing she is getting better and maturing and putting it together at the right time."
The victory was the third in five career starts for Bout Time. She sports a 4-3-1-0 record in grass sprints.
Robin Sparkles, who won the Politely Stakes in her last start on May 21, faltered after setting quick early fractions, setting things up for Bout Time to stage her rally. Owned by Belladonna Racing, Bout Time returned $6.00 to win as the slight favorite over Honey Pants in the field of 10 fillies and mares, 3 and up.
Bout Time's only off-the-board finish came in her career debut last year at Churchill Downs on May 28 in an off-the-turf sprint. She didn't return until Jan. 28, doing so with a 5½-length win in Maiden Special Weight company at the Fair Grounds.
"She's a half-sister to Archidust so the plan was always to put her on the grass," said DeVaux. "I was hoping last year we could get one grass race into her and get her some experience but it didn't work out."
Rodriguez, riding the filly for the first time, recorded his third stakes win of the meet. The 22-year-old Panamanian previously won the Smart N Classy Handicap and the Get Serious Stakes.
"My agent (Steve Worsley) talked a lot about this filly with me and showed me the replays and showed me her past performances so I knew she had a chance to run a really good race," said Rodriguez. "I was never too far back of the leaders. At the half-mile pole I saw an opening in the gap and she took it by herself. I came up the rail coming out of the turn because I had a lot of filly and when I tipped her outside she took off.
"I knew they were going fast early so I thought I would have a chance to close into that pace and it worked out."