Bob Kulina 2017 Recipient of Buddy Raines Award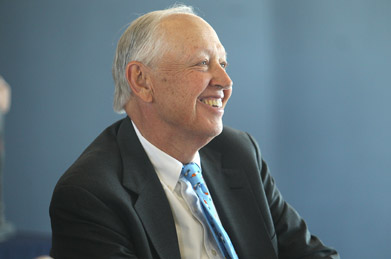 BOB KULINA 2017 RECIPIENT OF BUDDY RAINES AWARD
OCEANPORT, N.J. – Monmouth Park has honored Bob Kulina with the Virgil "Buddy" Raines Distinguished Achievement Award for 2017.
"The Raines Award was designed to honor those who have made a difference in New Jersey racing," said Dennis Drazin, president of Darby Development LLC, operators of the racetrack."For 45 years Bob Kulina has worked tirelessly for the betterment of Monmouth Park.For all he's done for the sport and especially for Monmouth Park, he's a very deserving winner of this award."
The son of a trainer, Bob Kulina grew up in the racing industry.A graduate of West Virginia's University of Charleston in 1971, Kulina got his first job in the industry as the Monmouth Park claims clerk the following year.He worked as a racing official at various racetracks before being named Monmouth Park Racing Secretary in 1977.
During his tenure in the Monmouth Park racing office, Kulina developed the popular overnight stakes program, which has become a standard in the industry.After 15 years as racing secretary, Kulina was named General Manager/Thoroughbred Racing at Monmouth in 1991.Soon thereafter he added that title at the Meadowlands and oversaw Thoroughbred operations for the New Jersey Sports & Exposition Authority racetracks until 2012.During that time he was instrumental in developing the Haskell Invitational into a race of national prominence and the next stop for 3-year-olds following the Triple Crown.
Upon the signing of a lease of Monmouth Park to the New Jersey Thoroughbred Horsemen's Association in 2012, Kulina was named President of Darby Development, LLC, the management company for the racetrack.Over the past five years, Kulina has spearheaded the team effort into preserving racing at Monmouth Park.
Kulina is the 22nd recipient of the award, following:J. Willard Thompson, 1996; Danny Perlsweig, 1997; Warren A. "Jimmy" Croll, 1998; Joe Pierce Jr., 1999; Peter Shannon, 2000; Dennis Drazin, 2001; Sam Fieramosca, 2002; Charles and Marianne Hesse, 2003; Janet Laszlo, 2004; Richard Malouf, 2005; John Forbes, 2006; Ben Perkins Sr., 2007, and Gerald and Carolyn Sleeter, 2008; Joel Kligman, 2009; John Tammaro III, 2010; Frank Costa, 2011; John Mazza, 2012; Ebby Novak, 2013; Chuck Spina, 2014; Bob Baffert, 2015; and, Ed Barney 2016.