Bob Engelhard Qualifies for BCBC and NHC at June 30 Handicapping Contest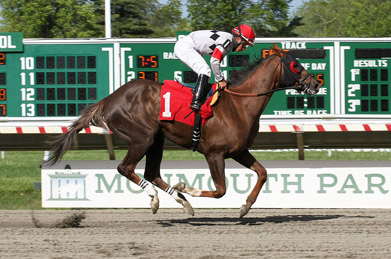 Monmouth Park's $400 NHC/BCBC Qualifier was held Saturday, June 30 and the winner was Bob Engelhard of King of Prussia, PA.   
Engelhard bested a field that included 161 entries. He turned his starting $200 bankroll into $2,103 by betting races from Monmouth Park and Woodbine.Contest players could only bet win, place and/or show and needed to bet a minimum of $20 per race.  Monmouth Park's United Nations and Woodbine's Queen's Plate were mandatory races. 
By finishing first, Engelhard takes home the first place cash prize of $6,000.  In addition, he takes home a seat to the 2018 Breeders' Cup Betting Challenge and 2019 National Handicapping Championship. 
 The remainder of Saturday's Top 4 – Terence Cook, Roger Cettina, and Dan Bergen – are also headed to the NHC.
In total, the Top 10 finishers are: 
| | | | |
| --- | --- | --- | --- |
| Finish | Name | Bankroll | Prize |
| 1st | Bob Engelhard | $2,103 | $6,000+BCBC seat+NHC Seat |
| 2nd | Terence Cook | $1,922 | $2,400+NHC Seat |
| 3rd | Roger Cettina | $1,600 | $1,440+NHC Seat |
| 4th | Dan Bergen | $1,073 | $840+NHC Seat |
| 5th | Eric Wing | $850 | $420 |
| 6th | Kevin Kreiser | $800 | $180 |
| 7th | Brian Troop | $800 | $180 |
| 8th | Ken Jordan | $790 | $180 |
| 9th | Kelly Smith-Lawless | $628 | $180 |
| 10th | Ed Teicht | $600 | $180 |