Bill Handleman Memorial Award Goes To Bob Ehalt of ESPN.com For Outstanding Haskell Coverage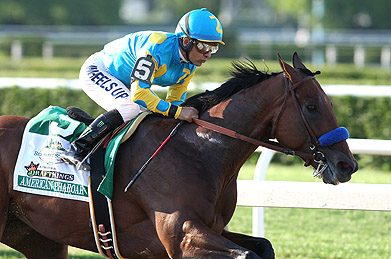 OCEANPORT, N.J. – The 2016 Bill Handleman Memorial Award went to Bob Ehalt of ESPN.com for outstanding coverage of last year's $1.75 million Haskell Invitational.Inaugurated in 2012, the Handleman Memorial Award honors outstanding media coverage of the Haskell Invitational, Monmouth Park's signature race.
The award honors the late Bill Handleman, who was lead sportswriter for the Asbury Park Press for nearly three decades and made Monmouth Park his home away from home. Mr. Handleman died in June of 2010 at age 62.
The first recipient of the Handleman Award was Tom Luicci of The Star-Ledger, followed by Steve Edelson of the Asbury Park Press in 2013, Dave Johnson of Sirius XM in 2014 and Ed McNamara of Newsday last year.
Ehalt earned the Handleman Award for his pre-race coverage of the 2015 Haskell Invitational, the 48th running of the race, won by Triple Crown winner American Pharoah before a record crowd of 60,983.American Pharoah gave trainer Bob Baffert a record eighth win in New Jersey's most prestigious race.
For 45 years, Ehalt has been involved in horse racing as a fan, turf writer and owner.