BetMakers And Monmouth Park To Again Offer $1 Million Bonus For Three-Race Sweep Starting With TVG.com Haskell Stakes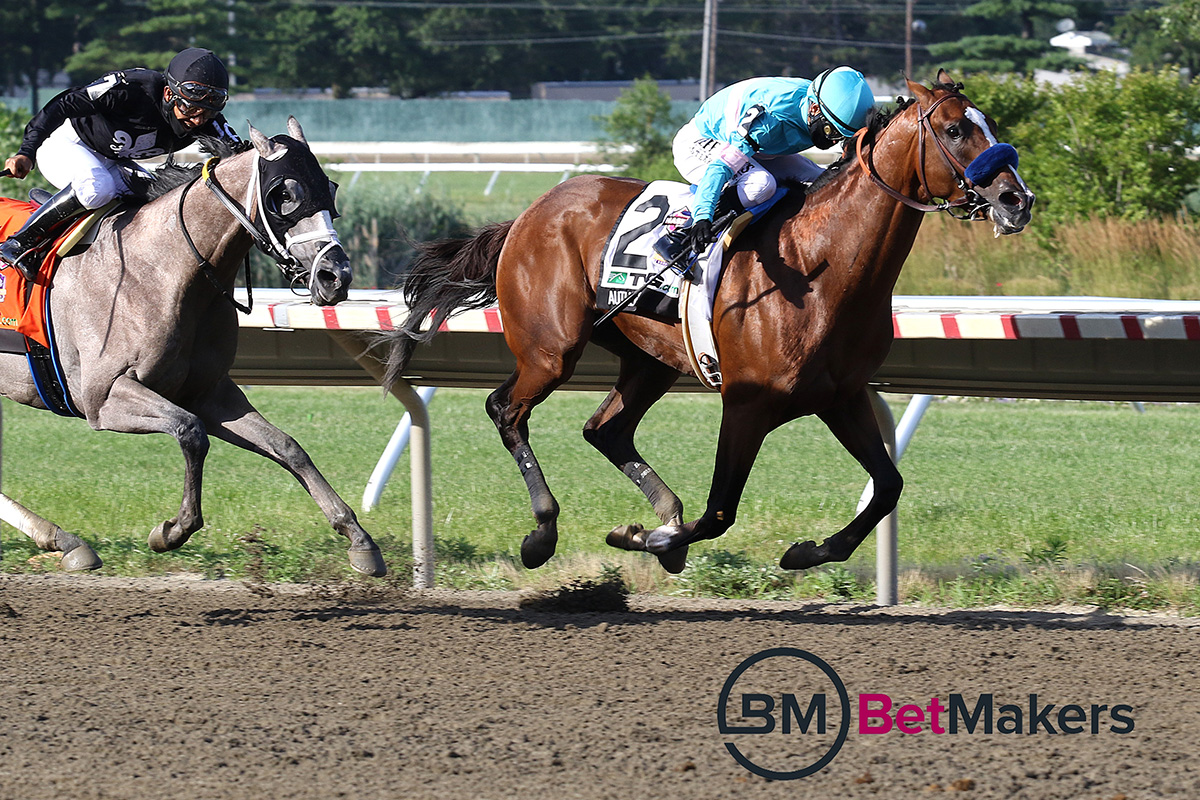 Monmouth Park and BetMakers Technology Group will again partner as sponsors for the $1 million "BetMakers Bonanza" Bonus for the connections of any horse that sweeps a series of three designated races, it was announced today.
To earn the seven-figure bonus, a horse has to the win the TVG.com Haskell Stakes at Monmouth Park on July 23, the Runhappy Travers Stakes and the Breeders' Cup Classic.
This marks the third straight year that Monmouth Park and BetMakers have offered the bonus, with Authentic earning $1 million for winning all three designated races in the COVID-19 altered racing schedule in 2020.
"BetMakers has been a great partner for Monmouth Park, and we're pleased to be able to offer the BetMakers Bonanza bonus for a third straight year," said Dennis Drazin, the chairman and CEO of Darby Development, LLC, the operators of Monmouth Park.
Australia-based BetMakers previously teamed with Monmouth Park to make Fixed Odds wagering available at the Jersey Shore during the current meet, the only racetrack in the United States to offer such wagering. With Fixed Odds, bettors get the odds at the time of their bet.
"It's great to continue to support creative initiatives from Monmouth Park as Monmouth Park continues to innovate in the racing space," said Dallas Baker, the head of International Operations for BetMakers. "It's been a big year for the Monmouth Park-BetMakers partnership with the massive new infield board that has proven to be quite popular, Fixed Odds betting up and running, and new betting terminals being rolled out. Hopefully, we can see the bonus handed out again, just like when Authentic earned it in 2021."
Authentic won the Haskell Stakes, following that with victories in the Kentucky Derby and Breeders' Cup Classic, on the way to Horse of the Year honors. The Kentucky Derby was rescheduled from its traditional spot the first Saturday in May to Sept. 5 that year.
The Travers Stakes will take place at Saratoga on Aug. 27, exactly five weeks after the Haskell. The Breeders' Cup Classic is set for Nov. 5 at Keeneland.
The Grade 1 Haskell Stakes, the centerpiece of the Monmouth Park meet, will be contested for the 55th time and offers the added inducement as a "Win and You're In Classic Division" reward for the Breeders' Cup Classic.