Bethlehem Road Took Long Road To Get To Saturday's TVG.Com Haskell Invitational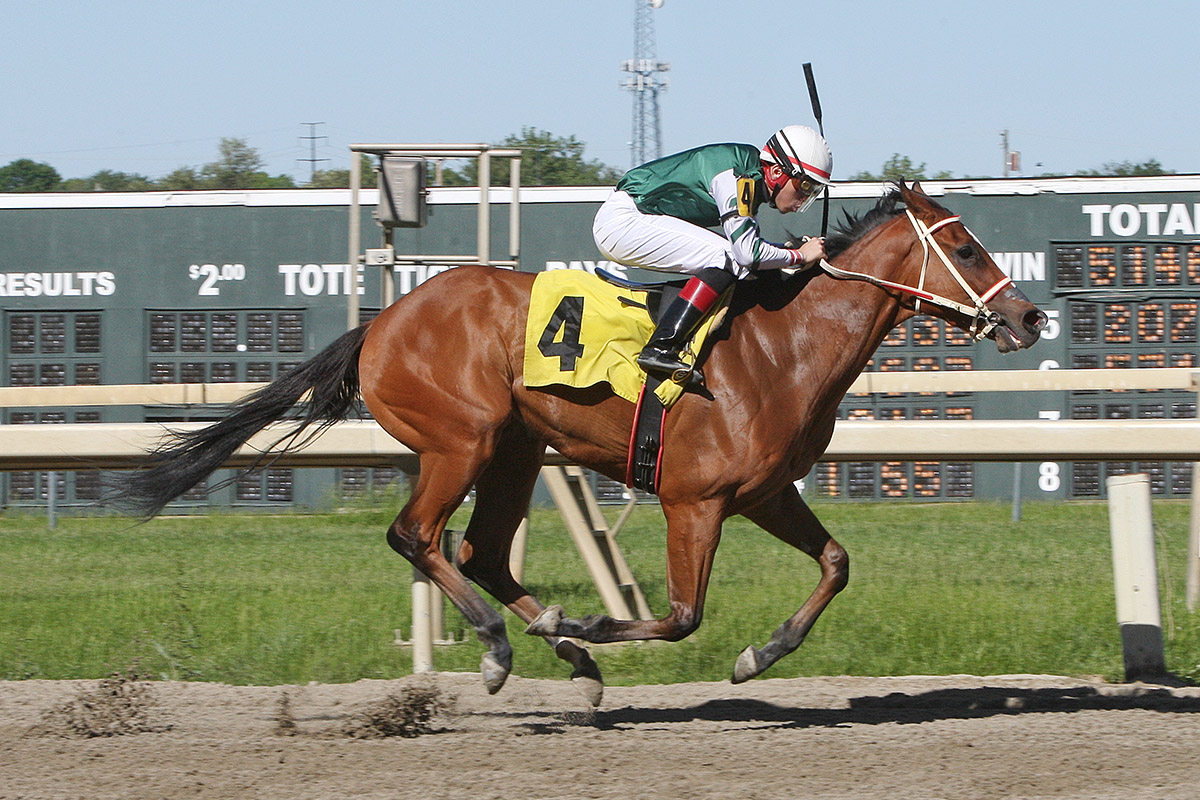 With their homebred Bethlehem Road, owners Jeff Bowen of Gryphon Investments, Don Ameche III and Randy Reed and trainer Dee Curry will make their first appearance in a Grade 1 stakes race Saturday and should this horse prevail in the $1 million TVG.com Haskell Invitational at Monmouth Park he'll also receive an all-expenses-paid berth in the Breeders' Cup Classic through the "Win and You're In" program.
But the gelded son of Quality Road has already given them much more than they ever thought possible.
"This horse has an amazing story. Just amazing," said Curry, who is based at Parx and has yet to win a graded stakes race in her 35-year training career. "He was supposed to be sold as a yearling. My owners bred the mare (Alydarla) and they sold the yearling. But when this yearling walked out of the field one day in Kentucky at HomePride Farm, suddenly he had his head completely turned to the side with his ear flat down as if he had broken his neck.
"A yearling by Quality Road is supposed to be going to the sale. They looked at him and said, 'Oh my goodness. What are we going to do now?' "
Vertebrae damage was feared and Bethlehem Road, who is named for the road HomePride sits on, was sent straight to Hagyard Equine Medical Institute in Lexington, Ky., and underwent a series of tests, including multiple MRIs, CAT scans of his neck, and repeated X-rays of the shoulder and spine. Nevertheless, the veterinary team couldn't find anything amiss.
Finally, an endoscopy discovered that he had a tumor growing deep inside his inner ear passage and it required a delicate surgical procedure for removal.
"After he recovered from the surgery, they got him back to HomePride and Daniel Cunniffe was able to improve him, but only 50 percent. He needed a lot of physical therapy, so we knew he wasn't going to go to the sales," said Curry. "He also needed a lot of massages to strengthen the muscles, and the massaging that they did around the affected ear to try to straighten his head out was amazing."
Even so, the angles of the horse's head and neck couldn't be completely corrected. The owners assumed that they'd have to find a home, perhaps as a giveaway to Reed's daughter, for Bethlehem Road.
"They were thinking the worst. They didn't even know if he could ever be ridden, but if his equilibrium was okay maybe he could eventually be a show horse," said Curry. "The horse is still not completely straight but he is looking a little better."
Bethlehem Road was also doing better by the time he turned 2 years old so Bowen sent him to South Carolina and Dean Keller, who breaks all the connections' youngsters and wasn't too concerned about that ear and neck.
"He was small and he was crooked. But once Dean put a bit in his mouth and got on him, he said he didn't feel like he looked so they weren't worried about his equilibrium," Curry said. "Dean put a lot of work into him and wouldn't quit on him. He just kept going with him.
"When the horse was breaking okay, Dean told Jeff that he needed to send this horse to me because he needs somebody who is going to be one-on-one with him, because if you look at him, no one is going to ever take him seriously because of the way he has his head tilted.
"Jeff asked me if I wanted to take this horse on. I said, 'Absolutely! A Quality Road? You bet.' So he came to me toward the end of his 2-year-old year. I could see from day one that he had talent."
Curry, who will become just the fourth female trainer to saddle a Haskell runner, prepared Bethlehem Road for his first start but couldn't find the right races that would fill at Parx, and that is why he didn't begin his career until April 19 of his sophomore season. He rewarded everyone's faith and confidence that day with an impressive 4½-length maiden special weight win under Luis A. Rodriguez Castro, who has become his regular pilot, and then they racked up two more wins, including the Parx Spring Derby.
Last time out Bethlehem Road stepped up into graded stakes company in the Grade 3 Ohio Derby on June 22, but his streak came to an end as a result of a terrible trip in which he was bumped at least four times before throwing in the towel and fading to fourth.
Now Bethlehem Road, whom Curry equips with a special straight bar prong bit to give his face support when he races, will be in the Grade 1 Haskell field with six other hopefuls. They include the Jason Servis-trained Maximum Security, who crossed the wire first in the Kentucky Derby; multiple Grade 3 winner Mucho Gusto from the powerhouse stable of Hall of Fame trainer and eight-time Haskell winner Bob Baffert, and Pegasus Stakes winner King for A Day from seven-time Eclipse Award winner Todd Pletcher's extensive operation.
"I don't get the opportunity to train the big horses like some do," said Curry. "It would be great for me as a woman and for other women trainers out there to get a spotlight on them because there's hardly a light shined on us at all."
Should Bethlehem Road become the next Haskell winner it would be a dream come true for the connections and qualifying for the Breeders' Cup Classic would make it all the sweeter. But no matter how this horse fares, he's already a winner.
"We're going to take a shot and do our best and if it's a little bit of dreaming that's what you have to do in this business. We've got nothing to lose, only to gain," said Curry. "This horse has done so much for these owners already. He's their pride and joy because he was not supposed to be anything. Nothing.
"To just have this much enjoyment and fun with him is great. He's put a smile on everybody's face. He's very personable and is wonderful to work around. He can do no wrong right now. We just love this horse."
Bethlehem Road, who has earned $124,300 in his three wins from four starts, completed his final tune-up for the Haskell Tuesday morning at Parx.
"He had a good solid mile gallop that included a blow-out of three-eighths and change with a gallop out in 50 (seconds)," said Curry. "I did a blow-out gallop Saturday morning to put some air in his lungs. This was more of giving him long wind. I don't need to put any more speed in him. This was to just keep him on his toes without making him too sharp. He's still green and he's still learning to go two turns."