betfair.com Haskell Tops 2018 Monmouth Park Stakes Schedule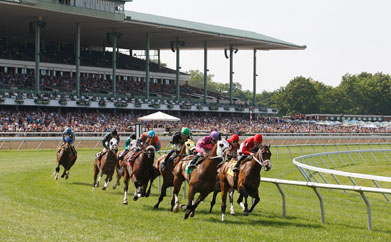 Oceanport, N.J. – Led by the Grade 1, $1 million betfair.com Haskell Invitational on July 29, Monmouth Park is set to offer $4,330,000 in stakes races when the track kicks off its 73rd year of racing on Saturday, May 5. 
            In addition, Monmouth is set to offer several new bundled stakes days, with the Grade 1 United Nations on June 30 now joined by the Grade 3 Philip H. Iselin, the Grade 3 Eatontown and the Lady's Secret Stakes.  
            "We are committed to delivering world-class racing and events to the Jersey Shore," said Dennis Drazin, Chairman and CEO of Darby Development LLC, operators of Monmouth Park.  "Our enhanced stakes schedule and newly created event days ensures Monmouth's prominence on the national racing stage while providing our live fans with exceptional summer racing." 
            In addition to the June 30 quartet of stakes races, additional bundled stakes days will take place on May 26 (Monmouth Stakes, Salvator Mile, Boiling Springs, John J. Reilly); Father's Day, June 17 (Pegasus, Regret, Mr. Prospector and Dan Horn); and, Sept. 1 (Red Bank, Violet, Sapling, Sorority). 
            As always, the Haskell Day program will have a slew of supporting stakes events:  Monmouth Cup, Molly Pitcher, WinStar Matchmaker, Oceanport and Wolf Hill. 
The 16th annual New Jersey Thoroughbred Festival, with three stakes events, will be renewed on Aug. 26, as a total of six NJ-bred stakes races are on tap this season. 
            In total 39 stakes, 14 of them graded, will be offered this year, starting with the Grade 3 Cliff Hanger on Opening Day.      
            The entire stakes schedule is: 
Run Date 

Stakes Name 

Purse 

Division 

Distance  

5-May-18 

Cliff Hanger Stakes 

 Listed 

$75,000  

3 and up 

1 mile (Turf) 

12-May-18 

Serena's Song Stakes 

$60,000  

F & M 3 and up 

1 mile 70 yards 

19-May-18 

Politely Stakes 

$60,000  

F & M 3 and up 

1 mile (Turf) 

26-May-18 

Monmouth Stakes 

G2 

$200,000  

3 and up 

1 1/8 miles (Turf) 

26-May-18 

Salvator Mile 

G3 

$100,000  

3 and up 

1 mile 

26-May-18 

Boiling Springs Stakes 

Listed 

$75,000  

3 YO Fillies 

1 1/16 miles (Turf) 

26-May-18 

John J. Reilly Handicap 

NJ Breds 

$60,000  

3 and up 

6 furlongs 

2-Jun-18 

Tale of the Cat Stakes 

$60,000  

3 YO 

1 1/16 miles (Turf) 

9-Jun-18 

Ms. Liberty Stakes 

Listed 

$75,000  

F & M 3 and up 

1 1/16 miles (Turf) 

17-Jun-18 

Pegasus Stakes 

Listed 

$100,000  

3 YO 

1 1/16 miles 

17-Jun-18 

Regret Stakes 

$75,000  

F & M 3 and up 

6 furlongs 

17-Jun-18 

Mr. Prospector Stakes 

Listed 

$75,000  

3 and up 

6 furlongs 

17-Jun-18 

Dan Horn Handicap 

NJ Breds 

$60,000  

3 and up 

1 1/16 miles (Turf) 

23-Jun-18 

Open Mind Stakes 

$60,000  

3 YO Fillies 

1 1/16 miles (Turf) 

30-Jun-18 

United Nations Stakes  

G1 

$300,000  

3 and up 

1 3/8 miles (Turf) 

30-Jun-18 

Philip H. Iselin Stakes 

G3 

$100,000  

3 and up 

1 1/16 miles 

30-Jun-18 

Eatontown Stakes 

G3 

$100,000  

F & M 3 and up 

1 1/16 miles (Turf) 

30-Jun-18 

Lady's Secret Stakes 

Listed 

$75,000  

F & M 3 and up 

1 1/16 miles 

4-Jul-18 

Jersey Girl Handicap 

NJ Breds 

$50,000  

F & M 3 and up 

1 mile (Turf) 

7-Jul-18 

betfair.com Long Branch Stakes 

Listed 

$100,000  

3 YO 

1 1/16 miles 

14-Jul-18 

My Frenchman Stakes 

$60,000  

3 YO 

5 1/2 furlongs (Turf) 

21-Jul-18 

Blue Sparkler Stakes 

$60,000  

3 YO Fillies 

5 1/2 furlongs (Turf) 

29-Jul-18 

betfair.com Haskell Invitational 

G1 

$1,000,000  

3 YO 

1 1/8 miles 

29-Jul-18 

Monmouth Cup 

G3 

$150,000  

3 and up 

1 1/8 miles 

29-Jul-18 

Molly Pitcher Stakes 

G3 

$100,000  

F & M 3 and up 

1 1/16 miles 

29-Jul-18 

WinStar Matchmaker Stakes 

G3 

$100,000  

F & M 3 and up 

1 1/8 miles (Turf) 

29-Jul-18 

Oceanport Stakes 

G3 

$100,000  

3 and up 

1 1/16 miles (Turf) 

29-Jul-18 

Wolf Hill Stakes 

$75,000  

3 and up 

5 1/2 furlongs (Turf) 

4-Aug-18 

Tyro Stakes 

$60,000  

2 YO 

5 furlongs (Turf) 

4-Aug-18 

Colleen Stakes 

$60,000  

2 YO Fillies 

5 furlongs (Turf) 

11-Aug-18 

Incredible Revenge Stakes 

$75,000  

F & M 3 and up 

5 1/2 furlongs (Turf) 

18-Aug-18 

Monmouth Oaks 

G3 

$100,000  

3 YO Fillies 

1 1/16 miles 

26-Aug-18 

NJ Breeders Handicap 

NJ Breds 

$60,000  

3 and up 

6 furlongs 

26-Aug-18 

Charles Hesse III Handicap 

NJ Breds 

$60,000  

3 and up 

1 1/16 miles 

26-Aug-18 

Eleven North Handicap 

NJ Breds 

$60,000  

F & M 3 and up 

6 furlongs 

1-Sep-18 

Red Bank Stakes 

G3 

$100,000  

3 and up 

1 mile (Turf) 

1-Sep-18 

Violet Stakes 

G3 

$100,000  

F & M 3 and up 

1 1/8 miles (Turf) 

1-Sep-18 

Sapling Stakes 

Listed 

$75,000  

2 YO 

1 mile 

1-Sep-18 

Sorority Stakes 

$75,000  

2 YO Fillies 

1 mile (Turf)