betfair.com Haskell Tops 2017 Monmouth Park Stakes Schedule; Racing Season Kicks Off May 13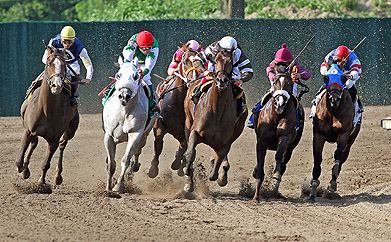 With the $1 million, Grade 1 betfair.com Haskell Invitational leading the way, Monmouth Park will offer a $3,725,000 stakes schedule for the 2017 racing season, which kicks off on Saturday, May 13. 
            Set for its 50th renewal on Sunday, July 30, this year's golden anniversary Haskell will once again be sponsored by Betfair, the world's largest Internet betting exchange, and will anchor four other graded stakes races on that day's card:  Monmouth Stakes (G2), WinStar Matchmaker (G3), Monmouth Cup (G3) and Molly Pitcher (G3). 
            Monmouth's other Grade 1 Thoroughbred event, the United Nations Stakes, will be renewed for the 66th time on July 1.  Other highlights of the racing season include the Salvator Mile on June 17, the betfair.com Pegasus Stakes on June 18, the Monmouth Oaks on Aug. 12 and the Philip H. Iselin Stakes on Aug. 26. 
            The New Jersey Thoroughbred Festival, with three stakes races on the card, will mark its 15th anniversary on Aug. 27, just one week before the racetrack hosts the HH Shk Zayad Bin Sultan Al Nayhan Cup Handicap, a first for Monmouth Park.  That Grade 1 Arabian stakes, to be contested on Sept. 4, is the third leg (Diamond Jewell) of the United States Arabian Triple Jewell Series.   
            The entire stakes schedule is: 
| | | | | | |
| --- | --- | --- | --- | --- | --- |
| RUN DATE  | RACE  | PURSE  | DIVISION  | DISTANCE  | CLOSING  |
| 5/13/2017  | Wolf Hill  | $60,000  | 3&Up   | 5F(T)  | 5/5/2017  |
| 5/27/2017  | Red Bank (G3)   | $100,000   | 3&Up  | 1M(T)  | 5/13/2017  |
| 5/28/2017  | Blue Sparkler  | $60,000  | F&M 3&Up  | 5F(T)  | 5/19/2017  |
| 6/3/2017  | Eatontown (G3)  | $100,000  | F&M3&Up  | 1M 1/16(T)  | 5/20/2017  |
| 6/10/2017  | Crank It Up  | $60,000  | F3 YO  | 5F(T)  | 6/2/2017  |
| 6/11/2017  | Decathlon   | $60,000   | 3&Up  | 6 F  | 6/2/2017  |
| 6/17/2017  | Salvator Mile (G3)  | $100,000   | 3&Up  | 1M  | 6/3/2017  |
| 6/18/2017  | betfair.com Pegasus (G3)  | $100,000   | 3 YO  | 1M 1/16  | 6/4/2017  |
| 6/24/2017  | Jersey Shore  | $60,000  | 3 YO  | 6 F  | 6/16/2017  |
| 7/1/2017  | United Nations (G1)  | $300,000   | 3&Up   | 1M 3/8(T)  | 6/17/2017  |
| 7/2/2017  | Lady's Secret  | $75,000  | F&M3&Up  | 1M 70  | 6/17/2017  |
| 7/8/2017  | Long Branch (L)  | $100,000  | 3 YO  | 1M1/16  | 6/30/2017  |
| 7/15/2017  | Boiling Springs (L)  | $75,000  | F3 YO  | 1M 1/16(T)  | 7/7/2017  |
| 7/16/2017  | Regret  | $60,000  | F&M 3&Up  | 6 F  | 7/7/2017  |
| 7/22/2017  | My Frenchman  | $60,000  | 3&Up   | 5 1/2(T)  | 7/14/2017  |
| 7/29/2017  | Lamplighter  | $60,000  | 3 YO  | 1M 1/16(T)  | 7/21/2017  |
| 7/30/2017  | betfair.com Haskell Inv. (G1)  | $1,000,000  | 3 YO  | 1M 1/8  | Invitational  |
| 7/30/2017  | Monmouth Stakes (G2)  | $150,000  | 3&Up  | 1M 1/8(T)  | 7/15/2017  |
| 7/30/2017  | WinStar Matchmaker (G3)  | $100,000  | F&M 3&Up  | 1M 1/8(T)  | 7/15/2017  |
| 7/30/2017  | Monmouth Cup (G3)  | $100,000  | 3&Up   | 1M 1/16  | 7/15/2017  |
| 7/30/2017  | Molly Pitcher (G3)  | $100,000  | F&M 3&Up  | 1M 1/16  | 7/15/2017  |
| 7/30/2017  | John J. Reilly Hdp NJB   | $60,000   | 3&Up   | 6 F  | 7/15/2017  |
| 8/5/2017  | Colleen  | $60,000  | F 2YO   | 5 1/2(T)  | 7/28/2017  |
| 8/6/2017  | Tyro  | $60,000  | 2 YO   | 5 1/2(T)  | 7/28/2017  |
| 8/12/2017  | Monmouth Oaks (G3)  | $100,000  | F3 YO  | 1M 1/16  | 7/29/2017  |
| 8/19/2017  | Violet (G3)  | $100,000  | F&M 3&Up  | 1M (T)  | 8/5/2017  |
| 8/26/2017  | Philip H. Iselin (G3)  | $100,000  | 3&Up   | 1M 1/8  | 8/12/2017  |
| 8/27/2017  | NJ Breeders Hdp NJB  | $60,000  | 3&Up   | 5 1/2(T)  | 8/13/2017  |
| 8/27/2017  | Charles Hesse III Hdp NJB  | $60,000  | 3&Up   | 1M 1/16  | 8/13/2017  |
| 8/27/2017  | Eleven North Hdp NJB  | $60,000  | F&M 3&Up  | 6 F  | 8/13/2017  |
| 9/2/2017  | Sorority  | $60,000  | F 2YO  | 6 F  | 8/19/2017  |
| 9/3/2017  | Sapling (L)  | $75,000  | 2 YO  | 1M  | 8/19/2017  |
| 9/4/2017  | HH Shk Zayad Bin Sultan Nayhan Cup Hdp (G1)  | $50,000  | 4&Up  | 1M  | Invitational  |