Betfair.com Haskell Tickets Selling Fast for The 50th Renewal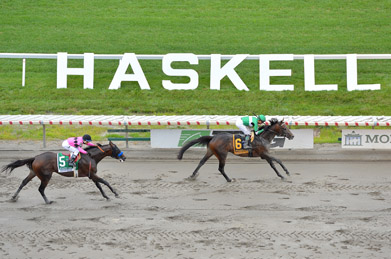 Tickets are selling fast for the 50th edition of the betfair.com Haskell Invitational, to be renewed on Sunday, July 30.
Clubhouse sections start at $25, while Grandstand seats range from $20-$25. For the Grandstand balcony, seat prices go from $13-$18. A complete Grandstand or Clubhouse box ranges from $100-$200 depending on the number of people.
Individual Picnic tables within the closed-off areas will be available to reserve. Tables trackside will cost $175 while tables in the rear will be $150.
Admission on Haskell Day, which is not included in the reserved seat price, is $8 for the Grandstand and $10 for the Clubhouse. For seniors aged 55 and up Grandstand admission is $4 and Clubhouse admission will cost $5.     
 Haskell tickets can be purchased by calling 732-571-5563, or by visiting the reserved seat booth (2nd floor of the Grandstand) on any live racing day. In addition, fans can pre-purchase Haskell seats directly through www.monmouthpark.com.   
            The Haskell is part of the Breeder's Cup Challenge Series: Win & You're In with the victor earning an automatic berth to the $6 million Classic.