Bennett Looking For Fast Start At Monmouth Park Meet With Xy Speed In Sunday's Get Serious Stakes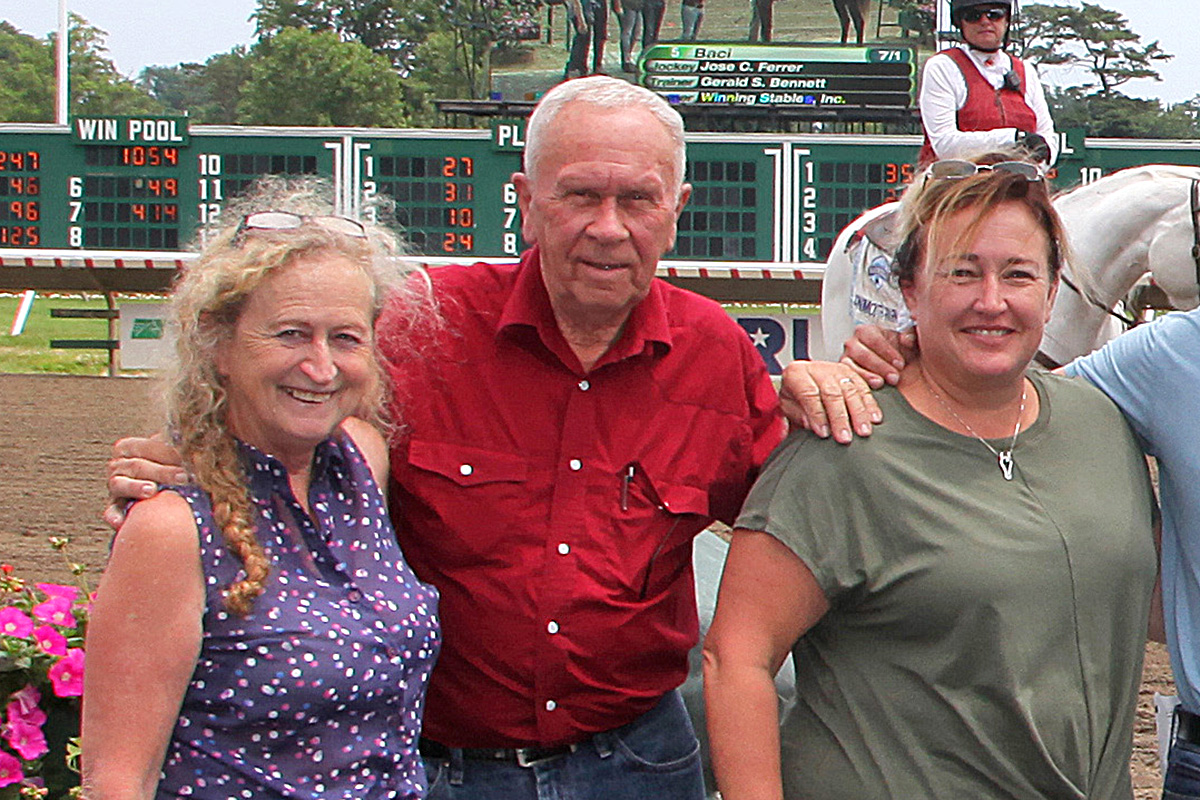 With most of the shipping done involving the 50 horses he is bringing up from Florida, trainer Gerald Bennett says he's finally ready to get started at the Monmouth Park meet.
He will dive right into stakes action, too, with Xy Speed heading the field for Sunday's $100,000 Get Serious Stakes at five furlongs on the turf. Six days later he will send out Carpenters Call in the $100,000 Cliff Hanger Stakes, a mile and a sixteenth turf race that kicks off three days of live racing over the Memorial Day weekend.
His first starter of the meet will come when he saddles two horses in Saturday's second race.
"We've been back and forth hauling my horses up to Monmouth," said Bennett, who is the verge of his seventh straight training title at Tampa Bay Downs. "We still have one more load to bring up. We have two trucks and trailers that we own and my wife and I are almost finished with the shipping.
"We're hoping to get off to a half-decent start at Monmouth."
Xy Speed has the ability to make it a very fast start. The speedy 6-year-old, claimed by Michael Dubb and Steve Bouchey for Bennett for $32,000 last Sept. 13, shows three wins and two seconds in the six starts since the 78-year-old Bennett took over the gelding's conditioning. All have been in grass sprints.
The Kentucky-bred son of First Samurai-Paloma Pal by Any Given Saturday is coming off a victory at Tampa Bay in his last start March 30.
"The horse is really consistent. He just doesn't like the dirt," said Bennett. "All of his form has shown that. But some of the people who had him kept trying him on the dirt and he didn't run well.
"I looked at video of him from as far back as when he raced at Lone Star for Steve Asmussen (last summer). I could see he was a different horse on the turf.
"When we got him he was sharp. I talked to (previous trainer) Steve Klesaris after we got him. He said `you made a good claim. Just know that he is strictly grass.' So it has turned out to be a good claim. He's a racehorse. His grass races show that. He runs big numbers."
Though 9-for-22 in his career, Xy Speed shows an 8-3-1 line from 13 career grass starts. He has seven wins and three seconds from 15 starts at five furlongs.
Leading rider Paco Lopez has the mount.
"He's a nice horse to be around," said Bennett. "He looks like a million dollars now too. He has never run a bad race for us. The one time he was off the board for us he ran into some trouble. In the Claiming Crown race at Gulfstream (on Dec. 4) they went :54.78 to beat him by a length after he set all of the fractions. I expect him to run a big race Sunday."
In addition to having four different trainers during his career, XY Speed has run over 10 different racetracks.
"The only thing that seems to bother him is a soft turf," said Bennett. "Other than that, he usually runs well as long as he is on the turf."