Baffert Pleased With Authentic's TVG.Com Haskell Win But Says There is Work To Do Before Sept. 5 Kentucky Derby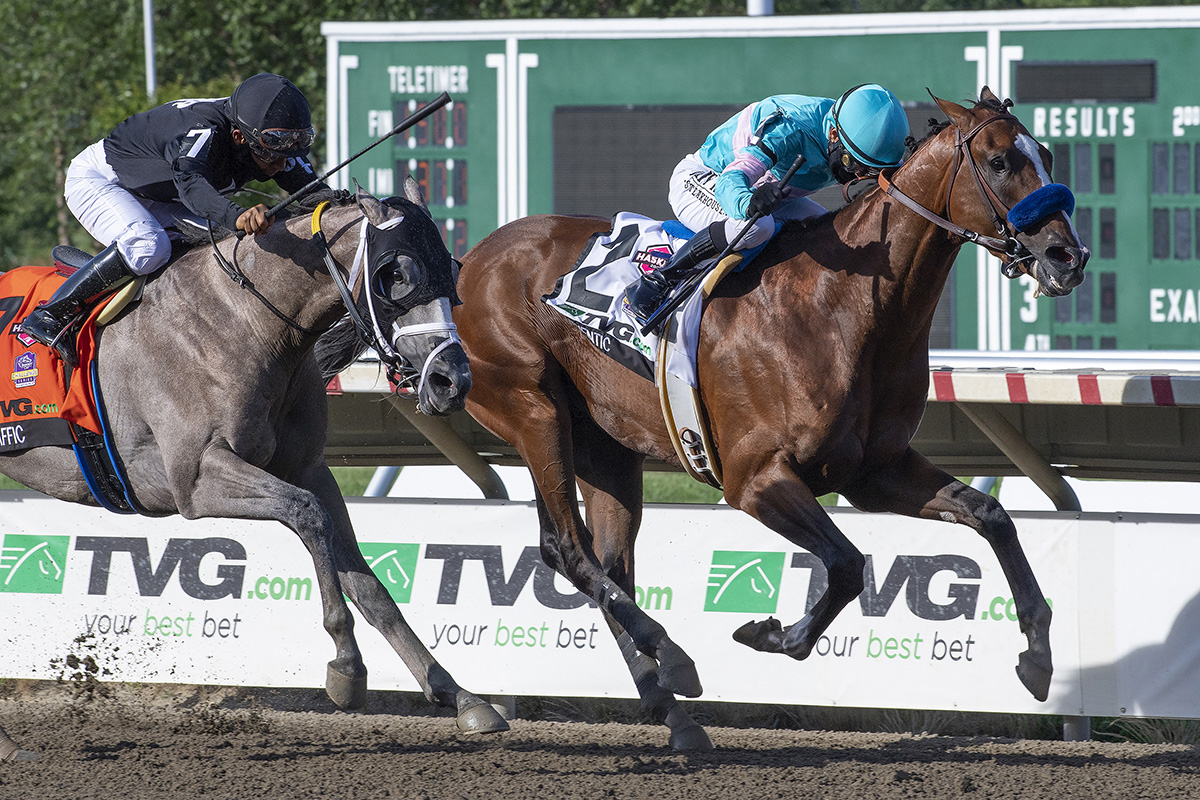 With the win secured in Saturday's Grade 1, $1 million TVG.com Haskell Stakes at Monmouth Park, Authentic will train into the Kentucky Derby, which has been rescheduled to Sept. 5. The colt has some lessons to learn over the next seven weeks, Hall of Fame trainer Bob Baffert said.
After racing to what appeared to be a comfortable lead in the stretch on the way to an easy victory, Authentic and Hall of Fame jockey Mike Smith had to hold off a determined and fast-closing Ny Traffic. The margin of victory, confirmed via photo finish, was a nose – the fourth time in the Haskell's 53-year history it has produced that margin of victory at the finish.
The 14-race card also produced a record non-Breeders' Cup day handle of $20,479,392 for Monmouth Park.
"We're going to work on him a little until then (the Derby)," Baffert said by phone from his Southern California base Sunday morning. "I was pretty proud of him. He ran well. I might have to put a little blinker on him because he went to idling on me.
"Turning for home, I kept waiting for him to turn it on, but he was doing some looking around and idling there. Mike saw that other horse (Ny Traffic) coming at the least minute."
The victory extended Baffert's record for Haskell wins to nine.
Authentic, meanwhile, achieved millionaire status with the winner's share of the Haskell purse and has four wins and one second in five career, including three graded stakes victories. That is even more notable considering he was foaled May 5, 2017, making biologically younger than many of his sophomore classmates.
"He's a late foal. He's maturing but he's a quirky little guy," Baffert said. "I think that it's impressive that he shipped, he got on a plane, he went all the way over there, and he handled it well. He didn't get hot in the paddock. He handled it all well and that's what you want to see.
"I'm happy with him. But he still has a lot of improving to do."
Baffert, who said that had Authentic not won it would have been what he termed a horrible beat, was in an upbeat mood the day after and shared some of the conversation he and Smith had immediately after the race.
"It was funny," Baffert said. "I told Mike, 'You know, you've got to stay busy on him.' And Mike said, 'Well, we turned for home and he cut, and I thought he was okay, and I was smooching to him. I said, 'Um, Mike, he had ear plugs in.' It was pretty funny. But it worked out right. It worked out good. But Mike said when that horse came to him, he could feel it. He wasn't going to let him get by him. He just took off. I'm proud of him."
As happy as he was with Authentic, who with the win also guaranteed his spot in the Nov. 7 Breeders' Cup Classic through the "Win and You're In" Challenge Series, Baffert was quick to praise the effort by the Saffie Joseph, Jr.–trained Ny Traffic.
"I have to credit to the horse who ran second. The track wasn't that fast yesterday," said Baffert. "That Ny Traffic is a nice horse. He's right there. He gets beat by the good horses, so you have to give him credit, too."
Ny Traffic has yet to win a stakes race, but he's been second in graded stakes in his last three starts so he's been banging on the door and signaling he's poised to knock it down.
"I hope when he does it's not my door that he knocks down," said Baffert.
Authentic came out of the Haskell in terrific shape and on Sunday was headed by van to Lexington, Ky., where he will remain for a week before catching a flight back to rejoin Baffert's Southern California stable.
Joseph, who earned his first and only Grade 1 victory last year with Math Wizard in the Pennsylvania Derby, was philosophical the morning after the race.
"That was a tough beat, but to be honest, it really didn't hurt that much because I am just so proud of this horse," he said. "He ran an amazing race. At the quarter-pole it looked like he was all done and the other horse (Authentic) was going to win easily. But he got going again and I'm very proud of him."
Joseph was excited about the New York-bred son of cross Traffic going into the Haskell and he is even more so afterward.
"He showed he's got a lot of guts, a lot of heart, and a lot of fight in him. Most definitely," he said.
Next up it's the Kentucky Derby, and a rematch with Authentic.
"I thought we already had enough Derby points going in, so the important thing was to just get a good race into him," he said. "Now it's about who is moving forward, not who has peaked or is going backward. Going forward is the most important thing right now and that's why that tough beat can't really hurt me.
"I was just really happy to see him take that major step forward. That's the most important thing. Most definitely, there is a lot to be excited about with him. I just want him to stay sound and healthy and then we're on to the Derby."
Ny Traffic, who would be Joseph's first Kentucky Derby starter, was reported to have come out of his race in excellent shape. He left Monmouth Park on Sunday morning at 8 a.m. by van for upstate New York to rejoin Joseph's Saratoga string.
In Monmouth's other Grade 1 race on the Saturday Haskell card, the $300,000 United Nations Stakes at 1 3/8 miles on the turf, trainer Mike Maker and jockey Joe Bravo teamed up again to take down the top prize with a former claiming horse.
Aquaphobia, a 7-year-old son of Giant's Causeway claimed by Maker in January for $62,500, was ridden confidently by the 13-time Monmouth Park riding champion as the 10-1 shot dug down deep through lane to run down Paret.
In 2017 Maker won the United Nations with Bigger Picture, a horse he claimed for $32,500 and had also moved way up in class, and Bravo was in the irons for that score as well.
"Joe Bravo rode him beautifully," Maker said. "We had a lot of confidence in the horse coming in and he didn't let us down. He's run a mile and quarter in the past in he was successful, but he hasn't had the opportunity to go that long or longer again. We felt this horse was better than we were getting out of him. I think the distance was the reason.
"He'd been training dynamite so I was optimistic. Coming out of his last race, the Grade 2 Wise Dan, I thought that was a good race. He was beaten less than two lengths. So it looked like he was getting back to where we think he can be. He's a classy, sound horse who makes it easy."