Auldwood Lane Seeking First Stakes Victory In Saturday's Blue Sparkler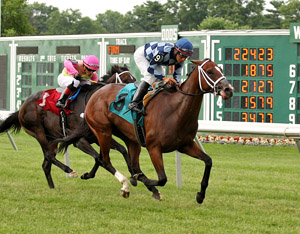 When trainer Jason Servis sends out Auldwood Lane in Saturday's $60,000 Blue Sparkler Stakes at Monmouth Park, he knows he will have the filly exactly where she should be: Sprinting on the grass. 
How he came to the realization that she fits those conditions, though, was pure happenstance. 
"When she was 2, she was ready to run. A five-furlong grass race was really the only option we had, so we thought we'd give it a try," Servis said. 
But there was some uncertainty, since Servis also trained Ever Always, the dam of Auldwood Lane, and she had never raced on the grass during an injury-shortened career that saw her win four of five races. 
Auldwood Lane finished a solid third in her career debut at Gulfstream Park West, showing plenty of late run, and sprinting on the grass became her niche. In her five-race career she owns a 2-1-2 line, all in turf sprints, and comes off an impressive allowance victory at Monmouth Park on June 24. 
The Blue Sparkler, a 5½-furlong turf sprint restricted to 3-year-old fillies, has drawn a field of eight, not counting three main track only entrants. The late-running Auldwood Lane, with victories in two of her past three starts, looms the potential favorite to notch her first career stakes victory – but more because of the race she did not win among her last three. 
That was a fast-closing second, beaten 1¼ lengths by Miz Mayhem in the Cedar Key Stakes at Gulfstream Park on April 27. 
Miz Mayhem has won two straight stakes races – the Nicole's Dream at Gulfstream Park and the Stormy Blues Stakes at Laurel Park – since beating Auldwood Lane to stretch her overall winning streak to five. 
"That's a good filly she lost to that day," said Servis. "I think we have a good one, too." 
Paco Lopez is again listed to ride Auldwood Lane, a daughter of Bodemeister owned by Dennis Drazin. The Blue Sparkler will go as the 10th race on Saturday's 11-race card.