At Age 57 Jose Ferrer Is Enjoying The View From Atop The Monmouth Park Jockey Standings,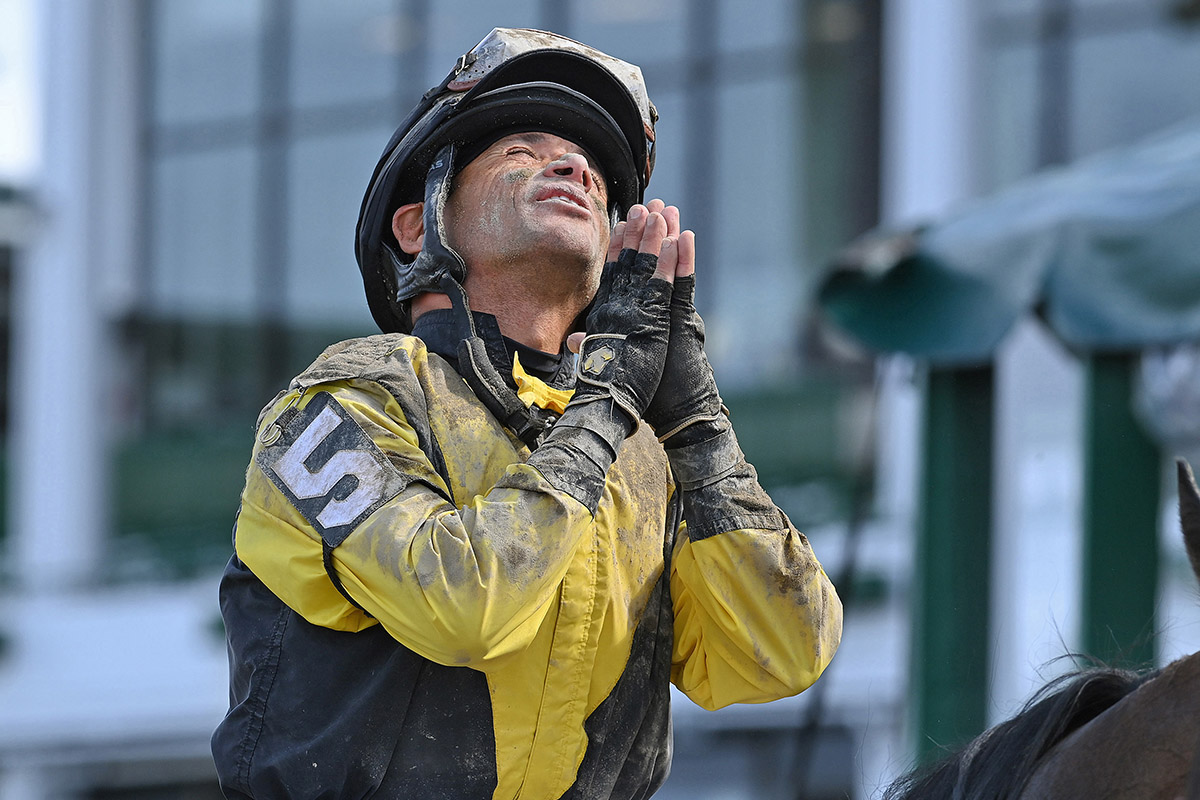 Jockey Jose Ferrer will often dust off one of his favorite expressions to make sense of having booted home an improbable longshot, as was the case in last Saturday's Grade 3 Salvator Mile at Monmouth Park, when he won with Informative at odds of 79-1.
One is that the horses can't read the tote board.
The other is that you can't win by staying in the jockeys' room.
These days, he may want to add one more to his list: Age is just a number.
The 57-year-old Ferrer heads into Monmouth Park's Friday twilight card as the track's leading rider after 10 days of the 53-day meet, with 16 winners from 56 mounts (a 29 percent clip). He combined for seven winners last Saturday and Sunday at Monmouth.
"It's been fantastic lately. It's an unbelievable feeling," said Ferrer, who has ridden 4,575 winners in a career that began in 1982. "You get those times where everything goes right for you, when everything seems to click.
"That's where I feel I am now."
Ferrer, who won his only Monmouth Park riding title in 2018, sees no reason his early success can't continue through the end of the meet. Overall, he has hit the board with 32 of his 56 mounts.
It's not as if he is riding a majority of favorites either. Nearly half (seven) of his winners so far have paid $12 or more and three have returned $30 or more, topped by the $161.60 win price that Informative produced.
Informative's victory skews the numbers a bit, of course, but Ferrer's average win price at the Monmouth meet is $20.60.
"I've had good stretches where I've won three or four in a day and then came back and won three or four the next day," he said. "But to win the Salvator Mile, a Grade 3, with such a long shot and to win three other races on the card, two with longshots, and then three the next day … that's a pretty good stretch."
Ferrer is able to excel at an age when most jockeys are nearing the end of their careers in large part because of his fitness regimen.
It's almost at the point where he is obsessed with working out. He says he is in the best shape of his life.
"I lift a lot of weights. I try to work out and lift twice a day," he said. "I'll lift before I go to the track and on off days. I ride a bike whenever I can, too. Monday through Thursday I ride a couple of miles with my wife and (two) kids. I know I have to work twice as hard as the younger guys do. You have to put in the work.
"A lot of younger guys spend their time on social media. I'm old school. I don't have time for that. I need to work out and stay fit to stay competitive every day I go out there to ride. I have learned you have to work if you want good things to happen. They don't just happen because you want them to."
Ferrer also enjoys the role of elder statesman that he has in the jockeys' room at Monmouth, always willing to pass along his accrued knowledge with an inquisitive young rider. In 2018 he won the prestigious George Woolf Award, which has been presented annually since 1950 to a jockey who demonstrates high standards of personal and professional conduct on and off the racetrack.
"It's a blessing to keep riding this long and at my age," said Ferrer. "I like that some of the younger guys come to me for my knowledge. I am always there to help if I can. Older riders helped me when I was coming up. So I feel like I should share my knowledge and experience."
Ferrer, who hails from Santruce, Puerto Rico, has also made a seamless transition to New Jersey's strict no crop rule – an adjustment that would seem to be easier for younger riders not as set in their ways.
But the opposite is true, says Ferrer.
"It goes back to being an old-school guy when you would mostly hand ride in the 1980s and 1990s," he said. "That's when you depended more on pushing a horse with the reins. So it's almost back to the 1980s for me and how I was brought up riding. The stick back then was the weakest link in your riding. I was always hand riding. You didn't use the whip until you absolutely had to use it.
"So this is my foundation. I came up hand riding."
He also came up winning – something he is still doing, all these years later.