Arklow Looks To Add Another Grade 1 To Credentials in Saturday's United Nations; TVG.com Haskell Stakes Contender Midnight Bourbon Arrives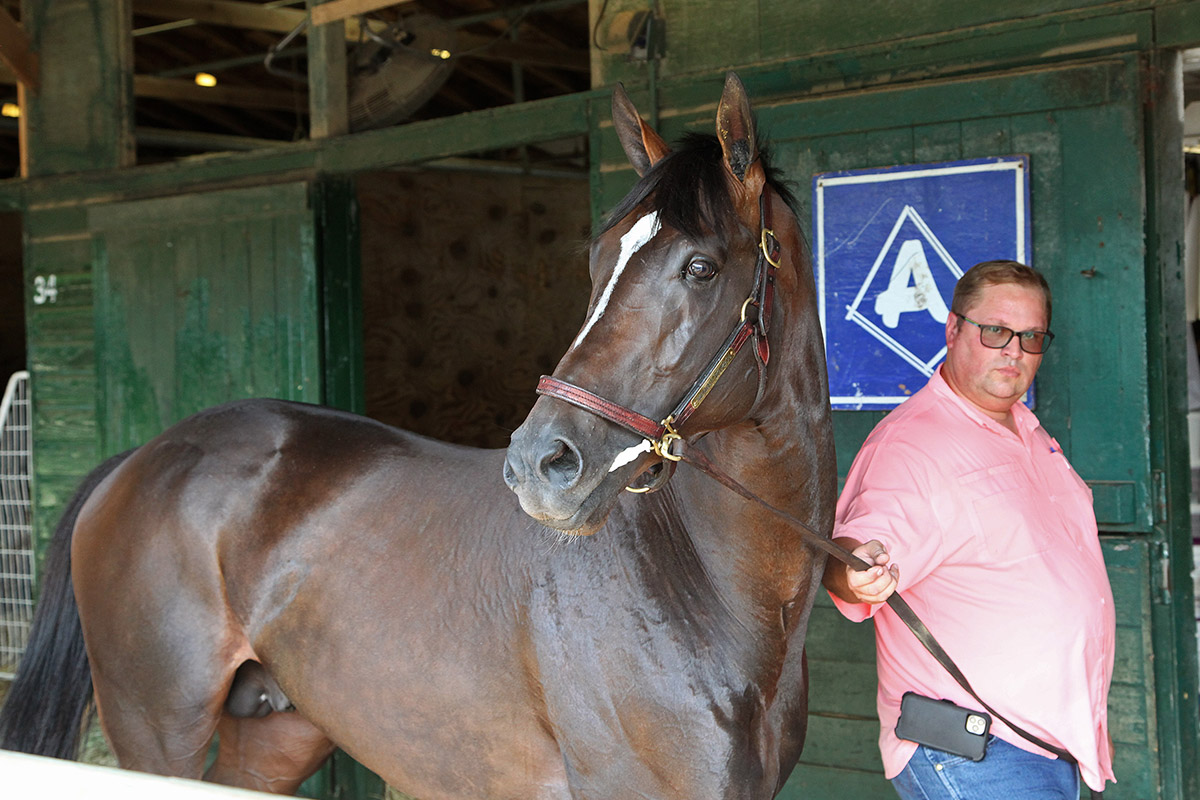 If ever the timeworn cliché about not getting older but getting better could be applied to a horse, it would be Arklow.
The son of Arch is now seven and has earned $2,750,746 in a 32-race career that dates to 2016. Even more impressive is that he has won a graded stakes race in each of the past five years.
He became a Grade 1 winner in the Joe Hirsch Turf Classic in the fall of 2019 and now, almost two years later, will be among the favorites at Monmouth Park for Saturday's Grade 1, $500,000 United Nations Stakes, the supporting feature on the 14-race TVG.com Haskell Stakes card.
The United Nations will be contested at a mile and three-eighths on the grass, where Arklow excels.
"Winning a graded stakes five years in a row is a remarkable thing," said Eclipse Award-winning trainer Brad Cox, who saddled Arklow before his most recent victory in the Grade 3 Louisville Stakes at Churchill Downs in his only 2021 start. "I think it's a pedigree thing. He's an Arch. He felt like a horse that would always improve with age."
Owned by Donegal Racing, Joseph Bulger and the estate of Peter Coneway, Arklow is back for a second straight crack at the United Nations. Sent off as the 13-10 favorite in 2020, he finished fourth. Thereafter, Cox added blinkers and Arklow has posed for winner's circle photos in three of his next four contests, all graded stakes, including the Grade 2 Hollywood Turf Cup at Del Mar in the final race of his 2020 campaign.
"He's really moved forward since we've added the blinkers," Cox said. "His only defeat with them came in the Breeders' Cup. The blinkers seem to have picked his head up and are keeping him in the race mentally. I've always said I hate to put blinkers on a horse that's made a couple of million dollars, but once we did it he turned the corner."
The horse's only loss in those four races after the equipment change was a sixth-place finish in the Grade 1 Breeders' Cup Turf in November.
"We give him time off," said Cox when addressing Arklow's longevity and successes. "It had been somewhat of a long year and then he got a break. I think that plays a big role. The owners of this horse are always willing to give him time. Once he's done so much, he gets a little vacation. He's rewarded them in staying consistent."
Another astounding thing about Arklow is that he's stayed as sound and as willing as a young colt.
"We see all the signs that he still loves to do it," said assistant trainer Blake Cox, who is overseeing the contingent of five horses, including Mandoloun, which the stable will run in all five graded stakes on Saturday's Haskell Stakes card. "He does so much after the wire and it's the way he does it. He's a mile-and-a-half horse and he's a grinder. He picks up every pole and you can't even pull him up. It's crazy. He tells you when he's ready."
Arklow put in the last of his serious work for the United Nations at Monmouth Park on July 11 with a four-furlong breeze and has been training forwardly since. On Thursday, he was out on the track for a routine morning gallop, went to the gate and backed out, and then visited the paddock for a lesson.
"You don't see horses like this one anymore," said Blake Cox, Brad Cox's son and assistant. "He handles everything thrown his way. He's a tough horse, no question. I think he likes a little give in the ground. I really do. It can rain as much as it wants or not, and he'll be fine."
The horse's connections will be in attendance on Saturday, rooting for their iron horse.
"Winning the United Nations would mean a lot for everybody. He's already got a Grade 1 and we'd like to get another one for him," said Blake Cox. "If everything goes right, I really think he can get the job done."
It will be a busy and potentially-lucrative day for the Cox team on Saturday. In addition to Arlow in the Grade 1 United Nations and Kentucky Derby runner-up Mandaloun in the Grade 1 Haskell, they're sending out Grade 1 winner and Juddmonte Farms homebred Juliette Foxtrot in the Grade 3 WinStar Matchmaker Stakes, Grade 2 winner Vault in the Grade 3 Molly Pitcher Stakes, and Grade 3 winner Night Ops in the Grade 3 Monmouth Cup Stakes.
*************************************************************
TVG.com Haskell Stakes contender Midnight Bourbon, the Preakness Stakes runner-up, arrived from Saratoga Thursday morning and was bedded down with the rest of trainer Steve Asmussen's division at Monmouth Park. He is among the trio of Triple Crown runners-up who headline Saturday's 54th edition of the $1 million Haskell.
Stablemate Bank It, scheduled to go in the Grade 3 Monmouth Cup Stakes on Saturday, also arrived here after his van trip from Belmont Park.
Heading into Thursday's races around the country Amussen stands just 20 victories away from becoming the all-time winningest trainer in North America. Two of the most important among his 9,425 victories came at Monmouth Park with a pair of runners who wound up as Horse of the Year for the Hall of Fame conditioner.
Rachel Alexandra won the 2009 Haskell and Curlin came back in 2007 to win the Breeders' Cup Classic at Monmouth Park 2½ months after finishing third in the Haskell.
Perhaps as an omen, Curlin's regular hotwalker, Lazaro Uscanga, accompanied Midnight Bourbon from Saratoga and will handle the same chores for Midnight Bourbon.
Winchell Thoroughbreds' Midnight Bourbon, the 9-2 fourth choice in the Haskell morning line, will tack walk the shedrow tomorrow and then school in the paddock in the afternoon.
First race post time for the Haskell day card is noon, with gates opening at 9 a.m.
There will be a $100,000 guaranteed Pick 5 starting in race 10 and a $400,000 guaranteed Pick 4 starting in race nine and ending with the Haskell Stakes.
Post time for the Haskell Stakes is scheduled for 5:47, with NBC televising live from 5 to 6 p.m.
Advance wagering on the entire Haskell Stakes card will be available starting Friday.
Lynne Snierson
Monmouth Park publicity staff