Apprentice Madison Olver Enjoying Success At Monmouth Park In Her First Full Year As A Jockey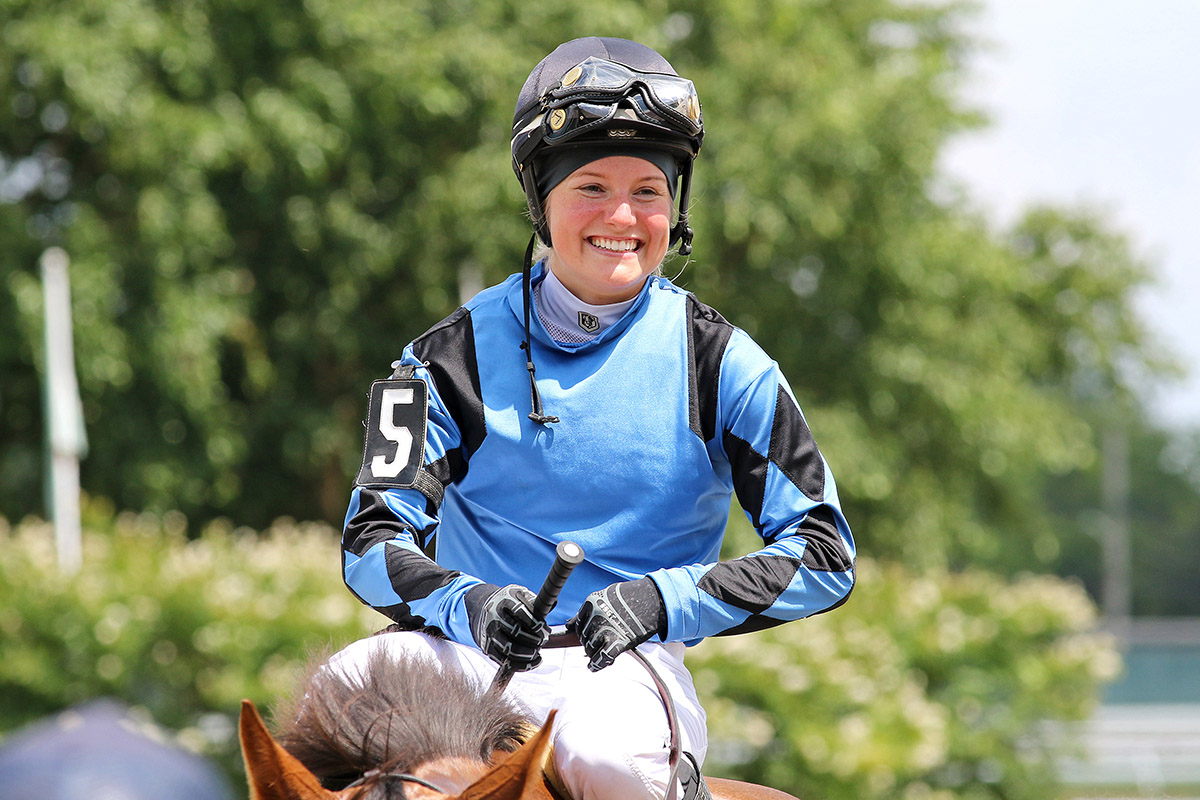 Madison Olver set two reachable goals for herself in 2023 year, her first full year as a jockey. One was to be the leading apprentice rider at Monmouth Park this summer. The other was to win a stakes race.
The 24-year-old is well on the way to achieving the former and is a couple of second-place finishes shy of attaining the latter.
"I'm pleased with the meet I'm having so far at Monmouth Park," said Olver. "I've noticed business starting to pick up. When you're new to a place it can be tough to break in. But (agent) Shawn Klotz and I kept grinding away.
"Things seem to be going well right now. I have a lot of barns willing to support me."
Olver heads into the weekend with a 14-9-9 line from 69 mounts at Monmouth Park. That puts her in ninth in the track's rider standings. It's a significant accomplishment for someone who had just 38 mounts coming into the year.
Overall, she has 26 wins in a riding career that began last year at Aqueduct.
"It's a game of perseverance and learning and patience and discipline," she said.
Olver, a native of Fort Collins, Colorado, and a graduate of Colorado State University, still faces plenty of challenges in trying to establish herself. While she is scheduled to ride in five races on Sunday's 10-race card at Monmouth Park she is not in either stakes race that day – the $100,000 Select Stakes and the $100,000 Oceanport Stakes.
In the only two stakes mounts in her career so far, Olver has a pair of second-place finishes, both aboard Super Chow this summer at Monmouth Park.
"You're always proving yourself," she said.
As a female rider the challenges can be more difficult, even though only one female rider (Ferrin Peterson in 2020) has won more races at a Monmouth meet than Olver since 2013.
"There are a lot of female riders at Monmouth Park but it can still be difficult as a female rider," she said. "I still think a lot of people aren't used to it. Monmouth Park is one of the places that is the most open to it.
"I think there are a lot of people willing to give you that first chance to ride for them but I'm not sure you always get the benefit of the doubt sometimes."
Olver is one of seven female jockeys to have ridden at Monmouth Park this summer.
She became part of that list almost by accident, not deciding until she graduated high school that becoming a jockey was something she wanted to do.
"I've been riding horses my whole life but I actually learned about how to race horses when I studied in France," said Olver, who will be a bug rider through February. "It wasn't until after I graduated college that I thought about it seriously. I wanted to get my degree but I also wanted to become a jockey. Until I graduated high school it was not something I thought about or knew was within the realm of possibility."
She can't envision herself doing anything else now.
"I just want to keep learning, keep gaining experience and continue to make good connections," she said. "I am willing to put in the work to be successful."