Apprentice Jockey Andy Hernandez Quickly Finding That His Hard Work Is Paying Off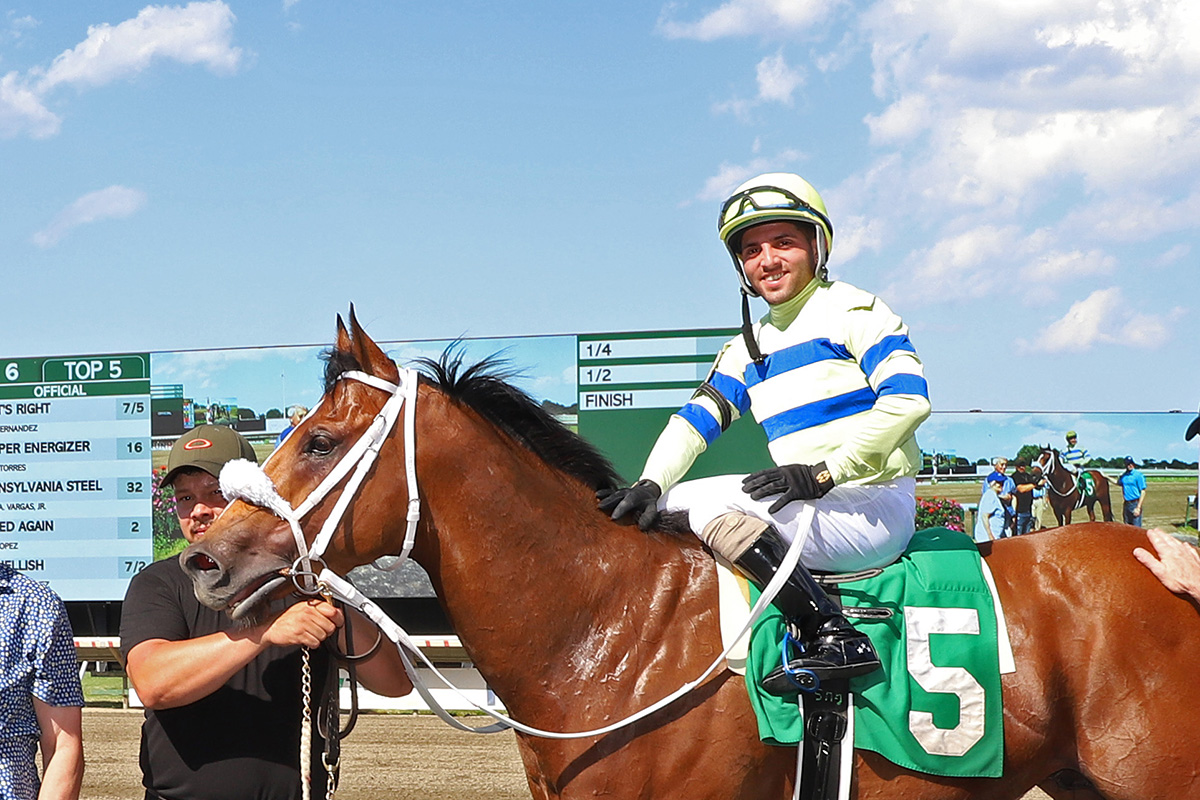 Apprentice jockey Andy Hernandez knew close to nothing about horse racing back in 2019 when he moved to Miami from Cuba. Having never been around horse racing before, and with virtually no horse racing available in his native country, Hernandez's first experience at the track came on an outing with a friend in South Florida.
That friend introduced Hernandez to Gulfstream Park-based trainer David Brownlee, who soon gave him his first job in racing. Hernandez started as a hot walker, learning the business from the bottom, and Brownlee took the time to teach him every aspect of the sport he could. Hernandez eventually was given the chance to gallop horses, with his strong work ethic paying off when Brownlee gave him a leg up for his first career ride Gulfstream Park on April 6, 2021 aboard a horse named Majestic Luna.
Hernandez, now 22, has come a long way in a short time since then, with Monmouth Park one of four racetracks he currently rides at. He has made a quick impression at the Jersey Shore, with a 4-3-4 line from 20 mounts at Monmouth Park heading into this weekend.
After moving from Gulfstream Park last year, he went to Delaware Park to ride, while also hustling for mounts at Parx and Penn National.
It was at Parx last October that Hernandez met agent Jimmy Boulmetis, and the two hit it off immediately, forming a partnership that is ongoing.
"I saw he was a great rider, he was just riding bad horses," said Boulmetis, the son of the late Hall of Fame jockey Sam Boulmetis, who won four riding titles at Monmouth Park. "Having never been around horse racing before, it's amazing how fast and how well he has picked it up."
The partnership has proven to be a huge success, with 61 of Hernandez' 84 career wins coming this year.
Hernandez, who counts his work ethic as one of his strengths, made the decision with Boulmetis to try Monmouth Park this summer because of the opportunities to add to his riding workload.
"It was a good fit, it gave me a chance to work seven days a week — three days racing at Parx and three racing at Monmouth Park," Hernandez said. "Everything is great here so far. I've been working hard every day."
Hernandez said he will ride at Monmouth Park for the duration of the summer, as well as Parx and Penn National, adding Laurel Park to his workload when the opportunities arise.
Editor's NOTE: This feature story on Andy Hernandez was written by Monmouth Park intern Michael Kircher