Another Miracle Stages Late Rally To Win Sunday's My Frenchman Stakes, Holding Off Jack The Umpire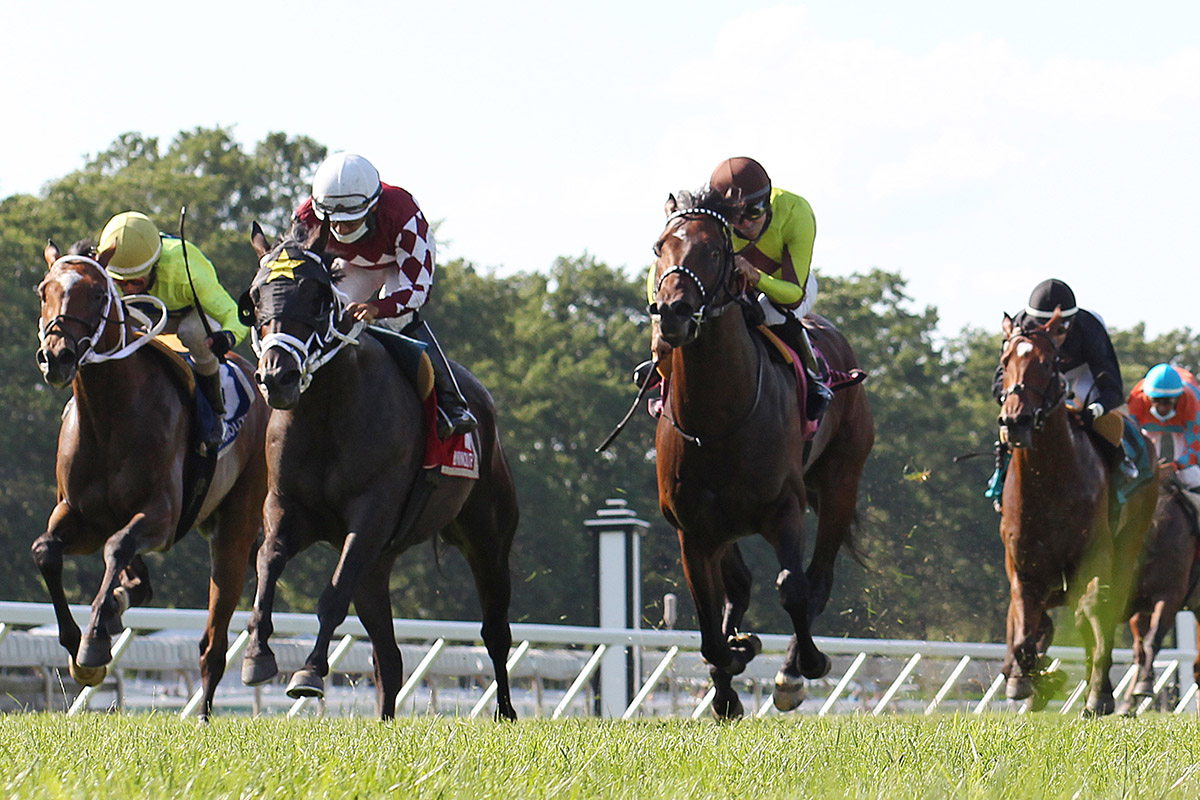 After a trouble-filled 3-year-old debut three months ago, Another Miracle had no issues at all in Sunday's $75,000 My Frenchman Stakes at Monmouth Park. If anything, it was as close to a perfect trip as the colt's connections could have hoped for.
With jockey Paco Lopez biding his time along the rail as Cajun Casanova and Kingpin waged a speed duel that lasted until mid-stretch, Another Miracle came flying late to win the feature race on the 10-race card, holding off the late-running Jack the Umpire by a half-length.
Trained by Joe Orseno and owned by Leonard Green and Jonathan Green, Another Miracle flashed the talent that saw him finish third in the Breeders' Cup Juvenile Sprint last year.
Orseno took over the horse's training this winter from Gary Contessa.
"His first race of the year (a seventh-place at Gulfstream on March 21) he had only come to me 13 days before that," said Orseno. "Gary Contessa sent him to me in great shape and he was ready to run. He just didn't get the best trip that day. He broke poorly and then started to run and make the same kind of run he was making today but he got caught in a couple of switches and had to be stopped and steadied. It was a better race than it looked like on paper."
Another Miracle sat fifth along the rail in the 5½-furlong turf dash for 3-year-olds as Cajun Casanova and My Kingpin went at it throughout the opening three-eighths. Lopez eased his horse off the rail and outside coming out of the final turn and then rolled by a tiring Kingpin. Jack the Umpire staged a furious rally to get second, barely missing catching the winner at the wire.
The final time was 1:05.10.
Another Miracle, a son of American Pharoah-Retraceable by Medaglia d'Oro, paid $11.80 to win.
Orseno fitted the horse with blinkers for the first time this race, saying "I did it to keep him a little more focused, not to put any speed in him. All I told Paco was `break good and he will run good.' "
Lopez, the leading rider at the Monmouth Park meet, did just that.
"I wound up in a good position with the way they were going at it up front. Joe Orseno told me he wanted the horse in the race early so he wouldn't be too far back. I didn't have to use him too much early and that helped," said Lopez. "I saw (Jack the Umpire) flying late at the end but I'm not sure if the horse did because he had blinkers on for the first time. It was almost like he was waiting on a horse after he made the lead.
"This is a good horse. But sometimes you have to be lucky. Being from post position one I was able to stay on the rail and watch everything up front until I asked him to go. It was as good a trip as I could have hoped for with the way the race developed."
Co-owner Leonard Green was presented with the prestigious Virgin "Buddy" Raines Award by Monmouth Park earlier this year "for his professionalism, integrity and service to Thoroughbred racing."