American Sanctuary Heads To Sunday's $200,000 Sapling Stakes With An Eye Toward Breeders' Cup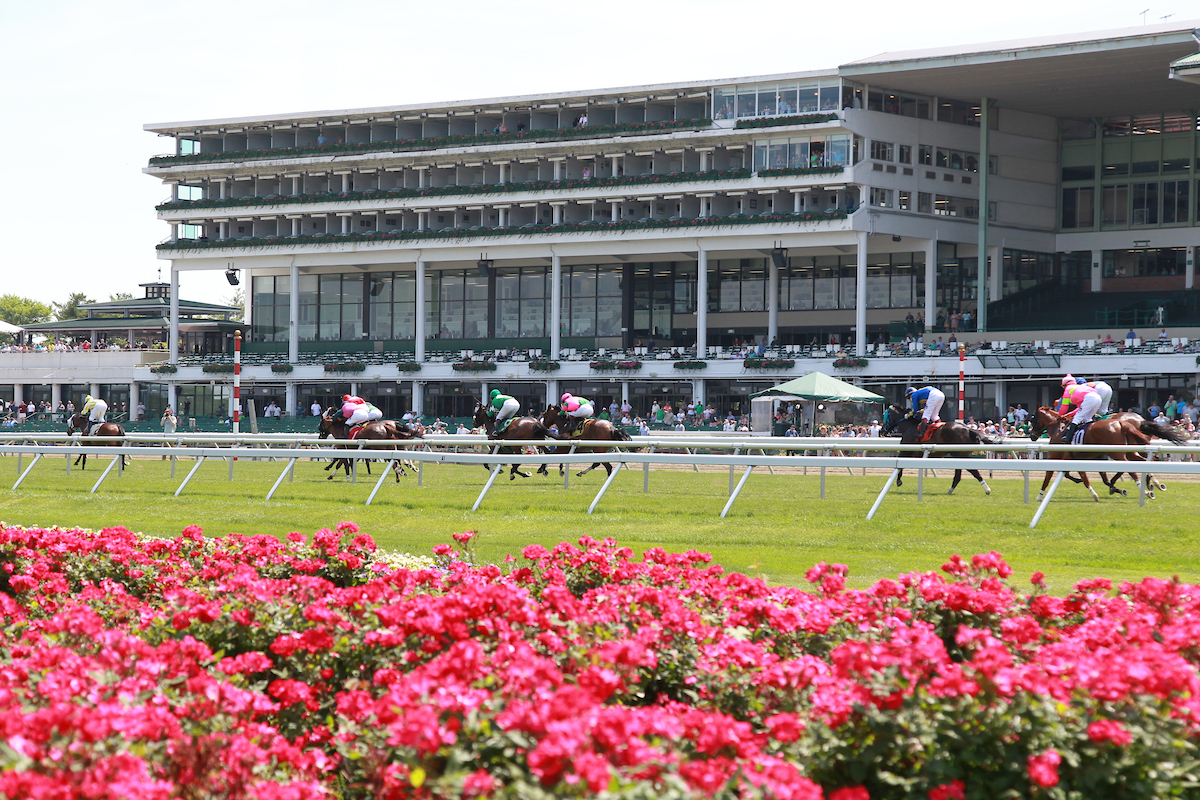 For trainer Christopher Davis to venture East to Monmouth Park, something he has done just once before in his brief career, there has to be a good reason.
Visions of the Breeders' Cup would qualify as that.
Davis, currently based at Arlington Park, will send American Sanctuary to Monmouth Park for Sunday's $200,000 Sapling Stakes at one mile for 2-year-olds, one of the highlights of four straight days of live racing that starts on Friday.
A Kentucky-bred son of American Freedom-Haven's Honey by E Dubai, American Sanctuary will be seeking his first stakes win, with a bigger prize in Davis' sights down the road for the aptly-named Dare to Dream Stable-owned colt. American Sanctuary finished second in the Prairie Meadows Gold Juvenile Stakes in his last start on Aug. 14.
"He got a rough trip in that race, finished really strong and galloped out great," said Davis. "He's a horse that we want to go long with. He came out of that race in good order and worked back last week. We're trying to make the Breeders' Cup with him."
Davis, 32, is having the type of career year that suggests that he may not be over-reaching with that goal. He is just two wins shy (with 30 overall) of matching his career best for a year and his $859,457 in earnings are already a personal best. On July 17 he earned his first graded stakes win when Naval Laughter captured the Grade 3 Modesty Star at Arlington Park.
American Sanctuary, though, has not tried more than six furlongs.
"I like the distance of the Sapling for him," said Davis. "I like going from three-quarters of a mile to a flat mile, as opposed to a mile and a sixteenth. Looking at the nominations I feel we're right there with the top ones in the field."
Davis, who grew up under parents who were both trainers, has been on his own since 2016. He currently has 35 horses and is looking to branch out beyond the Midwest, with plans to try Gulfstream Park this winter.
His trip to Monmouth will be just the second of his career. In 2018, he saddled Moonlit Garden to a second-place finish behind Divine Miss Grey in the Lady's Secret Stakes.
"I was going to send a couple to Monmouth last year but it didn't work out," he said. "They were going to give me stalls, but with COVID-19 and the late start they had we had to change out plans and wound up at Churchill.
"With Arlington closing we could potentially have some horses at Monmouth Park next year. We'll see."
Accompanying American Sanctuary on the trip East will be stablemate Quick Tempo, with Davis pointing that one to the Rumson Stakes on Sept. 11 at Monmouth Park.
In addition to the 87th running of the Sapling on Sunday, Monmouth Park will feature the $150,000 Red Bank Stakes on Saturday and the $200,000 Sorority Stakes for 2-year-old fillies at a mile on Monday.
First race post time on Friday is 3 p.m. Post time for the remainder of the meet through Sept. 26 will be 12:15 p.m. starting on Saturday.
Parking and admission are free.