Amapola, In Foal, Draws Off To Win Saturday's Incredible Revenge Stakes By 5 1/2 Lengths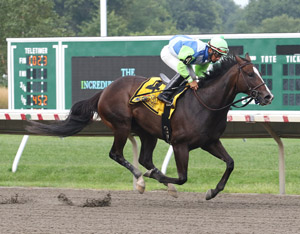 Amapola, four months in foal, made what was likely her last race before motherhood a memorable one, drawing off to win the $75,000 Incredible Revenge Stakes by 5½ lengths on Saturday at Monmouth Park. 
The 4-year-old filly, in foal to Divining Rod, sat off an early two-horse speed duel before making an explosive mood midway through the turn to eliminate any doubt about the outcome. 
Trainer Arnaud Delacour said this would likely be Amapola's final race before she gives birth. 
"According to the vet this is the last month she should probably race," said Delacour. "She doesn't show yet. She's not especially big. So it's perfectly safe. Maybe we can get one more race out of her this month. We'll see. But this may have been her last one." 
The overwhelming 1-2 favorite, ridden by Paco Lopez and owned by Lael Stables, Amapola covered the 5½ furlongs over a fast track in 1:03.83. The race was originally scheduled to be run on the turf. 
"I was actually happy when they switched this to the main track," said Delacour. "I think it gives her a little bit of an edge on the dirt. She's a very fast filly and at five and half furlongs on the dirt I was confident she would run well." 
The daughter of Broken Vow-Dinner With D C also became a two-time winner at the current Monmouth Meet, having won an optional claimer on the grass on July 21. 
Lopez said it was just the third time he'd even ridden a horse that was in foal. 
"It doesn't happen a lot. But you can't tell with her," he said. "She was in foal the last time I rode her here (in that July 21 race) too.  So there is only one other horse I have ever ridden that was in foal." 
Well Acquainted and Unaquoi hooked up in an early speed battle through the first quarter mile, with Amapola just off their flanks. 
"I was comfortable sitting off that speed duel," Lopez said. "I had great position. She has speed but she doesn't have to be on the lead. After three furlongs I let her go and she took off. She was the best filly in the race, no doubt about it. She has a lot of talent." 
 Well Acquainted held for second. It was another three-quarters of a lengths back to Unaquoi in third. 
Amapola, who improved to 3-3-0 from six starts in 2018, paid $3.00 to win. 
Lopez, second in the Monmouth Park jockey standings behind Jose Ferrer, won five races on the 12-race card. Ferrer, who won three races on the day, has 63 victories to Lopez' 52 with 15 racing cards remaining in the meet.