After A Year Of Ups And Downs, Wayne Potts Has His Sights Set On Monmouth Park Training Title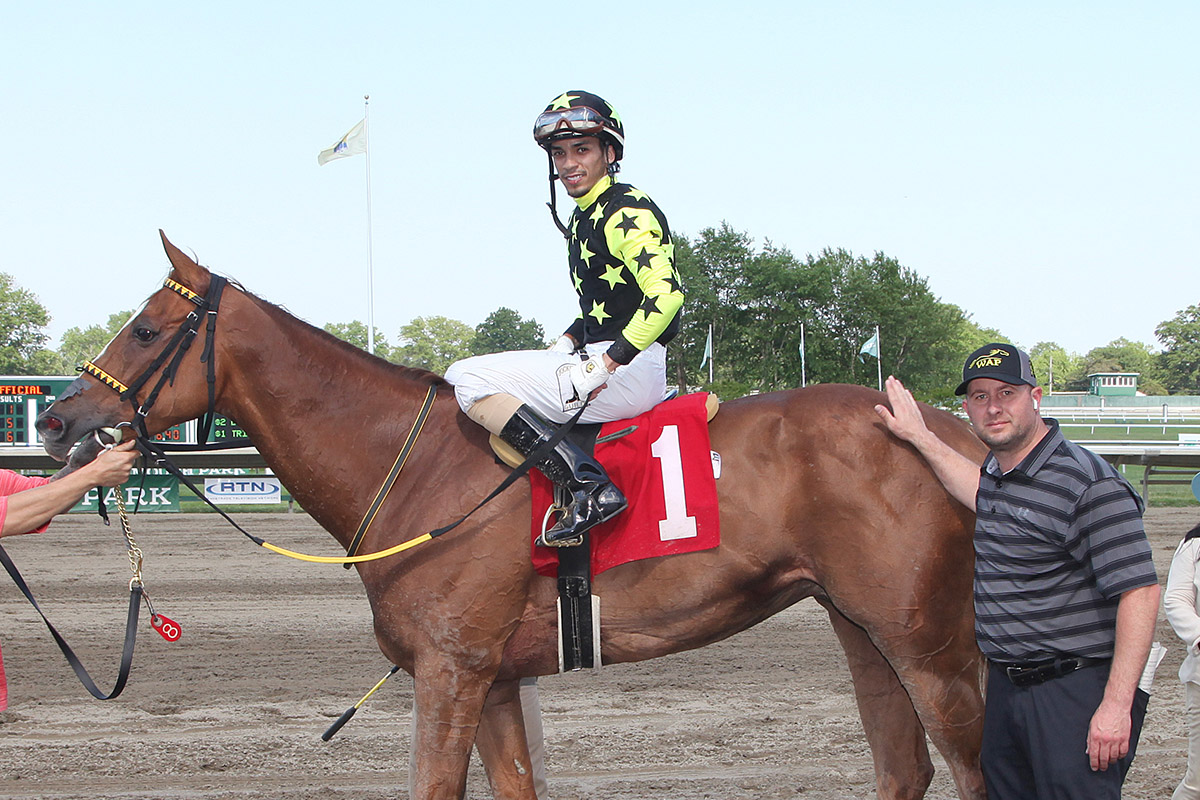 After everything that trainer Wayne Potts has been through the past year the one thing he's learned to do is to appreciate the good times when he is in the midst of them.
This is one of them for the 40-year-old, who enters Monmouth Park's three-day racing weekend on Friday in second place in the trainer standings, one winner behind Jose Delgado's 19 victories. Potts, who began training in 2004, has never won a training title at a major meet.
"I came into Monmouth Park much stronger with my horsepower than I did last year," said Potts, who has three horses entered for Friday's card and six for Saturday. "I brought more horses that fit the program at Monmouth Park. I got a feel for the place after getting here late last summer.
"My team has done a fantastic job. The owners have supported me. We've been active claiming horses so we can keep firing. We've tried to be aggressive."
That approach has paid off with 18 winners (with 14 seconds and 10 thirds) from 72 starters at Monmouth Park so far.
And no one can blame Potts for fully enjoying the success he is having now.
Last winter he was sidelined with COVID-19 – "I was on the basement floor of my apartment for 17 days before I was able to come back," he said – and then saw an April 13 barn fire at Belmont Park claim the lives of two of his horses. One was American Sailor, who provided Potts with the first graded stakes victory of his career when he won the Grade 3 Troy Stakes at Saratoga on Aug. 8 of last year.
"It just ripped my heart out," said Potts. "I had to find a way to push through that. It wasn't easy. It took me a month and a half to get over that."
The highs and lows of the sport are something he has learned to handle after going through so many of both recently.
"The roller-coaster is part of the business," he said. "You have to know how to deal with the good times as well as the tough times. It's training. It's the way it is.
"When you get on a roll and things are going well you have to learn to appreciate it because it won't last as long as you want it to. The tough times, you have to find a way to fight through them. That's what we've been able to do."
Potts, who also has a division in New York, leaves Bonnie Lucas in charge of the 37 horses he has at Monmouth Park when he is not around. Both understand the significance of what a training title would mean for the operation, with Potts' only training "titles" coming at last year's nine-day Meadowlands-at-Monmouth meet and during an abbreviated meet at Timonium in 2015.
"We couldn't be any happier with where we are," said Lucas, who has been with Potts since last year. "If we were to win a training title it would mean so much for us, for everything we been through and how far we've come. It would show us that hard work really does pay off."
Potts could actually take the lead in the trainer standings on Friday with his three entered horses, since Delgado has just one entered on the card. Kelly Breen, last year's leading trainer, is third in the standings with 14 wins.
"I actually thought coming into this meet that I would be pretty strong," said Potts. "The two guys I thought I would have to compete with – Jose Delgado and Kelly Breen – are right there, like I expected.
"We just have to stay active with what we have and spot the horses where they are competitive. I've been fortunate in that my owners have let me run them where I think they belong. So we'll just keep firing. I am not going to downplay it. If we win this training title it would be a big deal for me and my crew. It would mean a lot to all of us."