8-Year-old Drafted Looking To Continue 2022 Revival In Saturday's $100,000 Mr. Prospector Stakes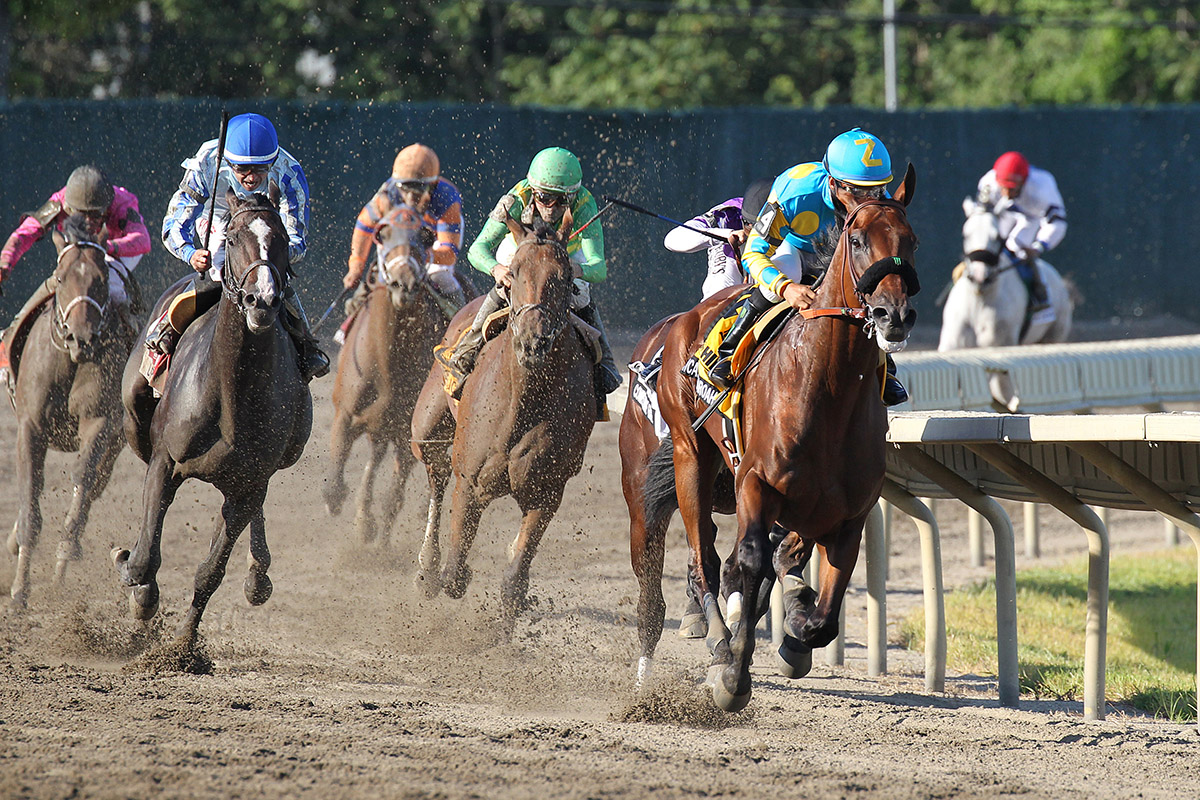 With a pair of Grade 3 victories among his first three starts this year – and a fifth-place finish in the Grade 1 Carter – it would seem as if Drafted is ready for bigger and better things.
Quite the opposite, said trainer David Duggan.
He's an 8-year-old gelding, after all – meaning his spots have to be selected with care. It's the main reason Duggan will send him postward in Saturday's $100,000 Mr. Prospector Stakes, the feature race on Monmouth Park's 12-race card.
"It's the same story with him. We've got nothing to prove because he is an 8-year-old gelding," said the New York-based Duggan. "We're just trying to win races with him and this seemed like a perfect spot and the timing is okay. I'm a little concerned with him coming back so quickly (on three weeks of rest) but he has trained exceptionally well and he worked exceptionally well the other day.
"Things fall into place for a reason sometimes."
They have this year for Drafted, a Florida-bred son of Field Commission owned by Dublin Fjord Stables LLC, Racepoint Stables, Kevin D. Hilbert and Thomas E. O'Keefe.  After going 0-for-7 last year, Drafted won the Grade 3 Tobaggan Stakes at Aqueduct on Feb. 5 by 4½ lengths in his seasonal debut, was fifth in the Carter and then bounced back to win the Grade 3 Runhappy Stakes at Belmont Park on May 14.
"We dropped him into a couple of optional claimers last year and he ran well without getting the job done," said Duggan. "We started to say `okay, he is destined to be a high claimer at this stage of his career.' After the layoff from last year he just started to come around and started doing well physically.
"Sometimes the smallest little shift can get these horses back right, just as the smallest little shift can send them the wrong way too. It was just a combination of little things that set him back last year. He's fit mentally and physically at this time."
With eight wins in 27 career starts, Drafted is closing in on becoming a millionaire, needing $60,807 to reach the seven-figure mark for his career. A win in the Mr. Prospector would leave him $807 shy of that milestone.
Though Duggan said "Grade 2s are a little too tough for him at this stage of his career," Drafted faces a daunting assignment in the Mr. Prospector. Speed abounds in the nine-horse field with Quick Tempo, Greeley and Ben, River Dog and Hollywood Jet. Duggan is hoping that plays nicely into Drafted's closing running style.
"There are no easy races," said Duggan. "The challenge we're dealing with in New York is that you don't know if you will get pace to run into. You always worry that it will be a speed-favoring track.
"This race at Monmouth Park sets up perfectly for a closing sprinter."
First race post time on Saturday is 12:15 p.m.