$500 Super Qualifier Handicapping Contest On Tap Saturday At Monmouth Park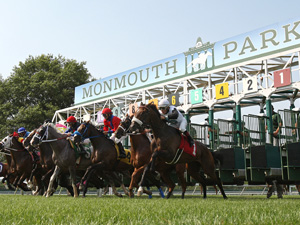 Monmouth Park will host a $500 Super Qualifier Handicapping Contest on Saturday, Aug. 24, with six seats to the National Horseplayer Championship (NHC) and two seats for the Breeders' Cup Betting Challenge (BCBC) up for grabs based on 200 entries.
The $500 includes a $300 entry fee and $200 contest bankroll. Wagering will only be on Monmouth Park's card and Saratoga's Travers Day program, with contestants required to bet a minimum of 10 races, five of which must be on Monmouth Park. There is a $20 minimum bet for the win, place and show-only wagering format.
Based on 200 entries, the top eight finishers will choose, in order of finish, either one NHC seat or one BCBC seat. Cash prizes will also be awarded to the top five finishers.
The contest is limited to a maximum of three (3) entries per person.
For every 10 entries over 200 another NHC seat will be added.
Registration is available by walk-up only that day and the $500 entry must be paid in cash.
Entry forms, as well as rules and regulations for the contest, are available at www.monmouthpark.com. For further information, contact Brian Skirka at bskirka@monmouthpark.com