5-Year-Old Dan Minervini Hitting All The Right Notes As He Pursues His Dream To Become A Bugler At Monmouth Park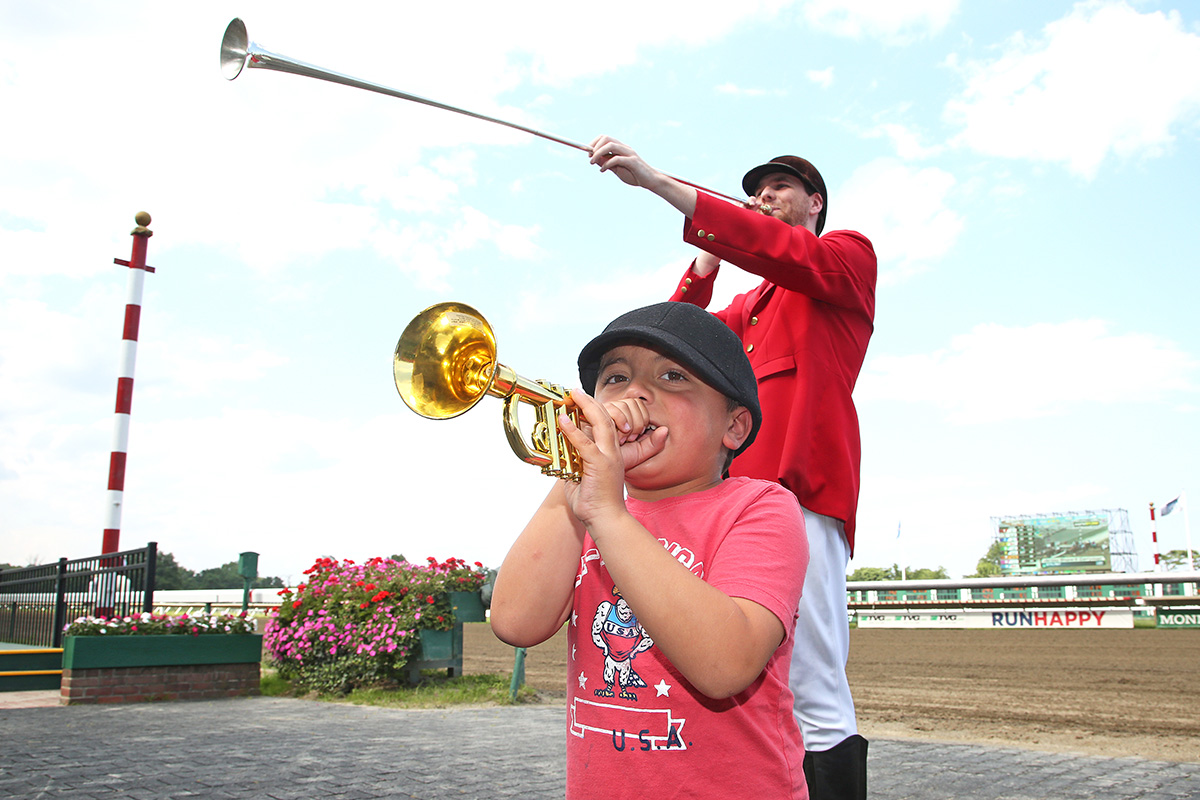 For a sport looking to appeal to a younger audience, Dan Minervini is exactly what Thoroughbred racing needs. There's just one problem: Minervini, a constant presence at Monmouth Park who can be seen humming, miniature bugle in hand, when track bugler Joe Luckenbill issues the "Call to the Post" 10 minutes prior to each race, is just 5 years old.
So racing will have to wait until he can legally participate.
For now, though, his enthusiasm is contagious.
"I like Monmouth Park more than Chuck E. Cheese," says Minervini, a Middletown, N.J. resident who aspires to be a bugler, which is why he practices prior to each race by humming along with Luckenbill.
With racing at Monmouth Park taking place Friday through Sunday throughout the summer, Minervini and his family are usually in attendance from the first race to the last, with Dan playing his toy bugle, feeding horses and wishing good luck to the jockeys walking out of the paddock.
He will celebrate his sixth birthday on Sunday at Monmouth Park with a special day that will include an appearance in the announcer's booth, playing the "Call to the Post" prior to the second race and presenting the trophy in the winner's circle following the second race.
Fans have taken to him as a crowd favorite when they watch him play the bugle each race day.
"Monmouth Park is his happy place, and he never wants to leave," said Stephanie Minervini, Dan's mother. "When we bring him there he listens to everything we say since it's his favorite place in the world."
Dan's love for horse racing started before he was even born, according to his mother. The family's Monmouth Park "lifestyle" was passed down two generations, from Dan's grandfather, who took Dan's father, John, to Monmouth Park when he was little.
As a 2-year-old, Dan made it to Monmouth Park for the first time and could be seen feeding apples and carrots to the outriders' horses as they returned to the tunnel that leads to the track. It was during that time that the youngster first heard horse racing's signature call.
"When he was 2 years old he was feeding the horses there and that's when he started watching Joe (the bugler)," said Stephanie. "One time we went to Monmouth Park and he started mimicking Joe playing the horn, and since then I think we have been stalking him for the last three years."
Luckenbill says he enjoys sharing the spotlight prior to each race with Minervini.
"I love when he comes around. He's a great kid and he always says something that makes me laugh when I see him," Luckenbill said. "I would tell him to continue to come to the track and learn from the people here."
Horse racing and Monmouth Park have become an integral part of the Dan's daily life as well. According to his parents, when he is home, the youngster can be heard announcing races, re-enacting his favorite phrase from announcer Frank Mirahmadi, "And they're off at Monmouth Park!"
In addition to attending the races on each live day, Dan Minervini said he wants to "race the ponies." According to his mother, during the COVID-19 pandemic, he received riding lessons at a local farm in hopes of one day following in the footsteps of his favorite Monmouth Park jockeys — Nik Juarez, Tomas Mejia, Paco Lopez and Ferrin Peterson.
Juarez and Mejia have made it a point to seek out Dan on race days, often taking pictures with him and even giving him the race goggles they wore in exchange for high-fives. According to his mother, there have even been occasions when Dan and Mejia have shared popcorn while they talk about the upcoming races on the card.
"It's really nice how the jockeys all come out and speak to him, and it makes a huge difference," said Stephanie Minervini.
James Baldo
Monmouth Park publicity intern