4th At Monmouth Declared No Contest After Spill Shortly Into Mile and Sixteenth Turf Event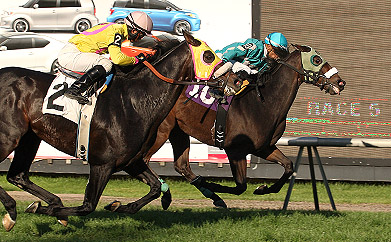 Oceanport, N.J. – The Monmouth Park stewards declared Sunday's fourth race a "no contest" after Pounds to Pennies, with Antonio Gallardo aboard, clipped heels in the stretch shortly after the start of the mile and a sixteenth event on turf. 
          Skip the Talk was unable to avoid Pounds to Pennies and unseated her rider Trevor McCarthy.  Gallardo walked off on his own, while McCarthy was sent to Monmouth Medical in Long Branch for further evaluation after complaining about pain in his left shoulder.  Both horses were deemed fine following the incident. 
          Coming through the stretch for the final time, jockeys were advised by the outrider to stay off the inside, which caused several riders not to preserve with their mounts to the wire.  Accordingly, the stewards declared the race a "no contest" with all wagers refunded. 
          Gallardo took off his mount in the day's 5th race, but intended to ride the rest of the card.